The pivotal hurdle for modern brands is how to deal with the ever-growing lack of loyalty from consumers. One of the best solutions is to distinguish themselves from the competition, building a recognizable and appealing image that approaches customers on a more personal basis, which is why many branding experts rely on packaging. But pleasing consumer desires is almost like fighting a hydra, especially when it comes to package design where standards are always shifting in order to match market demand.
Therefore, brands are constantly striving to bring innovation and additional leverage to their packaging. In light of these circumstances, Mintel, a London based market research firm announced six key trends set to dominate the global packaging market in 2016.
Digital Print Uprising
Digital package printing brings personalization to the brand by ways of consumer relations, which is one of the key aspects in reaching out to Millennials. Mintel emphasizes that 2016 is a turning point for digital print where it will go mainstream and will no longer be used as a limited personalization solution, but rather as a catalyst for economic assets. Mintel estimates that digital printing currently takes 10% of the total packaging and has the potential to grow drastically in the following year. According to their research, 1 out of 5 US Millennials seek for personalized or custom packaging while almost a quarter of Chinese consumers are prepared to pay extra for personalized soft drink packaging.
Turning Green
According to Mintel's research, package recycling is way below its potential, despite a brand's best intentions. Eco-friendly or reusable attributes are marked as a crucial purchasing factor. Mintel emphasized the following: "When product price and perceived product quality are equal, consumers will be increasingly turning to these eco- and alternative-use attributes as the deciding purchasing factor." 
RELATED: Buy, Flip, and Help: Rag_Bags Are Here Again!
Transparency
On-pack communication is a great way to convey crucial brand messages, but it also carries a massive influence on the consumer decision whether to buy a certain item. Mintel's research showed that 58% of UK consumers check ingredient information on product packaging and 76% are concerned about the use of artificial preservatives. Wedging too much information on the package or showcasing false attributes can confuse potential customers, therefore Mintel foresees greater utilization of a clean label concept.
SEE ALSO: Strengthen Brand Equity through Transparent Label Communications
Mobil-izing Packaging
Mintel points out this ongoing trend in mobile-engaged packaging and the importance of integrating modern technology into the brands image to gain potential shoppers' trust. Mintel emphasizes Near Field Communication (NFC) and Bluetooth low-energy (BLE) as the key aspects of reaching out to consumers.
Flexibility
According to Mintel, 32% of consumers equate flexible packaging with being modern, but the key solution lies with combining the flexible and rigid counterpart of the packaging to bring innovation and brand recognition on the market.
Size Matters
This trend stands for big and small packaging likewise. Studies have shown that 39% of UK consumers would appreciate a wider spectrum of smaller bottles of alcoholic beverages, while 50% of health-conscious snackers would try out a new product if it would come in a small, trial-size pack. Mintel states that brands should leave packaging dimensions open to consumer tastes and offer their products in various sizes.
RELATED: Brand Simplicity vs. Our Innovation Complex
Some of the listed trends have being incorporated in existing package designs. Take for example, Coca-Cola, who made great use of their digital printing through their "Share A Coke" initiative, where they provided their consumers with the ability to print their names on the bottles, which also demonstrated direct engagement.
Talking about repurpose packaging, wine producer Aquilegia sells its wine in a box that can be reused as an instant wine rack. Another example comes from Amazon who in 2013 started its five year effort to replace hermetically sealed clamshell cases that are almost impenetrable with smaller, easy-to-open, recyclable cardboard boxes. This new solution will overall reduce the extra packaging but still protect its content.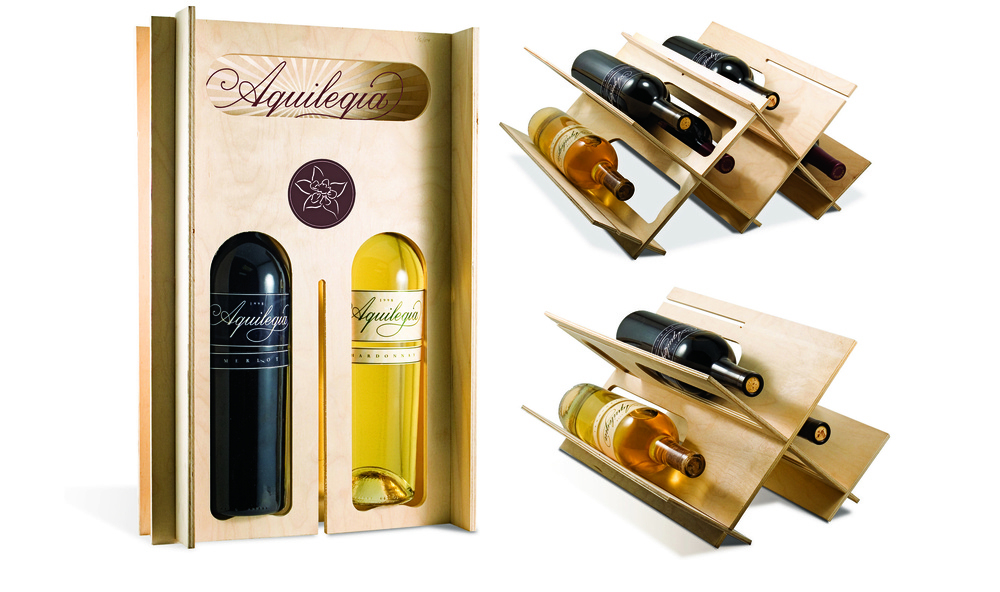 McDonald's recently went through a new cosmetic surgery, introducing a minimal image of their take-away bags. It seems like they have given up on cluttering their bags with information about their ingredients, which almost shouted at the consumers "This is not junk food!" But now, they introduced something more fashionable, as they finally acknowledged that they can't win in the health food war against arugula salads or acai bowls. Most consumers don't go to McDonald's for a healthy meal, but as a way to treat themselves with something tasty and fast once in a while and being aware of what they are indulging in, making it even more of a delicacy, so why convince them of the contrary?
One of the biggest whiskey brands, Johnnie Walker, released its smart bottle last year for their Blue Label whiskey. The bottle uses printed sensor tags with NFC that holds all of the brand's digital information that customers can access through their smartphone. Using this type of technology, Johnnie Walker engages in personalized communication with the consumers, and at the same time, allows the brand to learn about how the customer engages with the physical bottle itself, such as when it was opened. This is great example of how introducing new technologies into a market strategy can show creativity and strive to enhance the loyalty of their consumers.
Innovation can be a double-edged sword for brands by bringing numerous critiques and harm to their image, or leading to a more satisfying end where consumers recognize the strengthened connection towards them. Whether one of these trends would be successfully adopted in the following year is a matter of contingency where the market—as treacherous as the sea—will have the final say.
Download a copy of Mintel's report here.