Sephora is redefining the way consumers shop for beauty products.
Sure, the stores have enticing displays and an overload of products to choose from. Now, instead of sorting through your options or asking the associate for her recommendation, shoppers can identify with a style of makeup or a skin issue and get solutions based on their individual needs.
The company opened its all-new Union Square location, which features a Fragrance Flight Bar. The station lets customers test scents blindly without seeing the brands until they decide which perfume they like. Shoppers just step up to the atomizer and push a button. When they are ready to take a whiff, there's a light mist and they sniff away. With four stations to test out each with options for casual, chic, playful, and addictive scents it's a fun way to find a fragrance they may have never considered.
Most shoppers come into the store for their long-time favorite scents, or buy perfumes based on what smelled good in a magazine tester. This method exposes consumers to all different scents, opening up the possibilities for different brands to emerge.
In its stores, Sephora likes to change things up a bit to provide an interactive experience for customers.
At the company's SoHo location, a 30-foot beauty studio lets shoppers enjoy express services that go far beyond testing a hue on your wrist with a Q-tip®. In Manhattan's Columbus Circle store, the Ready Set Polish station offers iPad video tutorials, product samples and details on the latest nail trends.
Presto—perfect skin
Sephora recently introduced another way to help women find the perfect concealer. If you've ever shopped for foundation, you know it's kind of a crapshoot. All you can do is hold the bottle up to your face and hope the shade you choose works…because you probably can't return it.
Not at Sephora.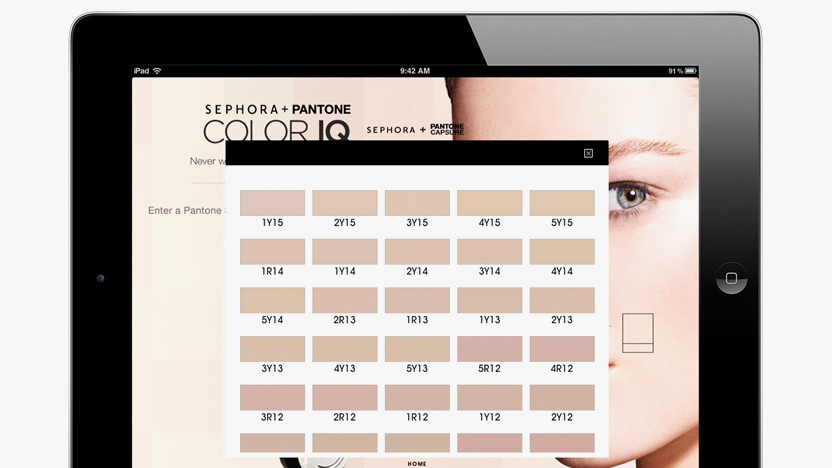 Image: fastcocreate.com
The company teamed up with Pantone for Color IQ, which uses X-Rite color-matching to select a foundation shade that matches flawlessly. The tool scans the skin in about two seconds to find the precise shade, and accesses a library of Sephora + Pantone skin tones mapped out by the Pantone Color Institute. The shade is matched via an iPad with the perfect tone from 1,000 or so brands and formulas in Sephoras Universal Skintone Guide. The tool is often used in the design world and is the first time it has been introduced to the cosmotology arena.
According to Sephora Pro Gilbert Soliz, the technology, "…eliminates many of the variables that can affect shade selection, including pigment challenges, skin texture and undertones which can often distort the clients match.".
Color IQ is available at the Times Square store in Manhattan, and the Powell Street store in San Francisco.
Going beyond e-commerce
Speaking of going high-tech, Sephora has marketed the concept of shopping by solutions—not just browsing through products—online. Visitors to the website can of course peruse an endless array of top brands, but they can also shop for products based on the type of issues they experience. Whether they want to minimize pores, tame dark circles or relax frizzy hair, they can find products based on their individual needs.
Most women enjoy shopping for cosmetics and beauty items. When retailers take that experience to a whole new level, it's easy to understand why.
Photo: ny.racked.com