When I first reached double figures, at the grand age of ten, I was given a bike. A bike that was the topic of conversation of the other ten year olds on my street – even if it was just for a day or two. I felt proud. I felt strong and cool. I somehow had that same boost of confidence in my later teenage years when parading a new pair of jeans or perhaps the latest pair of branded trainers. The idea of feeling the coolest kid on the block.
In recent years, urban fashion brands have tapped into the concept of uniting fashion and two wheels in a way that is becoming more and more popular.
H&M have announced they will be introducing the worldwide Men's Capsule Collection combining the function of cycling wear with great city style for both on and off two wheels. Launching across 180 stores worldwide and online on 7th March 2013, the 11 piece collection is in collaboration with Brick Lane Bikes, one of the world's leading custom-bike specialists who tested and approved the collection, inspired by both vintage pieces and today's sports influences.
"We are thrilled to be making this collection with Brick Lane Bikes. Cycling is a global phenomenon, with so many men choosing to cycle both to commute and for pleasure. This men's collection has all the utility and function riders need, combined with a great sense of style," says Petter Klusell, designer at H&M.
Brick Lane Bikes, a company founded in 2006 have positioned themselves at the heart of East London's cycling scene, making them the perfect team to test and approve this special cycling collection. In line with the eco-friendly act of riding a bike, the materials used include organic cotton, recycled cotton and recycled polyester – a sustainable collection as cycling itself.
"We are extremely excited about the H&M for Brick Lane Bikes collection. Working with H&M to create clothing that mixes cycling with urban fashion is the perfect fit for us. It is exactly what we are about, and what we do best," says Feya Buchwald, founder of Brick Lane Bikes.
Certainly in the UK as the numbers of people getting back on two wheels, following influences of the London bike hire scheme, constant social pressure to get in shape and the various impacts of London 2012, are evidently increasing – what we wear and our image while on the saddle is far from the once Tour de France cycling pants and tight jerseys.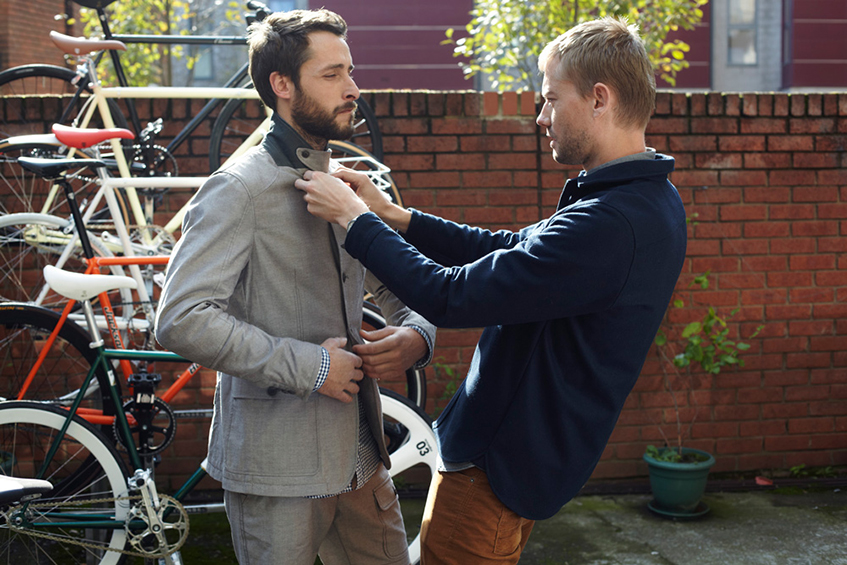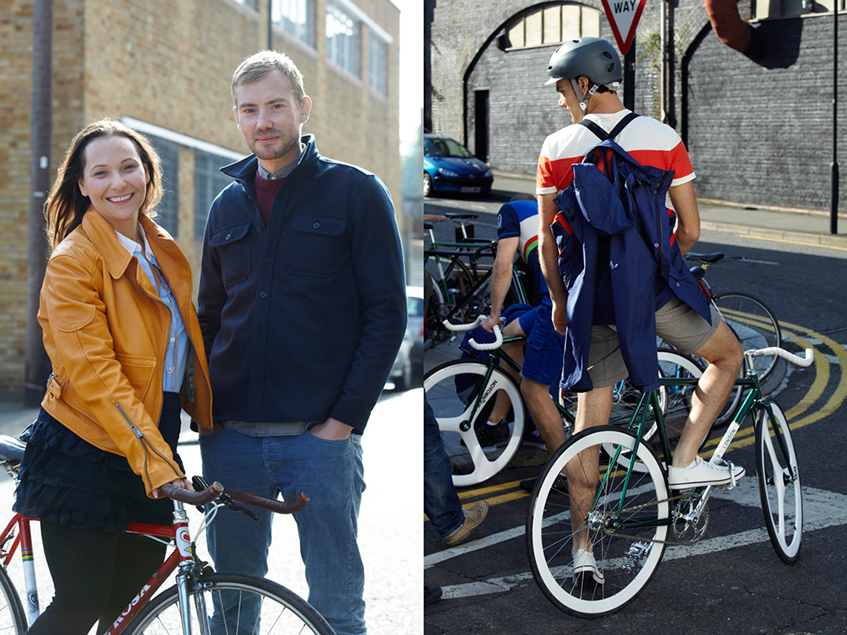 Other recent fusions between bike brands and fashion houses include the Italian fashion house, Gucci who in 2011 announced the start of a partnership with the iconic bike manufacturer, Bianchi, resulting in creating a two bike range made up of the 'Bianchi by Gucci' carbon urban bike and steel single-speed bike.
Diesel and Pinarello's joint project offers us a city commuter bike ready to handle the world's streets known by the name of 'Only The Brave'- promoted as a light, versatile, single-speed urban bike, influenced by London and New York messenger bikes.
And there's more. Ralph Lauren offers us the chance to get our hands on the cool and stylish 'The Tweed Run' bike while G-Star Raw teamed up with American bike specialist Cannondale, producing the birth of 'The Raw Cannondale' mixing function with design.
Is this a growing trend that will one day see two wheels featured in most of the shop windows of the world's favourite fashion brands or even see other sectors getting in on the act – although whizzing around on a dark green bike sipping a Starbucks frappuccino through a straw may not be your idea of "cool".