I've been in and around the alcoholic beverage industry or 'licensed' trade as it's called in the UK for the last 30 years or so. It's a fascinating and fun business, one that's centered around good times, but intellectually challenging in terms of working with the necessary regulations for alcohol marketing. For all the excitement and dynamism around the products, the business is still very traditional at its core. It can be understood why; some of the brands are hundreds of years old and want to be around for hundreds more which creates a tension with modern day marketing that has a perpetual gravity towards youth.
If we look back three years ago this traditionalism was patently evident in the state of spirits brands' digital marketing. My observation is that until the last few years digital communications has been for the spirits industry something exclusively youthful, wild and marked on the annual marketing plan with 'there be dragons'. Not a safe place for spirits brands to do anything other the odd microsite and Facebook post. This was reflected in the quality of the digital marketing output for spirits brands.
Fast forward three years and a lot has changed. The quality of the digital work product is approaching the levels of other industries. The digital assets deployed have life beyond flat transpositions
of above the line campaigns and digital media buys seem to make visible sense. Essentially spirits' brand level communications through digital are starting to rock.
Grey Goose is possibly best in class. The site is responsive, presenting an optimal user experience on all devices from smartphones to tablets to 27" iMacs. Gorgeous mouth-watering drink images and Absolut has masterful SEO on Absolut Drinks.
All drinks and attributes are tagged and hyperlinked, URL stems and titles say what they should and a visitor can like or share the individual cocktail, which in turn generates the backlink to the drink's page.
But a big piece is still missing…
The consumer.
The internet (remember that word?) is still at heart an informational medium. Its entry point is search, which by weight of market share is near exclusively Google. It turns out that people do certain spirits related things at certain times en masse in Google.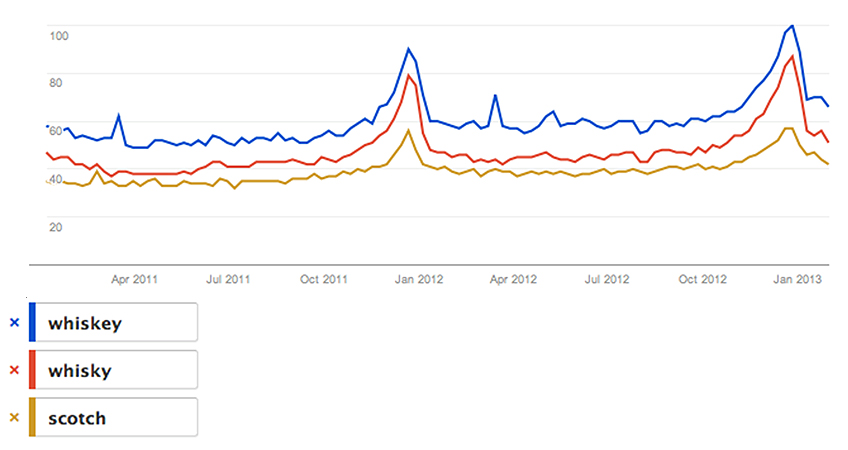 Figure 1: Folks do a lot of research around all kinds of whiskies leading up to the holiday season.
Figure 2: Folks also want to know more about the bottle of Scotch they received as a Xmas Present

Figure 3: Planning the big Cinqo de Maio night starts with research around the perfect Tequila
 Data provided by Google Trends
So what does all this mean? It means that consumers' digital behavior around spirits is visible and to a large extent predictable. The above was produced from one data source only – Google Trends. Combined with social media data, site and app analytics, and paid media response rates the opportunity presents for spirits brands to glean some pretty potent insights.
These insights should inform a truly strategic approach to spirits digital marketing; knowing that the dollars spent are not only visible to consumers, but when those consumers are in the mood to drink.
So how many spirits brands are taking action against these insights?
According to Emarketer (Spirits Brands Slow in Digital Space 3/5/2013) and L2 Think Tank, there's not much positive evidence. Earned and owned media still focus around brand level communications and for more advanced brands, where to buy.
Five Keys to the Top Shelf
So what are the practical implications?
1. Firstly, identify the peaks for your spirits brand and category using data sources mentioned above. Understand the predictable cycles of interest for branded and generic mentions.
2. Paid digital media: have your digital media agency optimize media spend around peak interest, even using day-parting on display buys to ensure your paid media is showing when it matters
3. Earned media: look at your earned media and brand activation calendar. Are there gaps in the peak interest times that you can fill, or if overlapping with a peak interest time, augment with paid media?
4. Owned media: content on your owned media properties, such as your website, needs to be relevant to different audience groups. So your site needs to react and present different content dependent upon:
– The visitor's location and anything that might trigger a response; eg. a hot day and a homepage with imagery of ice
– The time of day and day of week
– Whether the visitor has been to the site before: the user is probably cookied (meaning can be recognized) from going through the age gate previously.
5. Analyze the data. The peaks and troughs represent real world behavior of real people. Creative thinking is as important as mathematics for how to leverage the opportunities.
In summary, spirits brands have untapped opportunities to optimize and target their media channels against observable consumer interest. The implementation can scale from a single program to an entire campaign, all with the objective of matching brand expression to the mindset of the prospective customer.
Spirits of Digital – Driving Consumers To Drink
Investment in digital channels has increased considerably in recent years but brands are still leaving money on the table. By being more observant and responsive to consumer needs and desires, brands can build far greater engagement that will influence purchasing behavior and return a positive ROI.
Today's digital tools give spirits brands the opportunity to observe and leverage consumer behavior like never before. But to do so effectively requires a radical shift in digital marketing. This text explains how factors specific to the spirits category have led even the most digitally progressive brands to leave marketing money on the table. It also points to how spirits brands can boost the effectiveness of their initiatives; moving from a primarily executional approach, dictated by brand priorities, to harnessing a strategic digital approach responsive to consumer behavior.
An Industry Ready For Take-OFF
Spirits are inherently social. Digital's potential to rapidly build consumer engagement and dialog should be an (obviously) inviting prospect to spirits brands.

Digital, and certainly social media, is like the Wild West to many marketers. Legal teams have responded with extremely restrictive review and approval procedures, going against the grain of the nature of the platform and the behaviors of the users. Tentative steps to deal with these restrictive factors have meant that brands have been slow to take off with much of their tactics being focused on acquisition. Even the most progressive spirits brands lag behind brands in other categories.
With technology protocols, such as native age-gates, guidelines in place, and established methods for engagement taking root, brands are now poised to take-off and take full advantage of a medium where their target audience (21-35 year-old Millennial demographic) plays throughout the day, every day.
The opportunity is, therefore, for spirits brands to become true innovators, leaders – if not heroes – in the digital space. The category may not yet be a hotbed of digital innovation, but online development at spirits brands has been increasing over the past few years.
Embracing Facebook
Facebook has been embraced as the default destination and communication hub for many spirits' campaigns. The world's biggest social network site has been the main focus for amassing digital content through original creations, partnerships and user-generated content. But the efforts may seem to be sporadic and highly tactical.
There is a high degree of variation as to how well brands are faring online today, but a handful are clearly pushing the envelope and defining digital excellence within the category.
3 Spirit Brands In The Lead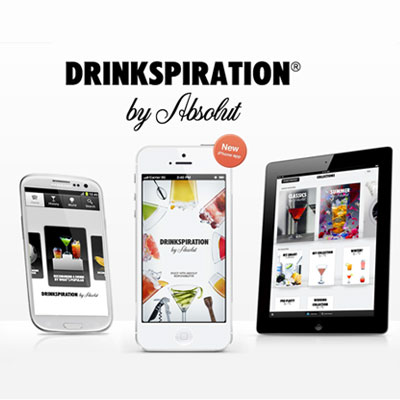 Absolut Vodka
Online, content is king. A significant component of any digital engagement program will always be compelling on-brand content. Absolut has made content creation the central pillar of its digital strategy, producing a continuous stream
of beautifully executed initiatives that leverage relevant cultural icons. From an original short film by Spike Jonze to a Swedish House Mafia remix tool on Facebook, Absolut is far and away the leader in creating high quality, engaging
online content. These executions are a logical extension of the brand's longstanding connection to the arts
and artists, framed in a modern, social media context. Absolut provides consumers with plenty of engaging material to share while maintaining relevance around the brand.
Ciroc Vodka
Key to compelling social media presence is the creation of a differentiating voice. Cîroc Vodka chose musician and media mogul, Diddy, giving him creative control, and a substantial financial stake in the brand. Diageo has successfully harnessed tremendous cultural and media firepower. A core strength of the campaign has been Diddy's social media engagement , and his ability to leverage the influential voices of artists represented by his label –"the Cîroc Boyz". This approach has generated earned media value far in excess of the brand's paid media budget. An added benefit is that much of the engagement occurs through personal accounts of Diddy and "the Boyz",– unfettered by age
verification or corporate messaging. As a result, Cîroc's postings are fluid, responsive, timely and therefore, highly effective.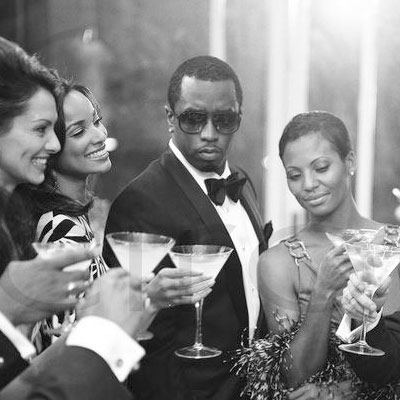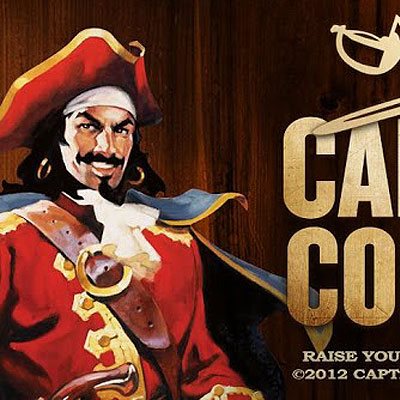 Captain Morgan
Mobile holds much promise for spirits brands, but many struggle to capitalize in a meaningful way. Captain Morgan leads the pack with an app combining social gaming, location check-ins, and brand persona , the Captain himself. The 'Captain's Conquest', a multiplayer, location-based mobile game, is the most ambitious app of any spirits brand. Players check in to bars via Foursquare, allowing them to "conquer" territory and form fleets with friends. By testing their skills in battle, exploring their city and engaging in other features, players build social engagement while increasing their game standing. This seamless combination of brand persona and consumer engagement is a potent example of how digital tools can follow the consumer journey to the point of purchase and increase brand impact.
A Shift In Approach: Moving To The Next Level
Digital is squarely in the sights as the most critical territory to claim in the spirits category, so what is next for spirits brands competing for consumers' mind space?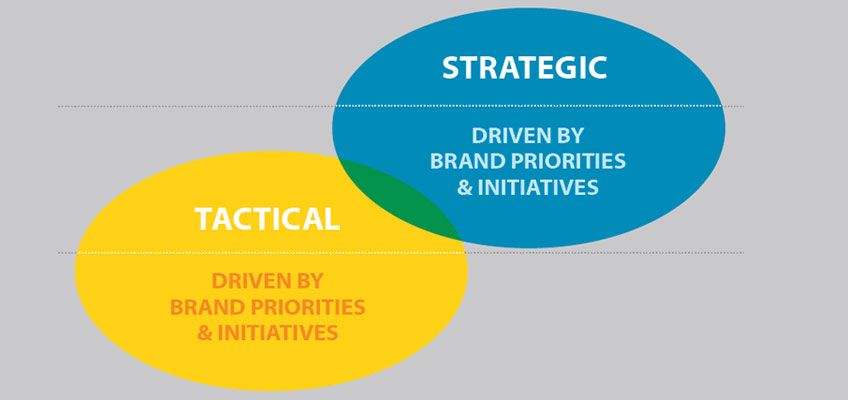 Much of the movement in the category has tended toward elaborate, branded digital extensions of pre-existing lifestyle campaigns. While this approach communicates a position and maintains brand awareness, such initiatives are driven primarily by brand priorities, rather than by consumer preferences and behavior. The biggest challenge in moving spirits brands to the next level in digital communications is to evolve from a predominantly tactical approach driven by the brand, to a strategic process driven by the consumer. In the spirits category, purchase and consumption decisions are particularly context driven – season, occasion, venue, company, etc. These can temper, or even supersede, a consumer's stated brand preference. In other words, "I'll have what she's having".
Peak Relevance: Understanding The Ecosystem
Acting upon the moments of peak relevance takes an understanding of the consumer ecosystem, which can provide a comprehensive roadmap all the way to the critical moment of purchase.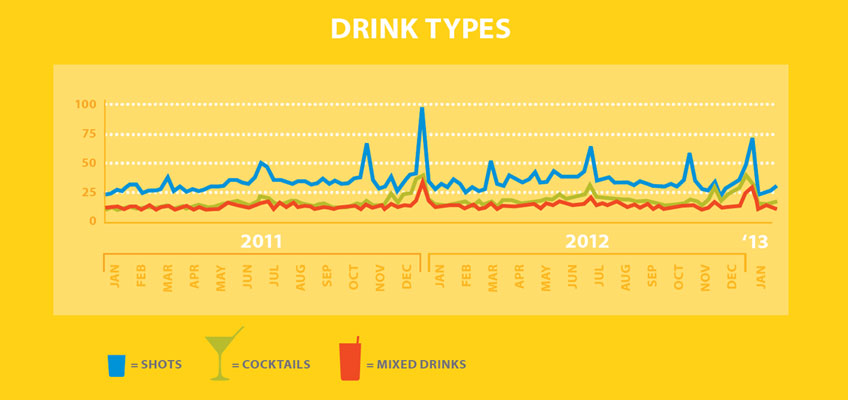 Source: Google Search Volume
Beyond simply understanding how consumers behave online, data from digital interactions can provide a window into offline behavior. For example, using search volume as a proxy for fluctuations in general interest, consistent spikes of interest can be observed across the category.
Search data shows peak interest points around crucial holiday occasions – Memorial Day, July 4th, Labor Day,
hanksgiving, Halloween, and the Christmas/New Years season. Purchase interest has distinct seasonality, which suggests increased consumer responsiveness to targeted engagement at those times. Therefore, a spirits brand seeking a competitive edge could potentially enhance efficiency in their marketing budget by planning their calendar accordingly, rather than scheduling major initiatives in periods that do not show a strong connection to interest and purchase.
Occasion Affects Off-premise
It is also possible to see that some occasions correlate more with off-premise purchase occasions than others. Certain times of the year provide more effective opportunities to push initiatives based around off-premise purchase and home-bar restocking.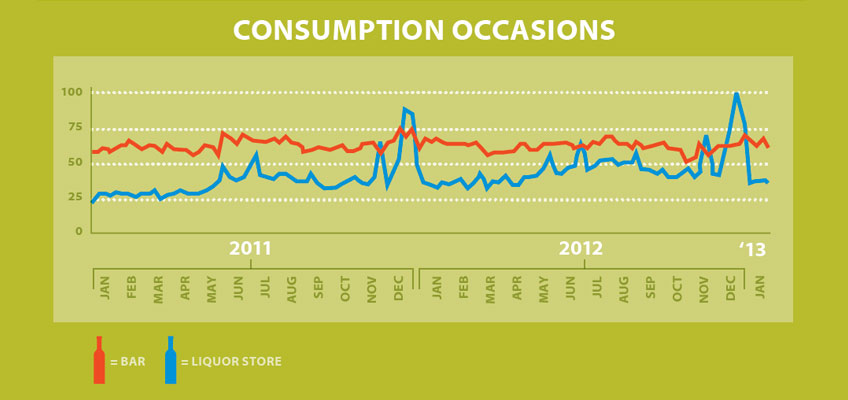 Source: Google Search Volume
Week-To-Week
Distinct patterns of relevance can also be observed on a micro week-to-week level, with general interest rising steadily toward the end of the week and peaking on Saturday.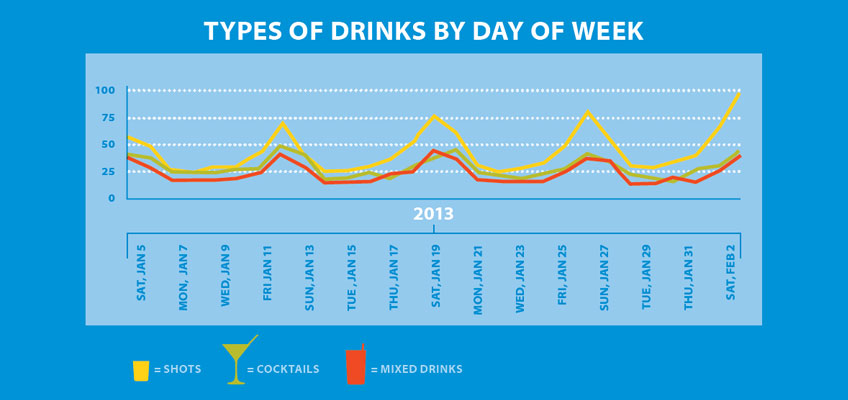 Source: Google Search Volume
This information can be leveraged to schedule more direct call-to-action (CTA) messaging around peak times and utilize other times for broader brand positioning or fan acquisition.
Though these insights may appear common-sensical, the implications for structuring communication marketing plans are
significant and wide-ranging. However, there is little evidence that such findings have been factored into the digital engagement plans of spirits brands to date.
The Ecosystem
Using Last Exit's construct to model the consumer ecosystem, we can extrapolate findings that can identify moments of peak relevance and provide a basis for multivariate testing and in-market optimization:
This is just a starting point and only scratches the surface of the great possibilities that can result from targeting peak relevance situations. Actual data and an understanding of device and platform usage patterns, along with specific consumer information, can be enhanced through creative and strategic digital engagements. This information then shapes a consumer ecosystem that will inform content development and the deployment of communications initiatives.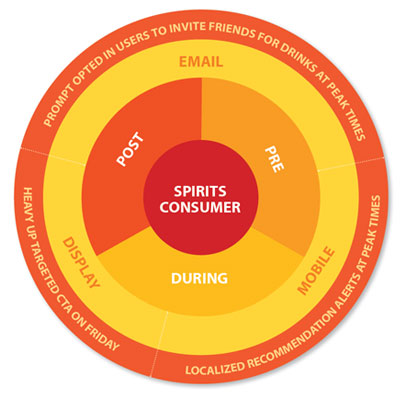 Changing The Game
By taking advantage of the spirits consumers' digital ecosystem, brands can create effective engagement and reap the rewards of a winning strategy.
Taking this strategic, highly responsive and consumer-driven approach to engagement is becoming a best practice in digitally advanced categories, and represents a critical change from the traditional brand-centric approach the spirits brand category has employed.
Digital media is an arena where spirits brands should excel. However, there has been much trepidation regarding how to take advantage of new media channels in this highly regulated category with deeply ingrained marketing norms. Digital offers a window into consumer behavior and opens new paths to purchase. Establishing a basis for understanding and exploiting these moments of relevance provides a solid structure for communications. It establishes a baseline for further refinement, and opens the possibility for more rigorous attribution within a category that has lacked clearly defined metrics for digital success. As spirits brands come into their own online, the return on investment from traditional lifestyle content will inevitably diminish. Fortunately, returns will increase for those who focus on how consumers connect with their product. By taking advantage of the spirits consumers' digital ecosystem, brands can create effective engagement and reap the rewards of a winning strategy.
What's next?
To gain sustainable market advantage, spirits brands must understand consumers' media ecosystems and how to engage at points of peak relevance to their category, brand, and products. The pivotal question for marketing / communications departments is always, "What is the most effective way to spend our marketing dollars?" In spirits, the marketing culture is constrained by regulation and circuitous paths to purchase, a situation which has created a fundamental rift between communications and purchase behavior.
Meanwhile, other categories are gaining valuable efficiencies with digital to gain actionable consumer insights into intent to purchase, and are establishing attribution modeling frameworks that give performance metrics context and meaning.
In summation, brands must upgrade their digital marketing and develop native strategies that aren't simply extensions of their traditional brand campaigns. To gain sustainable market advantage, spirits brands must understand consumers' media ecosystems and how to engage at points of peakrelevance to their category, brand, and products. Current initiatives of spirits brands demonstrate an enthusiasm for digital and a willingness to invest in the space, but to take the next step, they must move beyond novelty to embrace truly responsive digital strategies.