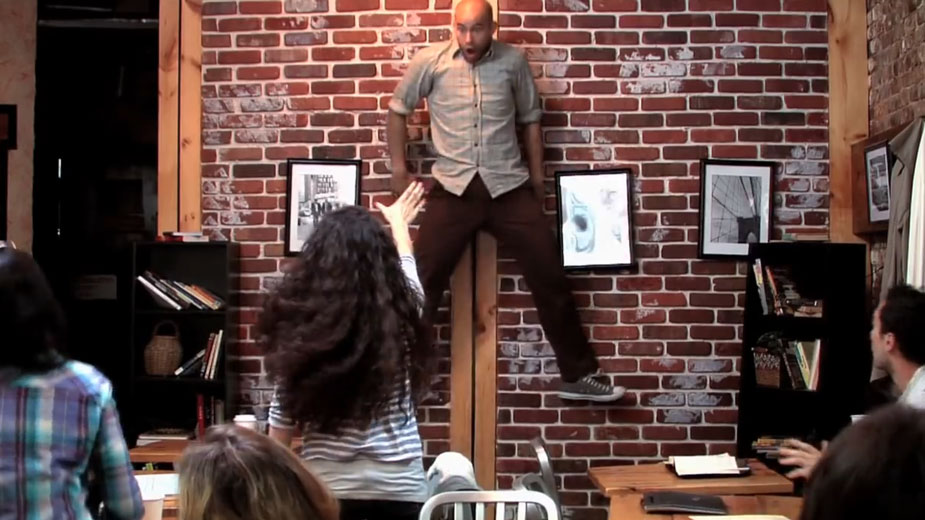 Lately, prankvertising has become quite a popular tactic of brand promotion. As the word itself implies, it concerns "advertising" through pranks. The idea of brands pulling pranks on unsuspecting people is nothing new and quite common among major brands from a variety of industries. This strategy emerged back in 2003 and has become a new trend in the field of online advertising, since it has been generating significant buzz via word-of-mouth. The more clever or scary the prank, the more likely it is to spread virally through YouTube and social media around the globe since televised pranks have long fallen out of fashion. Success in this case is calculated by views on the channel being used, which delivers buzz around the prank and consequently the brand.
Here is a shortlist of some of the most successful prankvertising scenarios:
Doomsday Interview
Brand: LG
Views: 15,300,471 / Uploaded: Sep 2, 2013
---
According to the scenario, job applicants that are being interviewed are the witnesses of a biblical disaster, a meteor hitting the Earth, outside the window right behind the interviewer.
The message behind this prank is that LG's new ULTRA HD TV screen definition is so crystal clear that what is being displayed is amazingly close to reality.
Telekinetic Café
Brand: Sony – "Carrie" movie
Views: 53,209,171 / Uploaded: Oct 7, 2013
---
It's a typical morning in New York City and you are on your way to work. "I need a cup of coffee" is your first thought and you walk in to 'sNice Café. You wouldn't imagine what's to come…
The YouTube video for the 'sNice Café stunt precedes the action with a frame that charmingly reads "Time to f**k with some customers." In this particular case, the prank was directed by Sony and designed to promote a remake of the 1976 movie horror classic Carrie.
Elevator Murder
Brand: "Dead Man Down" film
Views: 6,760,459 / Uploaded: Mar 4, 2013
---
This video is a promotional campaign for the movie Dead Man Down, which was released a few days later, and stages a murder in progress inside a New York City elevator.
Thinkmodo agency set this "experiment" up to demonstrate the reactions of unsuspecting would-be riders which vary from hitting the "killer" to … recording the incident on their cell phones. Nevertheless, the "experiment" seems only loosely related to the movie's murder/revenge theme, but it generated quite a lot of buzz around the movie.
Loo Shocker
Brand: UK Department for Transport
Views: 10,182,571 / Uploaded: Jun 6, 2013
---
The THINK! campaign, run by the Department for Transport in the UK, has created a number of uncompromisingly direct and honest ads in the past in an effort to curb drunk-driving accidents. The latest one is receiving a lot of attention for its sobering strategy that aims to literally scare the pants off of potential offenders while visiting a bar's restroom.
Prowling Zombies
Brand: The Walking Dead show
Views: 25,720,155 / Uploaded: Jul 30, 2012
---
AMC Networks Inc. picked this spooky method of demonstrating its discontent about Dish Network dropping AMC and the popular zombie drama The Walking Dead, which was scheduled to start its new season on October 14. At the end of the video, one zombie creepily drags a Dish satellite dish behind it and bright block words appear on the screen with the apt message: "Zombies don't belong here. Put them back on TV."
Loo maze
Brand: Yovis Viaggio
Views: 165,502 / Uploaded: Dec 18, 2013
---
Publicis Milan pulled its latest prank on some unwitting travelers who were departing from the airport of Milan Malpensa, for Yovis Viaggio.
Yovis Viaggio is a probiotic for the intestinal disorders, such as diarrhea, of travelers. The agency actually demonstrates in a rather funny way that a vacation without Yovis Viaggio in their luggage could turn into a rather haunting trip in one single place….which is definitely… ermm …not exotic.
Staging the apocalypse, ferocious murders or supernatural city take-overs for the sake of any brand seems somehow unnecessary and has raised a significant amount of controversy.
Before wondering if the practice of prankvertising crosses the line, one should first probe the authenticity of the pranks; are they "real" or just a directed phony prank? From the article's featured pranks, the first four have been said to be entirely staged using professional actors.
Nevertheless, for argument's sake, if we consider all pranks are genuine involving unwitting average people, there is always the possibility that the risks and liabilities will outweigh the benefits for the brand. It is easy for brands to go beyond their boundaries on the quest of attention through publicity-whoring techniques and alternative channels, but it is hard to determine just how far they should go. Should the brands continue to practice Sophocles' dogma "The end excuses any evil," it is certain that any kind of marketing gimmick will finally backfire on the brands.
*Noted views are those indicated by YouTube at the moment during which this article was written.