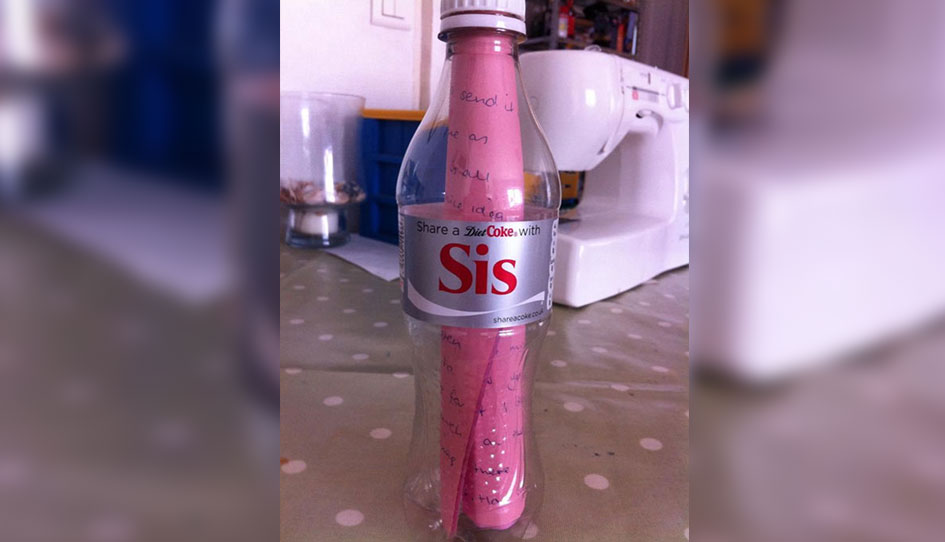 I was prompted to write this article after having seen the image above on a friend's FB wall.
This photograph really portrayed for me the power of this campaign on many levels. Firstly, because of the touching post after having received this very timely, personalised gift from her sister. In addition, the way her "Sis" had personalised the bottle with her own message inside. But it also communicated so strongly the idea of heritage. Coca-Cola has been around now for 128 years. And when it was founded, people sent messages in bottles in the sea, not by post. It also brings out the inner child in me – memories of going to the seaside gift shop when I was a child and spinning the pen or key ring display hoping to find my name.
SEE ALSO: Coca-Cola Personifies Happiness in Numerous Forms
This type of mass personalisation is easy for Coke to do, it's just digital printing. But, I do think that this is a particularly clever strategy, firstly as it promotes sharing "share a Coke with Sis… Bill, Bob, Sally", secondly, by the way it speaks, "Sis" not "Sister" – this shows that Sis and I, we're closer, we're happy to speak in this way together. Thirdly, the name is printed in the iconic Coca-Cola font.
And it doesn't stop there, I received this via Buzzfeed in my FB Newsfeed a day later: A Man Asked His Girlfriend to Marry Him Using Coca-Cola. People are using these coke bottles to announce the birth of their children, or in this case (below), to ask their partner to marry them…
As Buzzfeed states "many people are using Photoshop to create their own personalised bottle labels, such as the "Mambo Number 5" Coke bottles that went viral last week."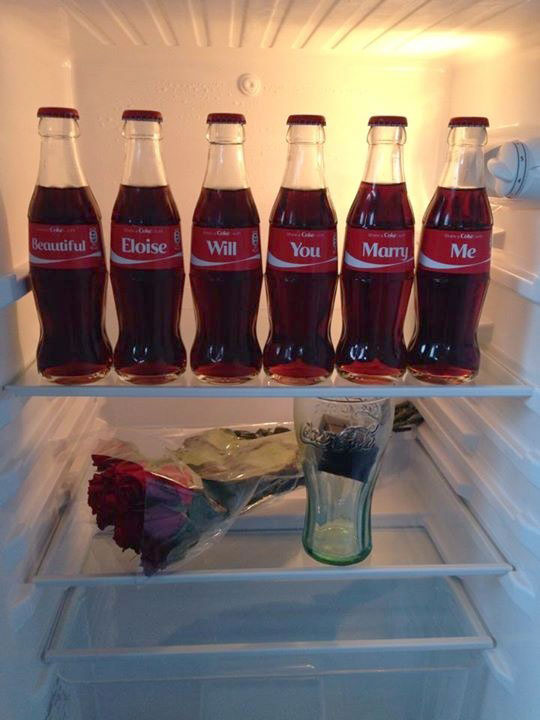 Of course it doesn't just stop with the bottle. There's the Share a Coke video on YouTube, #shareacoke on Twitter, and Share a Coke is on a worldwide tour enabling consumers lining up to create their own mini cans.
And as we're talking about cans… This clever campaign is a collaboration between Coca-Cola Singapore and the Singapore Kindness Movement. It's an innovative campaign using #CokeDrones to cheer up these Singaporean construction workers far from home.
Take a look:
If we look at general consumer satisfaction, according to this research by Networked Insights, 45 per cent of customers are positive about the campaign, only 5 per cent were negative.
Jane Carn, head of qualitative research at YouGov, analysed the UK campaign and noted that, "People loved that this campaign spoke to them directly by using their names, or those of their friends and family. They were also engaged in the participative element of the campaign, particularly by sharing images of the personalised Coke bottles on Twitter and Facebook. Share a Coke spoke to them as individuals, while making them feel more connected to the brand and to one another – and that is the secret to its success."
I believe that Coke have embedded all of their 2020 vision goals in their bottles – innovation, focus, creativity and their mission of spreading happiness seems to be working!