The interviews in our series "What Leading Brand Thinkers Really Think," often revolve around annual surveys – so, when appropriate, we'll update you on new editions of research, and comment on their implications.
Our interview with Andrew Pierce of Prophet introduced our readers to the first Brand Relevance Index (BRI). With the recent release of the second, we asked Scott Davis, Partner and Chief Growth Officer at Prophet, to talk to us about what trends, changes, and challenges this second installment of the BRI is revealing – and which brands from a relevance standpoint are on top and which are not.
Branding Mag: What were the key takeaways, and were there any surprises or changes in this second installment of the BRI?
Scott Davis: Lots of takeaways, lots of surprises, lots of changes. I'd say the number one takeaway is that our top six brands are all technology brands, which is a little bit different than last year. They're led by Netflix and Apple, Google and the like. And the top 10 brands are all technology-infused. If I throw Nike in there and Sephora and a few others, all of our top 10 brands have technology as their backbone. That would be number one.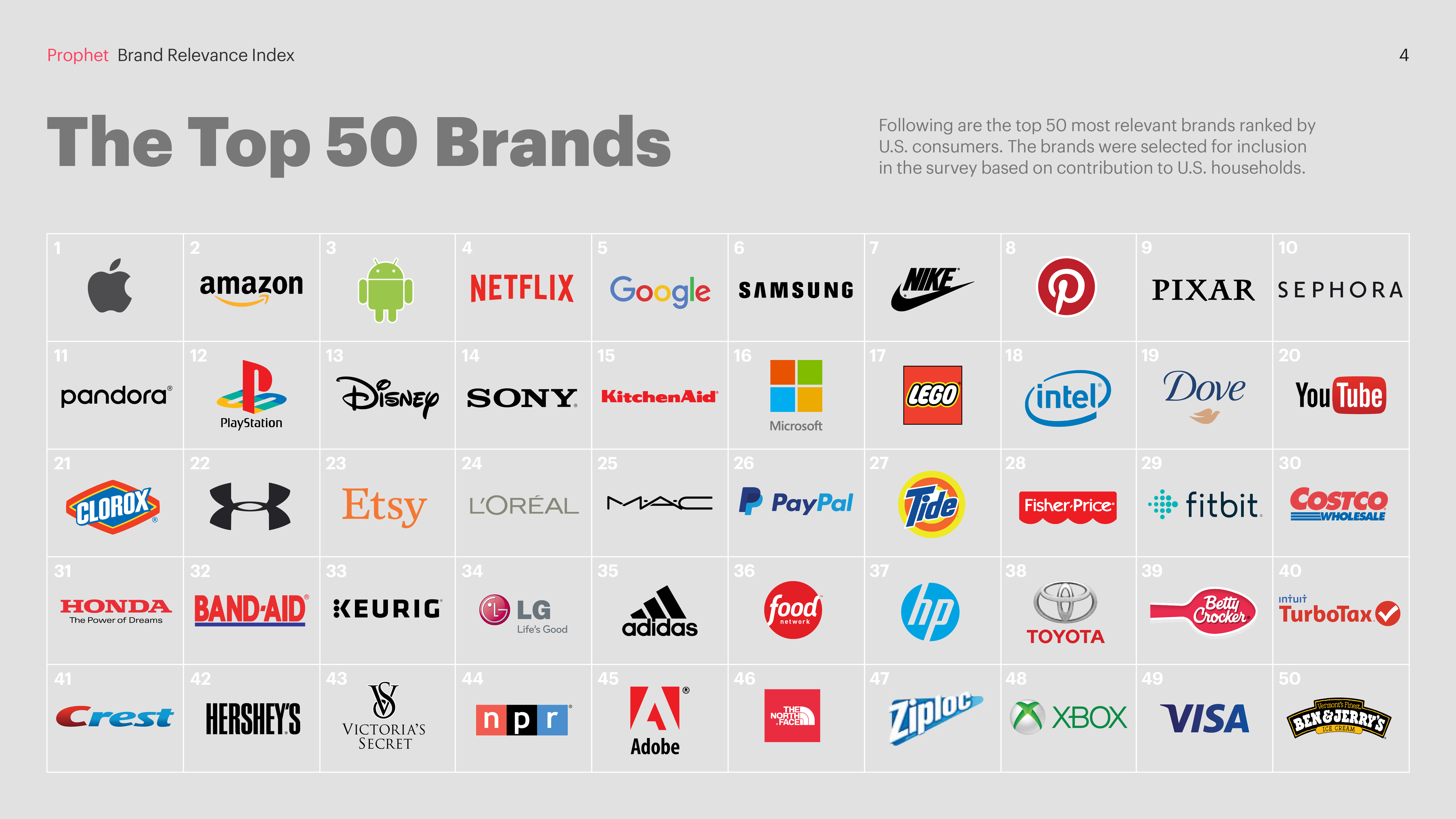 Bm: Sephora being a technology-infused brand?
SD: Sephora being experienced [in] technology. Here in Chicago, on Michigan Avenue, the pilot store really doesn't sell a lot of products. It's all about experimentation.
Bm: How are those four pillars doing? Are any of them popping out as being particularly significant?
SD: All four pillars are significant in our study. Customer obsession is the first, ruthlessly pragmatic is second, distinctively inspired is the third, and pervasively innovative is the fourth.
For us, customer obsession and ruthlessly pragmatic are the two that fuel everything else. If you understand your customers inside and out, and are able to meet their needs and their wants, and the things that are missing in their lives through being obsessed (like Netflix is), and if you're ruthlessly pragmatic and delivering an experience they can count on, and you can meet them when and where they're at (again, like Netflix does), you're going to win. To me, obsession and pragmatism are the backbones of exceptional, relevant brands.
"Obsession and pragmatism are the backbones of exceptional, relevant brands."
Bm:  Talk to us, if you will, about which brands are gaining greater relevance, and which are losing it?
SD: My favorite stories are Fitbit, GoPro, Etsy, Pinterest. Those are all rising. They're all becoming lifestyle brands. They're all becoming brands that are emotionally connecting and engaging with consumers in important ways. They're following big trends around sharing, community, fitness, health, and wellness.
I see those four brands in particular continuing to grow in relevance over time, and I predict that in next year's study, we'll see them going even higher.
Another thing I love is that a lot of staple products like Tide, and Dove, and Clorox, and Crest, and Hershey's, which may seem boring to you, are relentlessly relevant in consumers' lives. They continue to fill a big need. They continue to innovate. They're there when consumers need them. They pop in ways that, I think, are a little bit unexpected.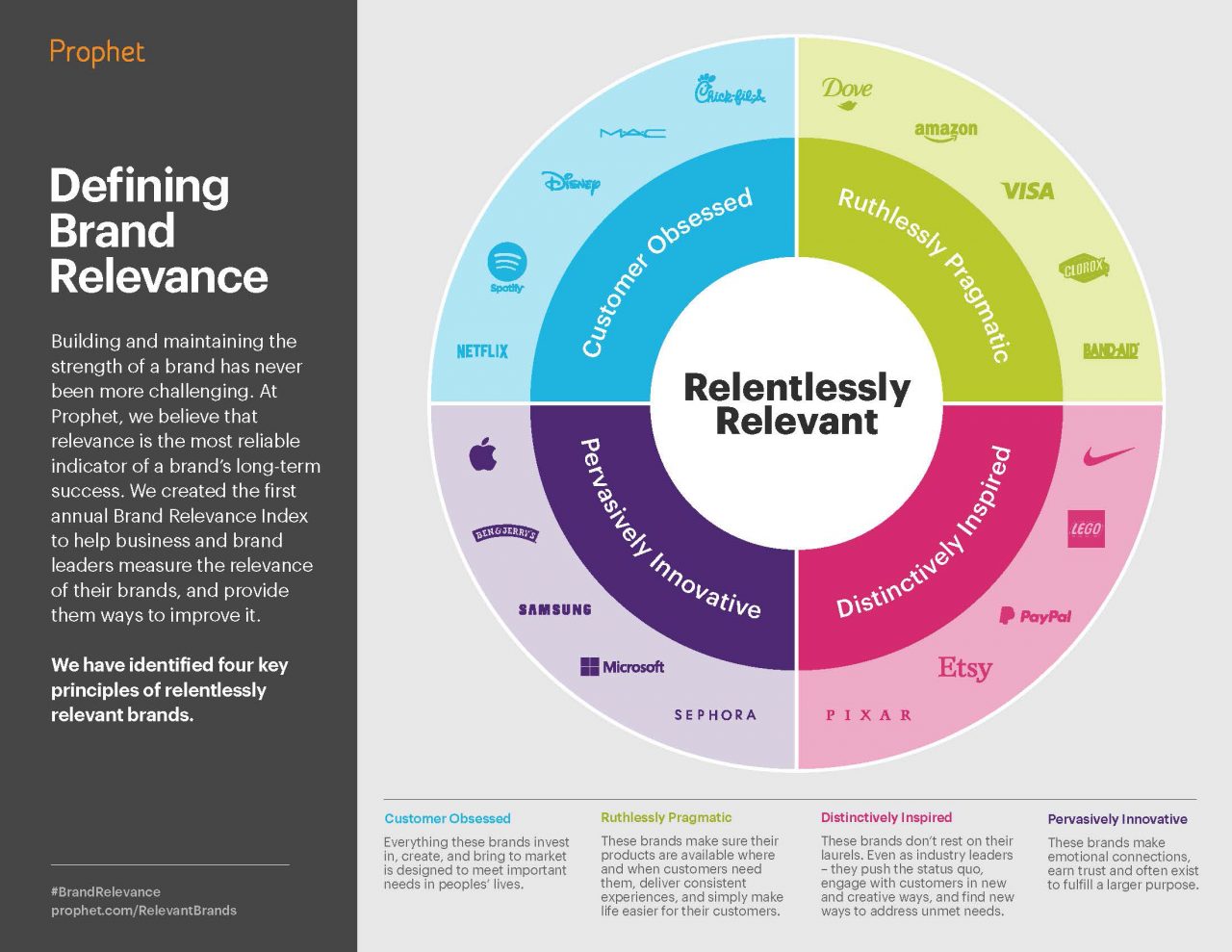 Bm: So, it's okay to be old so long as you're not…
SD: Stodgy…brands can be old so long as they're not stodgy.
The other thing I'd say is retail brands really popped in our top 20 – the ones you would expect like Sephora, Amazon, and MAC cosmetics. And then there are the entertainment brands.  If you think about Netflix and Amazon, those are two easy ones. But then also look at Disney and Pixar and Pandora, all of which see big rises in our study. And "fun" has an important place in relevance, as with brands like PlayStation, Xbox, LEGO, and – again –  Disney.
"Fun has an important place in relevance."
Bm: A rising place in relevance?
SD: An important place in relevance. I think between entertainment and gaming, we can't undersell the importance of brands that engage, delight, and surprise, and have a fun quotient. One of our key attributes is, does it make me happy? All those brands score really highly on it makes me happy.
Bm: Any particular brands that you're willing to talk about that were dropping down in the rankings?
SD: Chipotle took a bit of a fall in the past year, along with McDonald's and Starbucks. They're symbolic of the entire QSR [Quick Service Restaurant] category taking a big dive in our study this year.
Bm: Chipotle, is that more of a trust issue than a …
SD: I think they are in the process of re-earning trust. One of our core attributes in inspiration is "Does it connect with me? Do I trust it? Does it have a purpose I believe in?" I think trust was eroded. I think for Chipotle over time trust will be re-earned, but year over year it was one of the biggest "droppers" in our study.
Brands like Old Spice, Axe, and Staples all took pretty big hits over the last year. You think of Old Spice and Axe and you remember the great advertising that helped give them a new life. But I think a lot of that "new" messaging and advertising and sizzle is gone, so consumers aren't feeling as connected to the brands.
Bm: Is that a matter of lack of relevance or the lack of permanence of style over substance?
SD: In our study we look at innovation and we look at inspiration in equal parts. I think if you're down on either one of those, it's going to take your whole relevance rating down.
Bm: Thanks for the update Scott. And to our readers, full details are in the latest edition of the Brand Relevance Index. And we encourage you to watch for updates of other research covered in "What Leading Brand Thinkers Really Think."