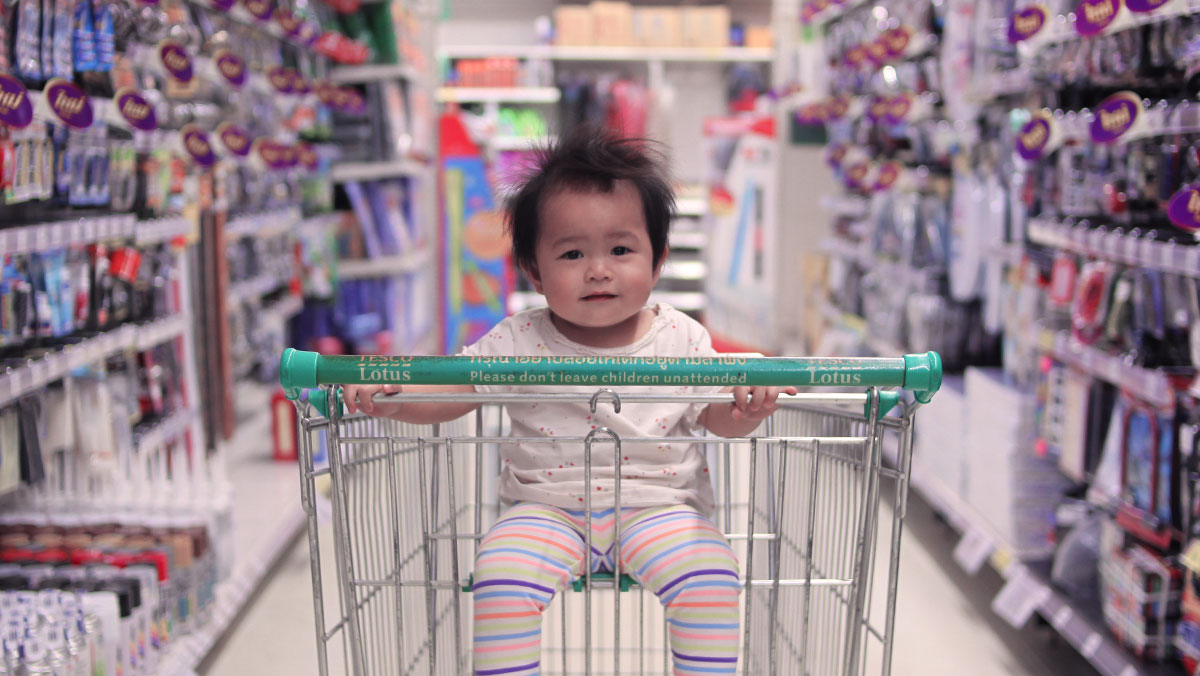 Here's what we need to be saying to the nation's moms and dads: 'Parents out there, we hear you. You're constantly juggling, racing from place to place, and doing your best. We're here to help.'
Packaging, in the new decade, is about creating value for parents — and that means quicker, pester-free shopping and easy product navigation, enabled by vibrant, engaging, and responsible pack fronts.
Packaging is a huge factor in the way children experience and learn about food, including what they glean whilst sat in the shopping cart as mom and dad do the weekly shopping. For the little ones, opening up packaging is a bit like opening up a Christmas present: anticipation, sensory engagement, and the tasty reward inside, of course.
Thus, packaging designers and agencies have a dual responsibility: To satisfy their clients' aims and make an impact on the bottom line, while designing conscientiously with the needs of the family in mind, at the same time.
Stewarding this relationship between the brand and the parent is something companies are increasingly aware of. It's about developing trust over the longer term, rather than opting for a short-term pay-off and a business-at-all-costs approach. It's a tricky situation when we factor in the sector's staggering growth and market saturation.
Most markets experience shifts, but food and drink development in products geared towards parents skyrocketed. Last year, the Washington Post reported there were four times more product launches in the baby and toddler food aisle in 2018 than in 2005.
In 2020, meal kits for families continue to be a growing trend as retailers aim to cash in on the business of parents and help to streamline cooking at dinner-time. Meal delivery service Yumble, for example, offers recipes specially developed for children, with kid-friendly recipes, sustainable packaging, and kid-friendly activities inside. Quite handy if the little tikes sank under the table at the sight of the Thai green curry with shrimp from your last meal kit.
Tackling "pester power"
In January, both Lidl and UK supermarket ASDA announced they will be removing cartoon characters from their cereal box pack fronts, in an effort to help parents mitigate "pester power". (That's the ability of young children to pressure their parents or caregivers into buying products specifically targeted to youngsters… and a first-degree headache if you ask me.)
Does cereal matter? Well, research indicates that cereal products are the top source of sugar for children aged 18 months to three years, followed by drinks and confectionery, so parents and governments will have their sights on these products as potentially harmful to children.
Combatting pester power is a win-win for parents and children alike — and for brands, who, by making themselves available as a "treat" item, or at the very least render a trip to the supermarket with kids a bit less stressful, can earn parents' trust.
Thus, packaging designers and brands face a challenge: How to make the packaging clearly appealing to fulfill the brand's family-focused messaging, without triggering pester power and providing parents with a miserable shopping experience?
1. Be responsive to social shifts
Adding photography of dads, not just moms, is one of the most notable trends of family-friendly packaging in the past year. Meanwhile, shrinking family size and dual-income households are leading to higher discretionary income, with more meals and snacks on the go, so treats and multi-packs are gaining a greater segment of the shopping basket.
What's problematic in this is that, with the surge in snacking, you're getting an increase in the amount of non-sustainable packaging used — usually in the form of petroleum-based, non-compostable plastics. As consumer values shift and ever more emphasis is placed on environmentally friendly packaging, brands can and should be investing in packaging formats that are both kid- and planet-friendly. Packaging should be easy to open and easily recycled or composted.
Loop (i.e., refillable) packaging is an alternative that is gaining larger traction, and with children, packaging can be made multi-use through designing it for second-life use as a toy (a puzzle, an activity, a game piece, etc.).
Sometimes, it's simply down to introducing clever ways to limit the amount of packaging. For example, Hershey's Miniatures underwent a makeover a few years back, modifying the look of the bag and the individual labels, while minimizing the material in the wrappers. Although the old and new designs appeared similar, 0.05 grams of weight was shed from the foil and paper coverings. Extrapolated across a year's production, this was equivalent to 271,800 pounds in total and a significant reduction in processing power.
Actions like these help to educate children about sustainable packaging and help to align a company's marketing with its long-term CSR objectives. This month, McDonald's vowed to remove plastic toys from happy meals in the UK and Ireland, which cut 3,000 metric tons of plastic from its business. McDonalds' move is smart, since the kids and tweens of today are the budding environmental activists of tomorrow.
2. Build consumer trust
Parents want to encourage healthy eating, but when they are in the supermarket, the family-friendly choices they are faced with are antithetical to this objective. Over half (51%) of products with packaging recognizably geared to children have been shown to contain high levels of fat, salt, and sugar. Misleading callouts are being pointed as a source of blame, which can undermine parents' trust. In part, this is due to reports like those from Start4Life in 2018, which suggested that the use of language such as 'organic' and 'preservative-free' gave parents the impression that products were healthy, and meant that there was no need to check the label.
Parents feel frustrated when they think they know what they are feeding their children, but there's a gap between the on-pack information and the nutritional content inside. Without clarity, brands risk a loss of trust. Can packaging firms push back on the claims made by brands about their products? Perhaps. If we keep responsibility as a pillar of our ethical approach to children's packaging, we can share this ethos with our clients as they consider the efficacy of callouts.
3. Focus on engagement
Global children's wellbeing charity UNICEF has urged the private sector to generate demand and to drive the availability, affordability, and quality of healthy foods and supplements among consumers.
Aligning with national and worldwide bodies' efforts to mitigate the risk of obesity and Type-2 diabetes posed to children, we can work to make products attractive to children through play and engagement, not through added sugar.
Let's go back to the meal-kit phenomenon, just for a moment… Part of the reason this is striking a chord with parents is that you can get the whole family involved, get the kids in the kitchen helping out and learning, and in doing so, maximize the amount of quality time we spend with each other each evening.
Packaging innovations that increase the engagement between parents and children, streamline tedious tasks, and bring fun and enjoyment to our lives will earn the seal of approval — and will deliver a win-win, for the families themselves and for the brand.
Cover image source: Jomjakkapat Parrueng