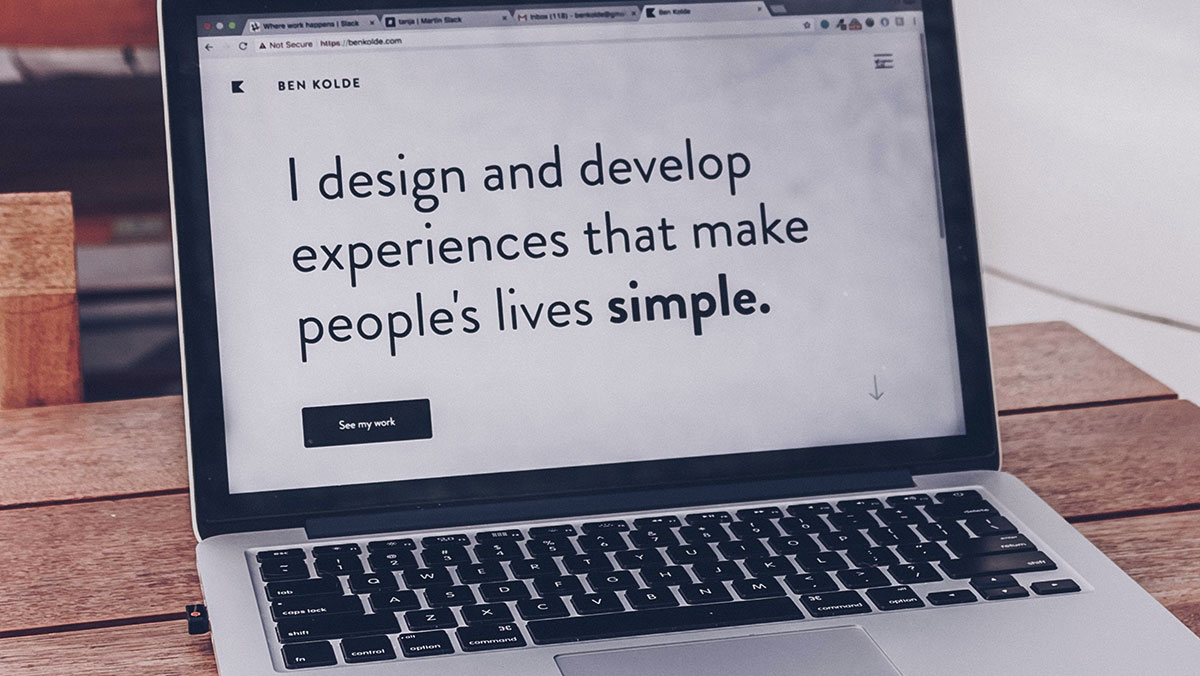 Language – it shapes our thinking, our culture, and our communication. It's also influential in design. We hear what we read. But, what we see is also influenced by what we read.
Language is a crucial design tool.
The copy – yup, the writing – on a website or campaign can actually change the way you view the design. Looking around the B2B and tech landscape, we see similar color palettes and best-practice UX, and what often takes your design from being just another techy face in the crowd to a brand people like and remember is your language.
Your website and campaigns are your virtual representation of all aspects of your company. For it to truly be a holistic expression of the company, the tone of voice needs to match both the design and the underlying business case. When that's off, the whole user experience feels off – a big digital fumble. While the process of developing your copy looks a little different for everyone, here are a few things we've learned:
Call the copywriters, now
As with many agencies, the copywriter is brought into the process of building a brand, campaign, or website late. Way too late. For real success, copywriters need to be in that first kick-off meeting and introduced in the brand discussions stage. Are you thinking, why would you need them there? You're not writing any content yet. And alas, we are only human.
Copywriters being involved from kick-off allows the wheels to start turning, ideation to begin, and thus create a natural and inspired process that allows textual style to develop with the brand and the brand strategy – as a team. By including copywriting early on, the brand will have an easier time conveying a coherent message and tone that lifts the brand rather than distract or feel awkward.
Including copywriters early on is another benefit of a less hierarchical and more democratic approach. While the team has their specializations, early collaboration between specialists creates alignment in the end goal, and the result is far more influential.
Less is more
To turn words into good copy, the team has to accept a harsh reality – no one is going to read everything. Acknowledging this means you understand that good copy is concise, with as few words as possible, that convey the maximum amount of relevant information. Nike, Apple, and Klarna are brands that have truly figured out the key to copy. Their campaigns and sites are filled with copy that is catchy, concise, and informative – all at once – making for the perfect addition to a visually captivating design.

Write to engage and write for the audience. Typically, a B2B audience is looking for information fast. There's no time to waste digging around your website for information when there are 10 other options that offer a similar service. Your audience is looking for a string of words that's informative, clear, and still interesting enough to make them thirsty for more. It must be compelling. Compelling copy is copy that leaves the reader with a clear next step and that adds value to the product or company.
Identify bad copy
We've all seen bad copy. But what is it? Bad copy includes filler buzzwords, jargon, and no clear next step. These are all likely to leave the visitor wondering both what solution you offer and what they should do next.
Then there is insidious bad copy. It's empty and dragging your brand into a haze of others that are similar, leaving it struggling to stand out.
Remove empty words, extreme jargon (when you can) and create a balance between talking to your existing audience and the potential audience that knows nothing about you but you want onboard. Instead of writing assuming people are in step with what you're saying, understand the varying degrees of audience engagement.
Words matter
Copy subconsciously shapes the visual representation and perception of your brand. That's why copywriters are so important. Your brand needs them to be in your branding or marketing process from day one to truly make a campaign thrive and a website flourish. They need to be invested and included early on to develop as the strategy develops and the copy will more naturally be in alignment to lift up your brand, rather than detract. Pick copywriters carefully, leave out the excess bad copy, and keep it short.
Cover image source: Ben Kolde