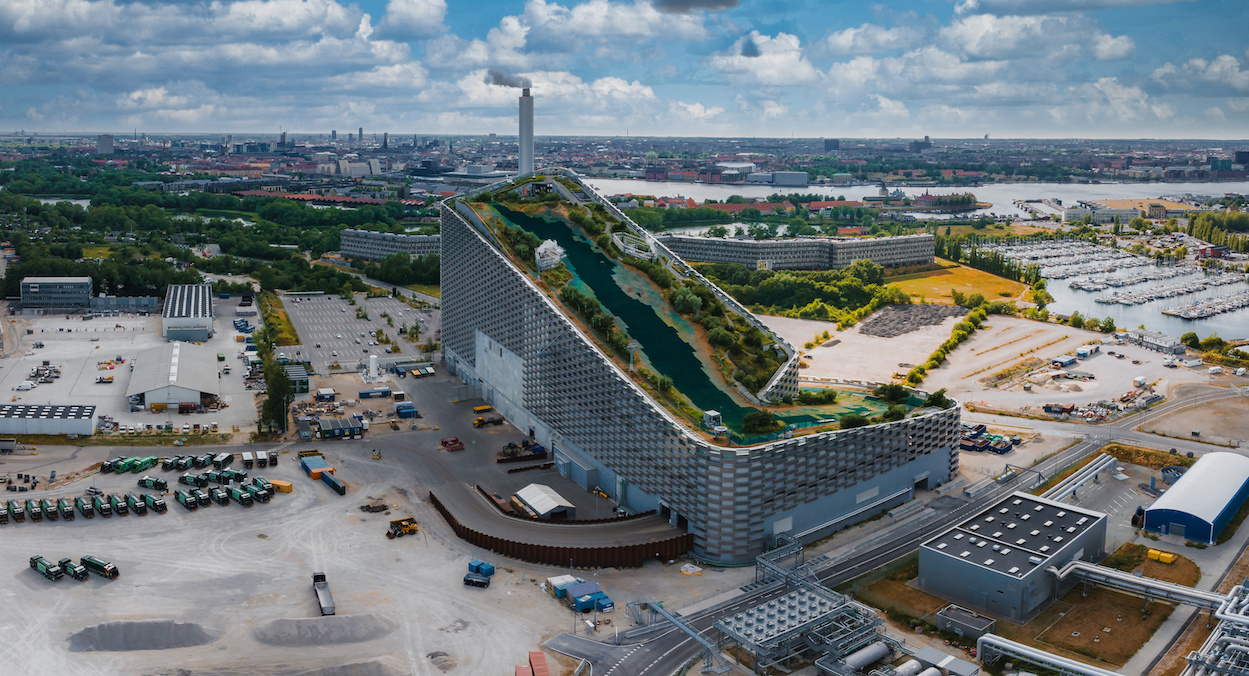 The Sixties and Seventies saw the first moon landing, hippies, rural communes and environmentalism, anti-war protests, the civil rights movement, and women's liberation. The period fired the imaginations of radical utopian architects like Archigram, who rejected the modernist straightjacket and conjured fantastical visions for better living through bold manifestos, projects and designs.
"We have the opportunity and responsibility to make the world a little more like our dreams." – Bjarke Ingels
What happened to that radical positivity – that sense of collective progress and warmth? The funny thing is, today, we've got all the tools and information in front of us to make changes that previous generations could only dream about – clean tech, biomaterials and a hyper-connected world are meeting a dawning collective sense that we can all do better.
More and more of us are recognising that in our high-velocity short-term culture, there is a lack of concern for future generations, who face threats from environmental collapse to out-of-control AI technologies. We're at a tipping point, yet it is also full of creative opportunities. The most successful brands will be those that choose to harness culture, innovation and humanity in order to create a positive impact on the world. We should all aspire to be good ancestors and show future generations how we rose to the challenges of these times of radical change.
Danish architect Bjarke Ingels inspires us by dreaming big and carrying forward so many future positive ideas through painstaking discipline. As the pioneer of 'hedonistic sustainability', he shows how visionary design can answer some of the world's biggest challenges whilst still being playful, simple, and even fun. His climate-positive waste-to-energy plant in Copenhagen doubles as an urban ski slope. The self-sufficient and carbon neutral Vollebak Island in Nova Scotia was developed in partnership with the British clothing brand as the ultimate showcase for Ingels' 'Plan for the Planet'. Radical, utopian, and visionary, this is a way of rethinking the way in which the world divides up its resources from first principles. The ambitious plans are meant to serve as a guide and a call to other firms to take decisive action.
Brands can't stand apart from change, they have to drive it.
Brands should be embedding technology, purpose and ideas into every part of their experience. And through brand transformation work, we as an industry can help them do it in the most impactful way possible. A case in point is Air Company, who make sustainable aviation fuel from CO2. They are shifting the languages of desire through provocative products such as their carbon-positive perfumes, capturing the imagination. The company has pioneered technology to mimic photosynthesis, taking the world's most abundant pollutant, CO2, and turning it into a resource. They set a compelling vision: 'We're creating products from CO2 to extend life on Earth'. And they own their narrative with a visual language that blends tech, desire, and purity.
Another example is Italian fashion label Zegna, who we worked with to develop Born in Oasi Zegna, a brand platform which not only roots the brand in where it came from, but places the values that inspired it at the heart of future projects and its global community.
Several learnings can be taken from this project:
Recontextualise truths
Immersion in the brand and its history to define the truths that make it unique. Then, recontextualising these to be future-facing, considering how they meet culture and relate to societal needs and the future path of the business.
Re-orient for future generations
Provoking and challenging the brand's role in the world with a lens that also looks generations ahead. Using 'what if' provocations to open up new initiatives. Shifting the strategic conversation from evidence towards making strategies emotive, compelling and actionable.
Create new languages of desire
Shift the language of desire towards new ideas. Own your own codes, language, and actions; evoke feelings and desire. Creating a unique mythology gives the brand DNA beyond visual codes. Zegna has codes of emotions, movement, even a type of light they want to own. With this tightly defined language, Zegna can invite brand partners to play with these codes without losing who it is. The brand shows that a unique mythology and narrative is a powerful tool to bring people into the vision, from farmer to finance, CEO and collaborators.
Liberate with discipline
Once truths, purpose and a unifying platform have come together, it liberates everyone to take action. But discipline is needed to stay true to the role and vision you have set. For a fashion brand, bringing purpose into the real world could mean initiatives such as embracing the use of pre-existing or post-consumer fabrics and materials, fully traceable collections, and partnerships with brands that share its values.
For businesses, innovation, cultural connection and a strong conscience are fast becoming the new table stakes. Branding gives us all the opportunity to help transform the way companies connect and relate to the world and play a part in steering future-positive actions. We must see ourselves as creative partners and choose to use our talent for something bigger. Only by working with and influencing future-positive companies can we help them meet radical change. We must have bold convictions that shared humanity can bring people together. We must believe in the combined power of creativity and technology to provoke action, solve problems, break new ground and raise the spirits.
As creatives working in branding, we can collaborate to bring about beautiful impact for our clients, teams, partners and future generations. By recontextualising brand truths, we can extend the time horizon. By provoking and challenging brands on their role in the world, we can help them open up new initiatives. We can use our creativity to help propel a shift towards new languages of desire – not the desire to accumulate 'stuff' but for more earthed, connected experiences. Now, and in the future.
Cover image: Ingusk