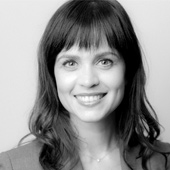 Jennifer Volmer
Jen's varied background in digital, content, and brand strategy enables her to apply a multifaceted approach to her work. Partnering with clients, she exercises creative and analytic thinking to offer strategic solutions. At Brand Union, Jen contributes primarily to the Bank of America Merrill Lynch business. Prior to joining Brand Union, she led digital marketing strategy and execution for middle market companies, guided Fortune 500 companies, including IBM and Verizon, to become branded content publishers, and developed robust influencer marketing campaigns for eCommerce and CPG brands such as eBay, Cape Cod Chips and Weight Watchers (she recommends trying the chips before trying the diet!).
Use the Bm | Bn switcher in the top-left corner to seamlessly switch between our Brandingmag and Branding.News websites.
Got it
branding-magazine
MailChimp error message holder
Got it
We noticed you're using an ad blocker. Totally understandable, but our ads are minimal, always relevant, and a great help for supporting our ongoing efforts to narrate a quality discussion around branding.
Please consider disabling your ad blocker or sign up/sign in before diving into our exclusive insights: