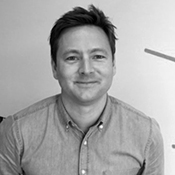 Neil Martin
Neil Martin is Creative Director at language agency The First Word, whose mission is to banish blah, bull and bunkum from business writing. He's helped everyone from British Airways to the British government to write like humans, not corporate robots. His least favourite word is disruptive. His favourite word is backpfeifengesicht.
Use the Bm | Bn switcher in the top-left corner to seamlessly switch between our Brandingmag and Branding.News websites.
Got it
branding-magazine
MailChimp error message holder
Got it
We noticed you're using an ad blocker. Totally understandable, but our ads are minimal, always relevant, and a great help for supporting our ongoing efforts to narrate a quality discussion around branding.
Please consider disabling your ad blocker or sign up/sign in before diving into our exclusive insights: