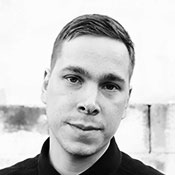 Noah Lekas
Noah Lekas is a writer and enduring student of the human condition. As a touring musician, journalist, and intermittent day laborer, he has called a half-dozen states home. These unique regional experiences inspired his inquisition into the greater American experience and exploration of emergent countercultures. His lifelong passion for the word "Why" organically found a practical outlet in brand consulting. Noah is Partner at Hero & Outlaw, a rogue strategy team, and the author of Saturday Night Sage, a collection of poetry about mysticism and menial labor. He continues to guest lecture and write for a variety of publications.
branding-magazine
Sign in with one of your social media accounts:
or with your email / username
branding-magazine
We're doing a bit of soul-searching to better know our readers and improve your experience. Please take this 2-min survey and you might just WIN the first edition of our new eBook series: State of the Brand!
Use the Bm | Bn switcher in the top-left corner to seamlessly switch between our Brandingmag and Branding.News websites.
Got it
branding-magazine
MailChimp error message holder
Got it
We noticed you're using an ad blocker. Totally understandable, but our ads are minimal, always relevant, and a great help for supporting our ongoing efforts to narrate a quality discussion around branding.
Please consider disabling your ad blocker or sign up/sign in before diving into our exclusive insights: