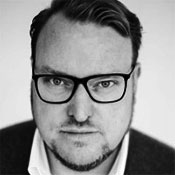 Thorsten Kirmes
Thorsten "Thor" Kirmes (45) is the founder of KIRMES GmbH & Co. KG, a Sonic Branding Agency based in Euskirchen and Cologne. For the past 18 years, the KIRMES team has been working with 100+ high-profile clients (e.g., Hard Rock Café, Volkswagen, Coca-Cola). For more than 17 years, KIRMES has also managed the career of multi-platinum artist Christina Stuermer. For the past ten years, KIRMES has also been involved in personal brand management and developed careers of a number of national and international artists (e.g., Multi-Platinum Artist Christina Stuermer In addition to his work as a publisher and editor in chief of A&B – Germany's first trade publication on audio branding) he also hosts the podcast "Inside the Music Business" and shares his knowledge as a guest lecturer at Fontys University of Applied Sciences in Venlo, Zeppelin University in Friedrichshafen, and the Fresenius University of Applied Science in Cologne.
branding-magazine
We're doing a bit of soul-searching to better know our readers and improve your experience. Please take this 2-min survey and you might just WIN the first edition of our new eBook series: State of the Brand!
Use the Bm | Bn switcher in the top-left corner to seamlessly switch between our Brandingmag and Branding.News websites.
Got it
branding-magazine
MailChimp error message holder
Got it
We noticed you're using an ad blocker. Totally understandable, but our ads are minimal, always relevant, and a great help for supporting our ongoing efforts to narrate a quality discussion around branding.
Please consider disabling your ad blocker or sign up/sign in before diving into our exclusive insights: