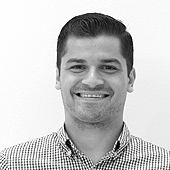 Vuk Bojovic
Vuk has passions for proper font weights, never-ending Pantone books, and pushing the boundaries of design with colleagues at jones knowles ritchie. He works closely with clients to help solve their creative challenges and ensure the outcomes are as purposeful as the design intention itself. Vuk has worked with global clients such as Cerebos, Suntory, AB InBev, Pepsico, and Mars Inc. His experience with jkr is reflected through work in studios spanning New York, London and Singapore – the latter of which he calls home. Vuk's articles are intended as conversation starters. He welcomes your thoughts in the comments below.
branding-magazine
We're doing a bit of soul-searching to better know our readers and improve your experience. Please take this 2-min survey and you might just WIN the first edition of our new eBook series: State of the Brand!
Use the Bm | Bn switcher in the top-left corner to seamlessly switch between our Brandingmag and Branding.News websites.
Got it
branding-magazine
MailChimp error message holder
Got it
We noticed you're using an ad blocker. Totally understandable, but our ads are minimal, always relevant, and a great help for supporting our ongoing efforts to narrate a quality discussion around branding.
Please consider disabling your ad blocker or sign up/sign in before diving into our exclusive insights: