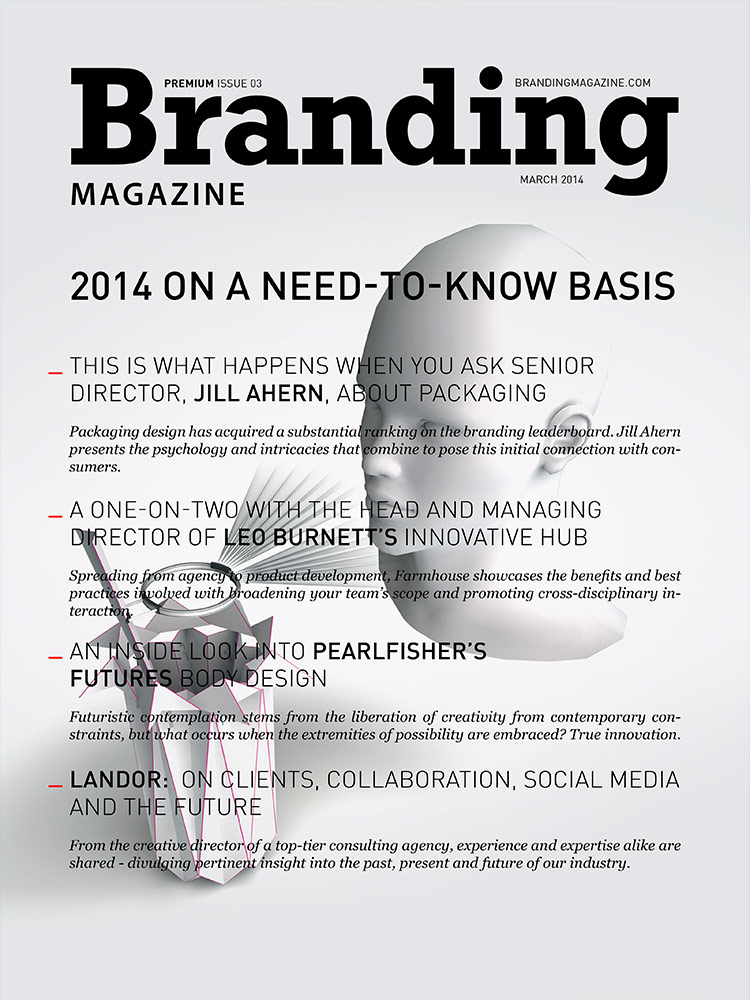 back to store
---
Issue 9
2014 on a Need-to-Know Basis
Summary
With the recent commencement of 2014, our first Premium Issue of the year comes with a sprinkle of last year's best and a spoonful of expertise regarding what's to come. Tapping into the likes of Leo Burnett and Landor, this issue pays tribute to innovative missions, social valor, packaging alchemy and futuristic contemplation. It presents readers with an array of opinions, experiences, visions and advice, all from leaders that notice the patterns necessary for successful executions across the branding spectrum. This is one to keep nearby as the year progresses, to utilize as a cookbook for your most unique and well-crafted creations.
• The Social Media Recipe of the Year by Flavia Barbat
• The Global Brand Simplicity Index, Courtesy of Siegel+Gale by Jovana Tomic
• A How-To on Brand Sustainability for the New Year, Featuring David Williams by Flavia Barbat
• Brand Wars: Is It Worth It? By Dorian Cioban
• Insight on the Psychology of Packaging, a Discussion with Jill Ahern Flavia Barbat
• Takeaways from the Most Innovative Marketing Brand Efforts of 2013 by Katrina Radic
• One-on-Two with the Head and Managing Director of Leo Burnett's Innovative Hub by Flavia Barbat
• An Inside Look at Pearlfisher's Futures Program by Flavia Barbat
• Landor: On Clients, Collaboration, Social Media and the Future by Dorian Cioban
---
back to store
branding-magazine
We're doing a bit of soul-searching to better know our readers and improve your experience. Please take this 2-min survey and you might just WIN the first edition of our new eBook series: State of the Brand!
Use the Bm | Bn switcher in the top-left corner to seamlessly switch between our Brandingmag and Branding.News websites.
Got it
branding-magazine
MailChimp error message holder
Got it
We noticed you're using an ad blocker. Totally understandable, but our ads are minimal, always relevant, and a great help for supporting our ongoing efforts to narrate a quality discussion around branding.
Please consider disabling your ad blocker or sign up/sign in before diving into our exclusive insights: