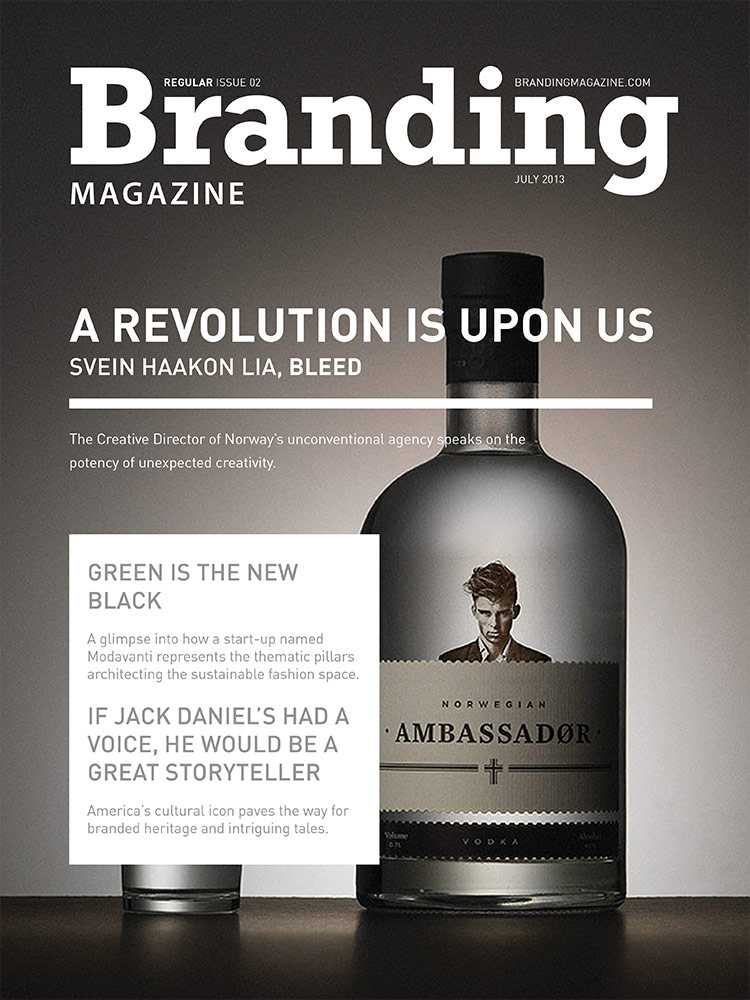 go to store
---
Issue 3
A Revolution Is Upon Us
Summary
From Norway to Australia and from packaging design to award-winning creative, this issue crosses physical borders as much as it does metaphorical ones. It features interviews with the likes of The Collective partner, Margaret Nolan; Modavanti's Director of Operations, Adam Clancy; Bleed's Creative Director and Founding Partner, Svein Haakon Lia; and Ogilvy & Mather Prague's Executive Creative Director, Will Rust. As these experts speak from the creative side, our very own contributors and writers also delve into the tech space with an Android-focused feature, the alcohol sector with an ode to Jack Daniel's and film branding with a study of The Great Gatsby. Basically, this issue gives you a little bit of everything!
• What Happens When Humor and Sensitivity Co-Create… by Flavia Barbat
• A Revolution Is Upon Us by Flavia Barbat
• Green Is the New Black by Flavia Barbat
• International Branding: The Anthropologic Designer by Sebastian Guerrini
• Wine Branding: It's All in the Bottle by Katrina Radic
• Android: A Story of Success by Dorian Cioban
• If Jack Daniel's Had a Voice, He Would Be a Great Storyteller by Katrina Radic
• Star Quality: Film Branding with The Great Gatsby by Flavia Barbat
---
go to store
branding-magazine
Sign in with one of your social media accounts:
or with your email / username
Use the Bm | Bn switcher in the top-left corner to seamlessly switch between our Brandingmag and Branding.News websites.
Got it
branding-magazine
MailChimp error message holder
Got it
We noticed you're using an ad blocker. Totally understandable, but our ads are minimal, always relevant, and a great help for supporting our ongoing efforts to narrate a quality discussion around branding.
Please consider disabling your ad blocker or sign up/sign in before diving into our exclusive insights: