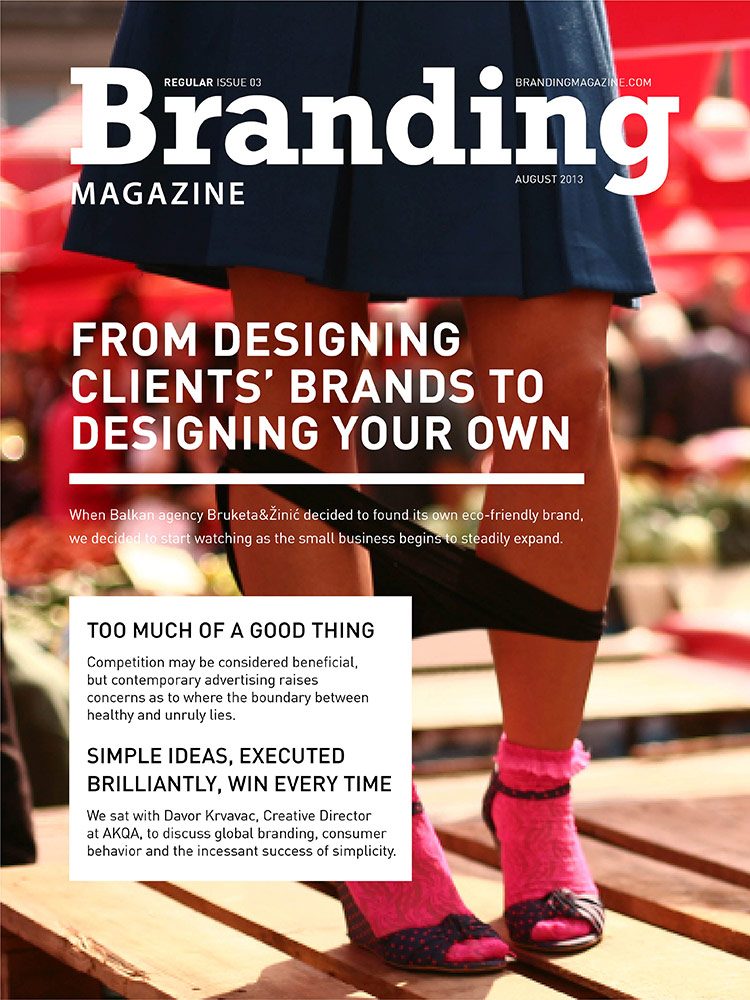 back to store
---
Issue 4
From Designing Clients' Brands to Designing Your Own
Summary
Becoming a champion in the sport (or art?) of branding requires a good amount of know-how with a sprinkle of expert advice. This, our third Regular Issue, is filled with such ingredients, including articles such as "8 Tips for Building a Stronger Brand" and "Branding? Here's a Method to Get You Started." Along with these how-to's, the issue is also filled with exemplary case studies. It includes the wise words of those who launched a new product (Elli) internationally, those (Bruketa&Žinić) who went from branding for clients to introducing their own brand and those (AKQA) who believe strongly in the power of simplicity. The content list is topped off with some extras, such as the transformation of grafitti into fantastic guerilla marketing and an assessment of contemporary competitive advertising.
Contents:
• 8 Tips for Building a Stronger Brand by Dorian Cioban
• A Product Never Before Seen This Side of the Atlantic by Flavia Barbat
• Branding? Here's a Method to Get You Started by Ayesha Mathews-Wadhwa
• From Designing Clients' Brands to Designing Your Own by Katrina Radic
• Graffiti in Reverse by Flavia Barbat
• Simple Ideas, Executed Brilliantly, Win Every Time by Dorian Cioban
• Too Much of a Good Thing by Flavia Barbat
---
back to store
branding-magazine
We're doing a bit of soul-searching to better know our readers and improve your experience. Please take this 2-min survey and you might just WIN the first edition of our new eBook series: State of the Brand!
Use the Bm | Bn switcher in the top-left corner to seamlessly switch between our Brandingmag and Branding.News websites.
Got it
branding-magazine
MailChimp error message holder
Got it
We noticed you're using an ad blocker. Totally understandable, but our ads are minimal, always relevant, and a great help for supporting our ongoing efforts to narrate a quality discussion around branding.
Please consider disabling your ad blocker or sign up/sign in before diving into our exclusive insights: