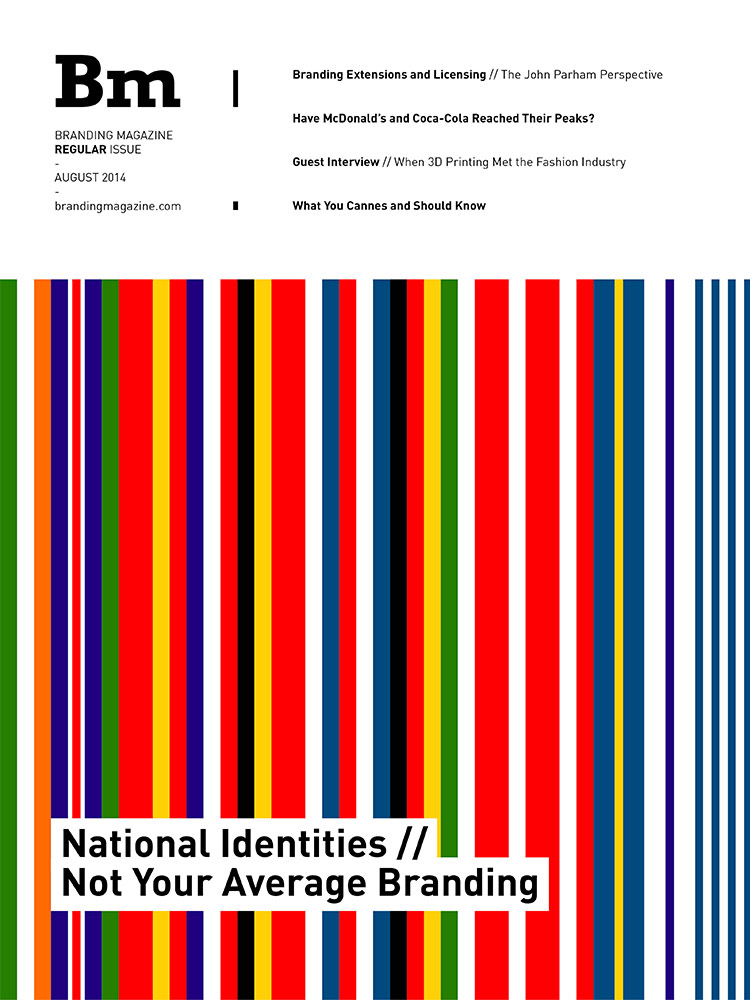 back to store
---
Issue 11
National Identities: Not Your Average Branding
Summary
BM's eighth Regular Issue is filled with our contributors' opinions on everything from national branding and public relations to design efficacy and unconscious loyalty. It also tackles branding extensions and licensing with John Parham, while debunking the 3D printing frenzy in fashion with a guest interview from a Greek student. In addiition, we take you through a couple megabrand analyses and, at the end, tell you what you Cannes and should know.
• National Identities: Not Your Average Branding
• Brand Empathy: A New Focus on Human-Centred Design
• Design Like a Hare Not a Tortoise: Four Things We've Learned to Design Quicker and More Effective
• Branding Extensions and Licensing: The John Parham Perspective
• The Brands Losing Their Cool Factor for the Sake of Profit
• Brand Loyalty is Largely Unconscious
• Food Brands: Who Owns Them?
• Have McDonald's and Coca-Cola Reached Their Peaks?
• Guest Interview:  When 3D Printing Met the Fashion Industry
• What's New? A Crash Course on Observed Media Trends
• Put the Phone Down for Better PR Results
• What You Cannes and Should Know
---
back to store
branding-magazine
We're doing a bit of soul-searching to better know our readers and improve your experience. Please take this 2-min survey and you might just WIN the first edition of our new eBook series: State of the Brand!
Use the Bm | Bn switcher in the top-left corner to seamlessly switch between our Brandingmag and Branding.News websites.
Got it
branding-magazine
MailChimp error message holder
Got it
We noticed you're using an ad blocker. Totally understandable, but our ads are minimal, always relevant, and a great help for supporting our ongoing efforts to narrate a quality discussion around branding.
Please consider disabling your ad blocker or sign up/sign in before diving into our exclusive insights: