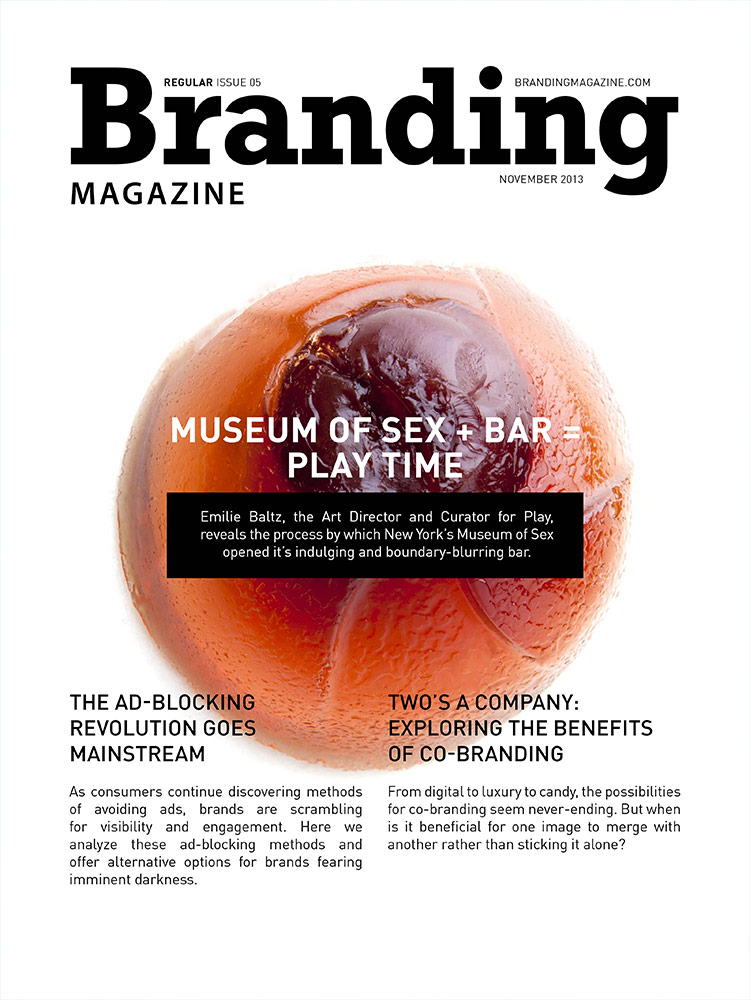 back to store
---
Issue 7
The Museum of Sex
Summary
We begin our fifth Regular Issue with a look at the new ad-blocking trend traversing the Internet, a contributor piece from Aaron Aders. This is followed by a recap of the Incite Marketing and Communications Summit, with valuable pieces of knowledge from some of the industry leaders that were present. Then the true fun begins. We discuss the attempted rebrand of feminist ideology, the intricacies of co-branding, the Museum of Sex and it's playful new bar, and square-bottled wine. Like we said, fun.
• The Ad-Blocking Revolution Goes Mainstream by Aaron Aders
• Insightful Incite by Flavia Barbat
• Feminism: The Attempted Rebrand of an Ideology by Katrina Radic
• Two's a Company: Exploring the Benefits of Co- Branding by Dorian Cioban
• Museum of Sex + Bar = Play Time by Flavia Barbat
• California Wine Squared Away by Jovana Tomic
---
back to store
branding-magazine
We're doing a bit of soul-searching to better know our readers and improve your experience. Please take this 2-min survey and you might just WIN the first edition of our new eBook series: State of the Brand!
Use the Bm | Bn switcher in the top-left corner to seamlessly switch between our Brandingmag and Branding.News websites.
Got it
branding-magazine
MailChimp error message holder
Got it
We noticed you're using an ad blocker. Totally understandable, but our ads are minimal, always relevant, and a great help for supporting our ongoing efforts to narrate a quality discussion around branding.
Please consider disabling your ad blocker or sign up/sign in before diving into our exclusive insights: