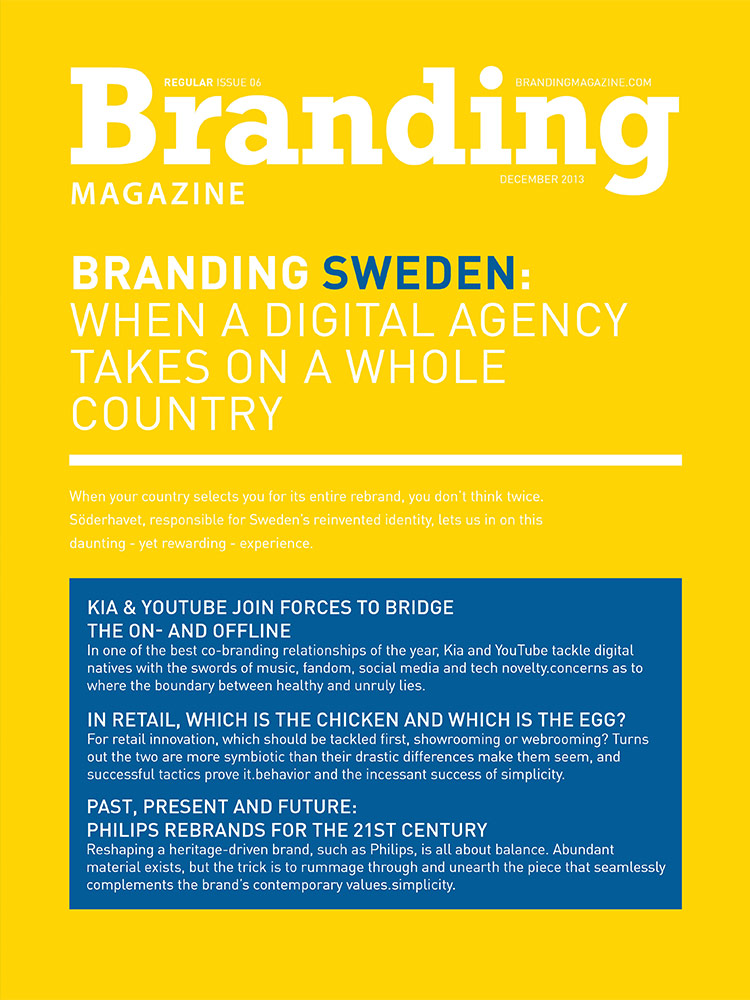 back to store
---
Issue 8
When a Digital Agency Takes on a Whole Country
Summary
This Regular Issue delves into rebranding, co-branding, retail, mobile luxury and social advertising. What does it take to reshape a brand full of heritage? Balance. How do you bring two powerful brands together to target millennials? Digital. Which should retail tackle first, showrooming or webrooming? Both. What does it take to rebrand an entire nation? Courage.
• Kia & YouTube Join Forces to Bridge the On- and Offline by Flavia Barbat
• Michael Kors Takes the Front Seat with Instagram Advertising by Jovana Tomić
• The New Louis Vuitton Mobile App by Dorian Cioban
• In Retail, Which Is the Chicken and Which Is the Egg? by Flavia Barbat
• Past, Present and Future: Philips Rebrands for the 21st Century by Dorian Cioban
• Branding Sweden: When a Digital Agency Takes On a Whole Country by Katrina Radić
---
back to store
branding-magazine
We're doing a bit of soul-searching to better know our readers and improve your experience. Please take this 2-min survey and you might just WIN the first edition of our new eBook series: State of the Brand!
Use the Bm | Bn switcher in the top-left corner to seamlessly switch between our Brandingmag and Branding.News websites.
Got it
branding-magazine
MailChimp error message holder
Got it
We noticed you're using an ad blocker. Totally understandable, but our ads are minimal, always relevant, and a great help for supporting our ongoing efforts to narrate a quality discussion around branding.
Please consider disabling your ad blocker or sign up/sign in before diving into our exclusive insights: