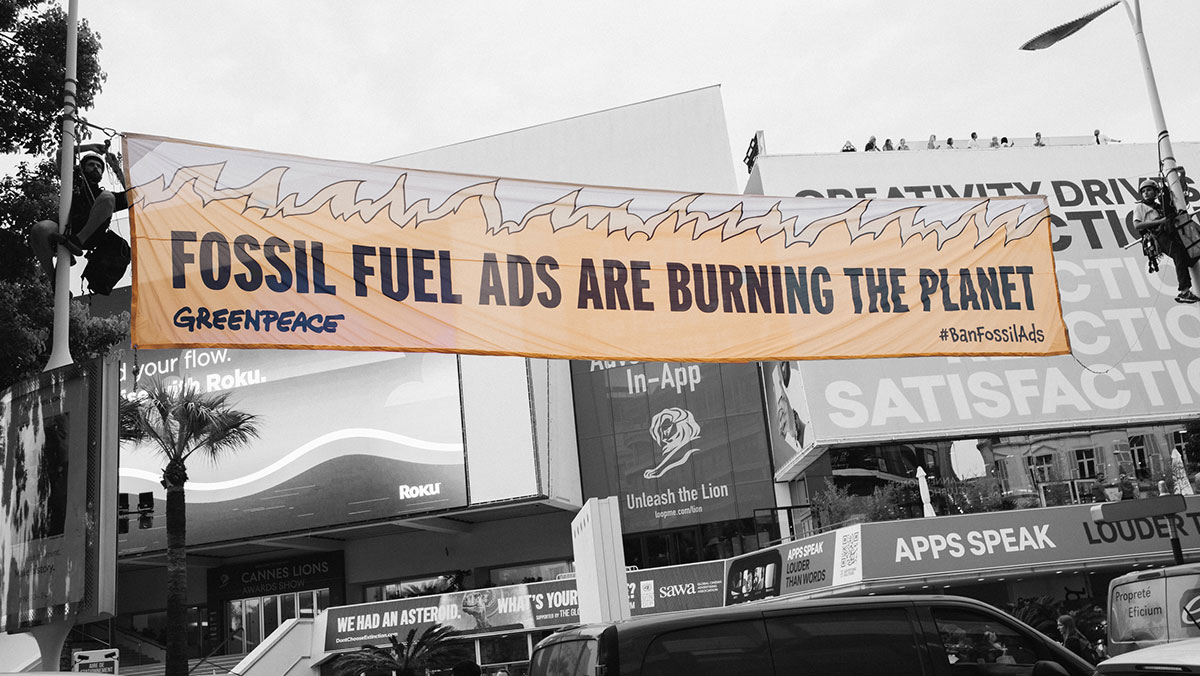 One brand dominated at Cannes Lions 2022. Of all the work on display this year, this brand's highly targeted campaign not only stood out but was the most talked about. That brand, in case you haven't already guessed it, was Greenpeace.
Greenpeace got one better on Cannes this year with a series of protests calling on the ad sector to cut ties with the fossil fuel industry. There was a beach invasion with Greenpeace activists on kayaks and dressed in dog costumes in a reference to the viral "This is fine" meme of a cartoon dog with flames around him. Then, the protesters, again dressed in dog costumes, scaled the side of the Palais using a truck ladder. These stunts followed the stage invasion by former-Cannes-Lions-winner-turned-Greenpeace activist Gustav Martner at the opening ceremony.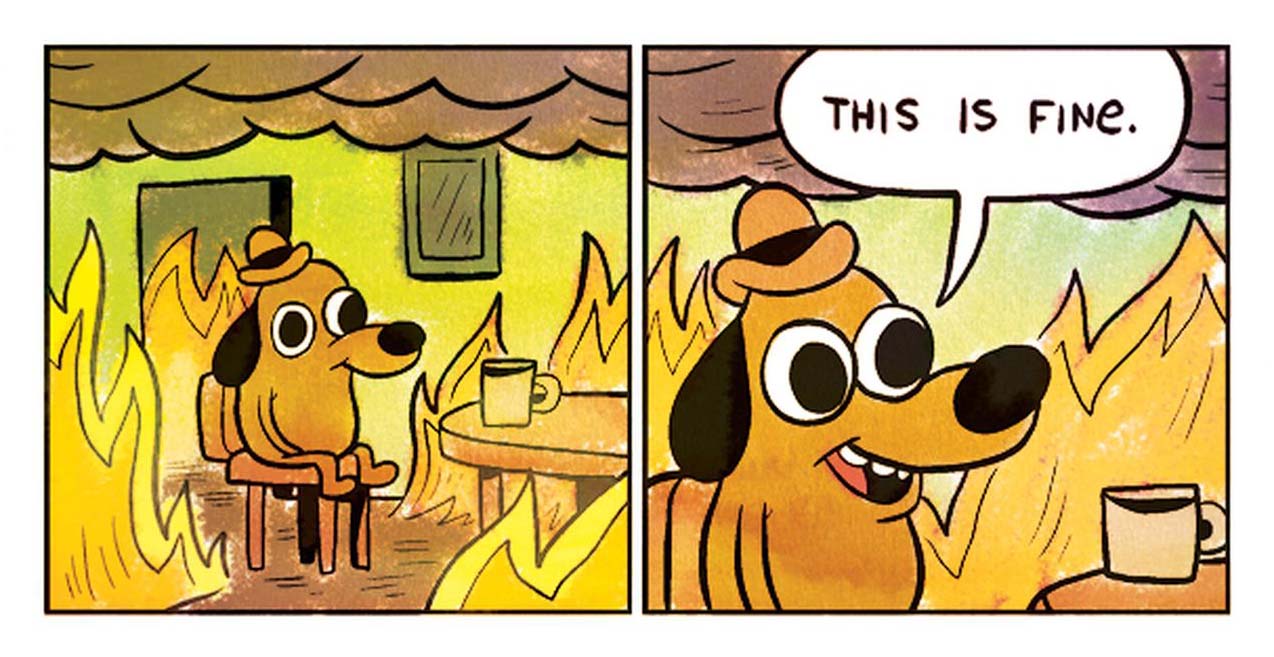 Greenpeace is an organization designed to act on purpose. Its protests at Cannes Lions, the industry's biggest platform, held a mirror up to advertising, its harmful practices, and its hypocrisies.
But, as we know, getting brands – and the ad industry – to take decisive action and do the right thing isn't easy. Many companies are only now grappling with the notion that they need a purpose in the world and that they must focus on people on the planet as well as profit. Brands are entering a brave new world where they face new challenges on purpose, transparency, and relevancy.
This year's Cannes Lions highlighted the need for brands to understand who they really are and how best they can connect, along with how to act with purpose. Brands desperately need to gain relevance with an elusive younger generation of consumers that increasingly expects brands to align with their values.
One brand that has been acting on purpose for many years now is Dove. At a panel discussion at Cannes, Dove's chief marketing officer Alessandro Manfredi said that this focus on purpose has resulted in a "massive impact" on long-term sales. He pointed to the three factors that, in his view, are required to make purpose a driver of growth: connecting purpose to the industry; being authentic; and investment. Purpose needs to be acted upon and not just talked about. And the rewards, as Dove will attest to, make it the smartest investment for a brand.

Purpose was on display in the Grand Prix winning entries, and not just those in Sustainability or the Glass Lion, but right across the board, from Business Transformation to Design. The Design Grand Prix winner, for example, was a Penguin Books campaign to launch a book that celebrated the 50-year anniversary of Portugal's Carnation Revolution, which ended a fascist government regime that had been in place for more than 40 years.
The campaign invited writers and artists in Portugal to use blue pencils, which are a symbol of repression and censorship under the fascist regime, to create poems and drawings across copies of the fascist constitution and, in so doing, reclaim the words as a symbol of freedom.
The Design jury president, Lisa Smith, a creative director at Knowles Jones Ritchie, praised the idea's enduring impact. The publishing house wanted to show its connection with Portuguese culture and this campaign achieved that. As Smith explained, "It's no longer about views and what the media spend was, but actually really about what longstanding impact it will have in culture and Portuguese [citizens] for futures to come."
At Cannes, this year, there was much discussion around defining purpose. But looking at purpose as a nebulous concept that needs to be pinned down can make it seem like an add-on or a nice to have. On the contrary, it is core to brand building and design. It should be thought of as a practical tool for businesses that want to succeed and shape the future.
Purpose is fundamental to business. A stunt or a social media post can knock millions off balance sheets, make markets wobble, and even get a C-suite fired. Gen Alpha and Z aren't going to be as forgiving as past generations of customers and they have more tools to express their views.
Being more self-aware is one thing but navigating this new world takes some work. Great brands understand who they are and how to behave but unfortunately, that's just half the battle as we move forward. Creating a red thread that drives real purpose through your business, from culture to customers, is essential. And that's where the power of design comes in.
Design is a secret weapon to leverage here. Design is much more than cool visuals. It is a fantastic tool kit that requires us to question and problem-solve in unusual ways and this helps create cues, behaviors, and relationships that help surface a brand's purpose. I'd go as far as saying it's a secret weapon that can convey a brand's meaning.
"This year's Cannes Lions highlighted the need for brands to understand who they really are and how best they can connect, along with how to act with purpose."
It's important to not only hear about a company's purpose from its leadership but to use design as a distribution agent to connect and communicate at scale. You see, experience, and feel a brand's purpose at every interaction at scale.
What design brings to the table in this new disruptive world is the ability to not just say but do. Put purpose into play in ways that connect on many levels. Those are the proof points your brand needs to make it relevant and connect to current and future audiences.
We often talk about conscious brands here at Wolff Olins. This isn't just about sustainability credentials, but also about being responsible and responsive in equal measure.
Reading the feeling in the room, understanding the direction society is heading, and therefore responding and adapting for the future by designing forward and creating future-ready brands. Do you want your brand to be part of the conversation for the right reasons? Or have the activists come for you? Because they will keep coming – and they're stealing the show.