What is Guerrilla Marketing
Firstly let's remind ourselves what guerrilla marketing is: it was defined by Jay Conrad Levinson in his book Guerrilla Marketing back in 1984 as "the act of executing an unusual or unexpected marketing activity in a common, everyday place in order to generate a buzz for your products or services"
I translate this for today as: identifying closely the target consumer, doing something that really takes them by surprise and has a lasting impression in a fun and positive way.
Guerrilla Marketing's relevance in 2012

Infographic: AdAge
I've inserted this amazing infographic from Ad Age which shows media consumption across Europe by generation. The key and basic message this delivers for me is: The European consumer engages, interacts and is bombarded with brand content through a large variety of media throughout the day.
We are also constantly reminded of the importance of social media and the usage stats speak for themselves:
Estimated number of social networking users are more than 940 million
Seven out of ten Internet Users are active on at least one social network.
Facebook: More than 30 billion pieces are shared monthly, an average of more than seven billion a week.
Twitter: There are on average 200m tweets per day. Angelina Jolie's right leg got 28,000 followers on Twitter in the first day after Oscar night!
Therefore, Guerrilla marketing clearly does have a place in 2012 – creating cut-through in a crowded media environment where consumers multi-task and attention span is low. If it is done right it also creates vital positive engagement.
It is ideal for small businesses that need to reach a lot of people but also for large brands who are trying to achieve cut-through by introducing a more grass root element to their campaign.
Guerrilla Marketing Principles
To be effective guerrilla marketing needs to be based on a number of principles:
The customer is more important than securing the sale (that comes later) – a different principle to most elements of a marketing campaign.
 It is about targeting individuals rather than a whole group
When individuals get hooked on the idea that a guerrilla advertising campaign is portraying, they spread that idea to their friends.  This can result in the idea going viral.  That is the power of connecting to the individual rather than a group
Unexpected campaigns drive attention
Any activity needs to be followed up to build on the relationship and to ensure that consumers are never disappointed.
As quickly as guerrilla marketing messages can spread, negative feedback spreads even faster. Also what is the point in creating noise then doing nothing with it? This is so often a mistake made by marketers.
Guerrilla marketing tactics are different and typically more unpredictable than traditional marketing activities. They are, of course, designed to be more memorable and produce a bigger impact.
However being bold can mean taking a risk, another reason for quick follow up. It is essential that, particularly in a big company, everyone buys into the campaign and any potential risks that may be involved.
Guerrilla Marketing Examples
Guerrilla marketing is not just about putting up some enhanced posters or creating a viral piece. Below I list a number of different types of guerrilla marketing and give some examples. This list is not exhaustive – that is up to your creative marketing team!
1. Ambient Advertising – placing ads on unusual items or in unexpected places.
A common trend in ambient advertising is taking an object and making it in larger or smaller scale.  It's a great way to raise curiosity and get the person to come and take a closer look.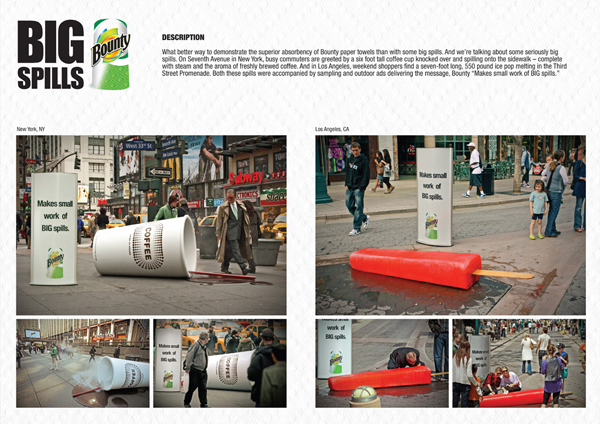 Photo: ibelieveinadv.com (Click for a larger image)
2. 'Stunts' – have people do something unexpected that makes people notice.
Lynx in the UK (Axe in other markets)  loaded a double decker bus with several couples. Suddenly all the couples jump all over each other and start kissing passionately . The bus was also wrapped with an ad that said, "Lynx Attract for Him + Her."
Advertising Agency: Tullo Marshall Warren, London, UK
3. Outdoor advertising an event : Purina Bark in the Park – New Zealand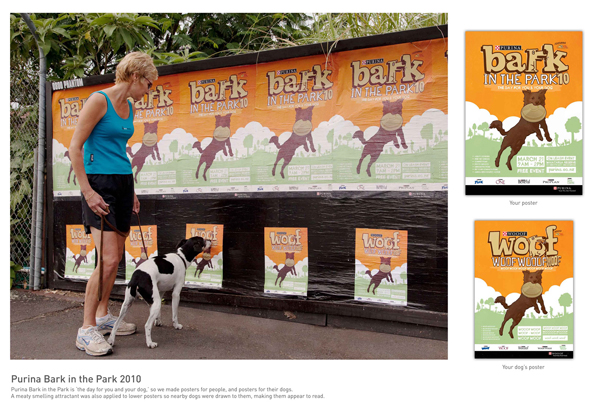 Photo: adsoftheworld.com (Click for a larger image)
Purina Bark in the Park is 'the day for you and your dog'. Ogilvy Auckland made posters for people, and posters for their dogs. A meaty smelling attractant was applied to lower posters so nearby dogs were drawn to them, making them appear to read.
4. Using Facebook timeline  
The Israel Anti-Drug Authority recently created a Facebook profile of 'Adam' who on the left is using drugs and on the right life without drugs. Made to look like the profile of someone you know.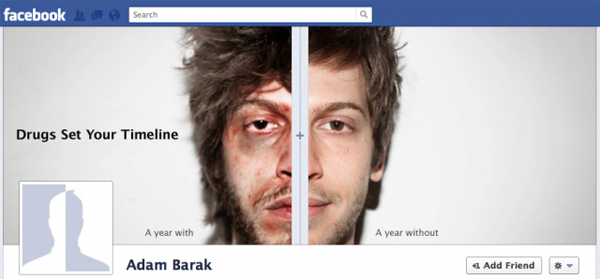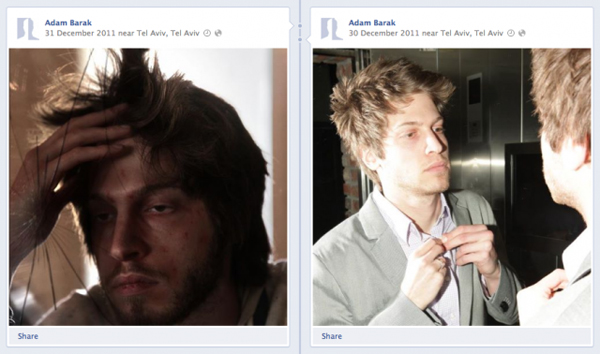 Photos: adverblog.com
This was a really creative use of the new Facebook format which cleverly leverages the Facebook timeline feature
Guerrilla Marketing relevant to 2012? In a word yes.
As we become increasingly more commercially oriented and even more distracted with the fragmented digital world,  it seems that ads and brand messaging are popping up nearly everywhere. Creating cut through is and will continue to be critical to any product or brand.