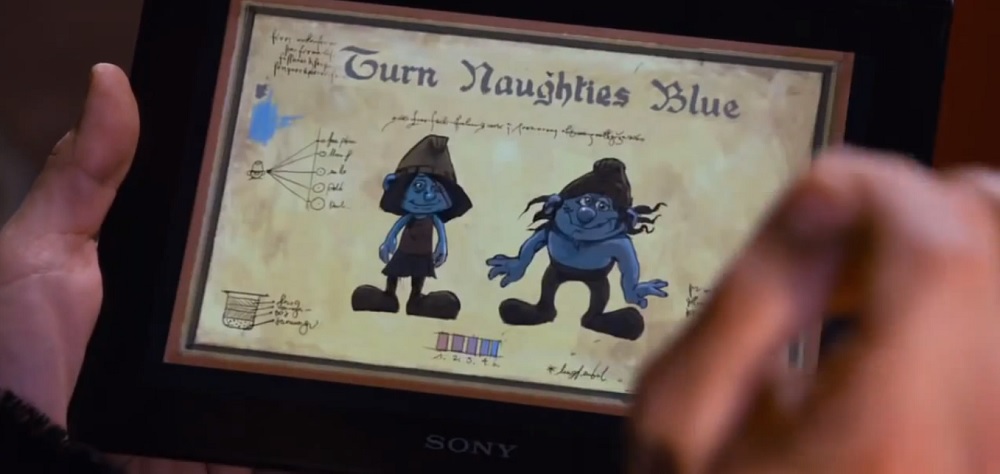 Product placement within film and TV is hardly breaking news. Since the dawn of broadcast media, brands have been eager to muscle in on our attentions and put their logos in front of us. We now expect to see James Bond with his Omega watch, driving his Aston Martin and flashing his latest smartphone. But I have to ask, are brands now taking product placement to a whole new patronising level?
Recently, we took the kids on a cinema trip to see The Smurfs 2 (not my choice, I hasten to add!). I can't say I was expecting an Oscar-worthy, two-hour emotional tour-de-force of filmmaking, but I was astounded by the degree of product placement within the film. Prior to the screening, I wasn't aware that it was a Sony Pictures production, but by the end I was wondering if the script was actually based around Sony products!
From the newscaster presenting in front of a Sony LED TV to every single adult cast member using a Sony Mobile (of course, demonstrating its full range of services), I actually think it's difficult to argue that the brands didn't tailor the script to meet their product placement needs. The villain Gargamel even used a Sony Vaio tablet to cook up his dastardly plans. Twice!
As it transpires, Sony Pictures secured deals worth $150 million from over 100 corporate partners to promote a raft of products within the film, far exceeding the production budget of $110 million. To my kids, and I'm sure every other child in that theatre, this likely didn't register. But for us more brand-aware adults, it was so blatant that I have no doubt I missed several more Sony products woven into the script.
Are brands beginning to push their luck a bit too far? Investment in the film and TV industry is crucial, but, in exchange for a sizable cash injection, brands are naturally going to push for as much of the limelight as possible, with scant regard for the script. The larger the investment, the larger the degree of control exerted.
SEE ALSO: Mocking Personal Branding with Product Placement
The trend was highlighted in typically overstated-fashion by Morgan Spurlock last year with The Greatest Movie Ever Sold – a documentary on product placement with a $1.5 million budget entirely funded by… product placement. As brands become an even more ever-present constant in every facet of our lives, the natural progression is that the volume will further increase and the stakes raised even higher.
The connotations for the film and TV industry are slightly worrying, particularly at a time where the industry – I believe – is enjoying the rudest of health in recent years through some remarkable films, TV content and documentaries. I wonder if, as brands seek greater screen-time, we are going to see a day in the not-too-distant future when an actor will refuse to endorse a brand in a movie? Or will the lure of money continue to trump all as more and more blockbuster movies appear as little more than very long adverts with a storyline bolted on?
To some extent, audiences do want to see product placement within films; for example, to see a character entering Starbucks as opposed to a trademark-friendly, fictional alternative adds a degree of realism to proceedings. However, there is a fine line that needs to be observed or else the brand risks sticking out like a sore thumb. Unfortunately, since James Bond swapped his Martini for a Heineken, Will Smith dwelt a bit too long on a pair of Converse in I, Robot and Superman reboot Man of Steel hedged it's box-office failure by securing over 100 global brand partners to the tune of $160 million, the act of product placement has been increasingly taking the spotlight away from the actual stories themselves.
I like to think I can appreciate both great branding and great filmmaking, but how closely should we be allowing these two disciplines to merge? With cinema visits in decline and gimmicky features such as 3D failing to take off, the money has to come from somewhere after all. But is it in the brands' best interests to push their own agendas at the expense of great filmmaking? Is it in their best interests to appear cheesy, naff and downright uncool, thereby damaging their valuable brand equity?
You would think not, but, still, I can't help but feel that it's up to us – the audience – to make that stand.