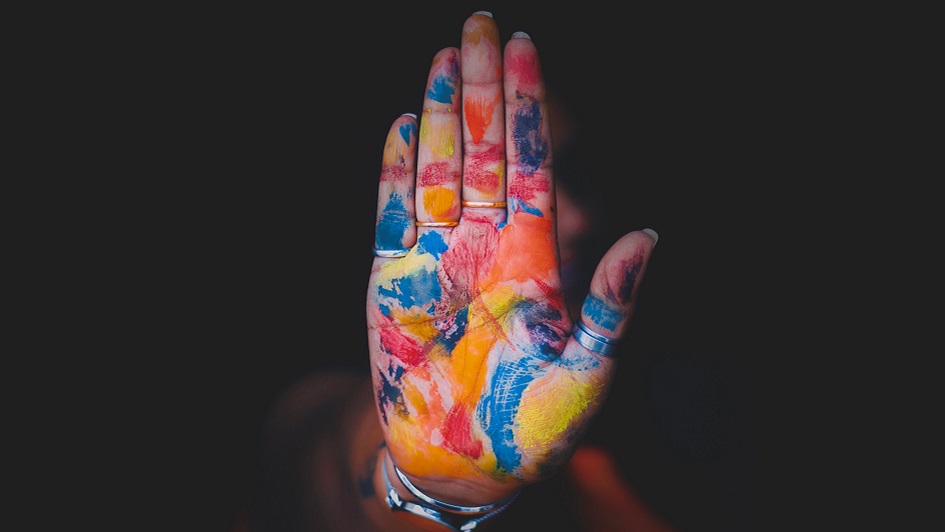 Iconoclasts are known as rule-breakers who defy authority to expand creative horizons.
ICNCLST, an art advisory in New York City, specializes in non-traditional projects, partnering with artists and brands to "create something special that makes a difference," says founder Sky Gellatly. Gellatly founded ICNCLST, an acronym for iconoclast, in 2015 expressly to help brands "engage with the creative community and to help commercial partners focus on the fundamental reasons why working with artists can benefit the brand." The firm answers questions such as:  What's the desired goal? And is it creatively inspired?
ICNCLST both originates business for its stable of artists and assists brands in partnering with artists who can further their visions. "Artists want to work with brands, but are more comfortable working through an intermediary," states Gellatly. "Many of our relationships stem from an artist reaching out to us as we've become recognized as a resource for the creative community."
A Mix of Creative Talents
Gellatly brings an intriguing mix of talents to his work. Beginning his career as a journalist with Complex magazine, he moved to MTV (where he learned to produce video just as it was scaling online, then on to DETAILS magazine to manage digital. It was there that he recognized a shift in the media as blogs became a hot medium. "Brands wanted to speak directly to consumers from a credible editorial lens through text, video, and photography. It was the beginning of brand storytelling and I wanted in."
ICNCLST is the product of the evolution of a concept and Gellaty's professional development. "A specialized agency seemed the best way to help artists in a commercial capacity, where they are represented by people who understand brand marketing from a creative communication perspective."
"Brand criteria are vastly different from how artists see themselves."
Similarly, ICNCLST helps brands partner with artists and gain insights into the creative community. "Generally, a brand or agency representative is not steeped in the contemporary art market," said Gellatly. "But they have a mandate – 'we need an artist for something' – and tend to seek out whoever has the highest social media following and the best representation in the fine arts world. Cultural value plus earned media value plus, potentially, an economic advantage are what brand want. Brand criteria are vastly different from how artists see themselves."
Documentary photographer Timothy McGurr, aka 13thwitness, became Gellatly's first client and creative partner. Together, they produced campaigns for PepsiCo; shot documentary content at music festivals; interviewed musicians; produced videos for the likes of John Mayer, Cypress Hill, and the Deftones; and, ultimately, created a suite of work that enabled 13thwitness to thrive within the commercial ecosystem. "At that juncture, it seemed there could be some scale to this concept of artists creating content: editorial or visual, an artwork or a product."
Soon, 13thwitness's father (an iconic New York graffiti artist who goes by the name Futura and whose work popularized hip-hop) signed on. "Representing Futura opened up possibilities across graphic design, painting, drawing, typography, etc., that fit well with commercial partners and the traditional art world. We now had a complete creative offering that a brand could engage with," added Gellatly.
Partnering with Artists
At that stage, few brands had organized means of partnering with artists, but rather an artistically-inclined marketer who wanted something breakthrough would enlist an artist. "It wasn't a trend, but some folks at brands really cared about art in general," Gellatly mentions.
Once a brand contacts ICNCLST, the first step is to establish why the brand wants to work with an artist and how art aligns with the brand's strategic vision. Second, what consumers or audiences is the brand trying to reach? "That's the foundational layer when solving for why art is a solution. Then, we look for creative collaborators to best meet those goals."
Gellatly's media and agency experience enables him to frame up artists in terms of their cultural value – how their network will lift a brand – and create metrics to gauge a program's success. The brand gets a comprehensive understanding of the partnership, all the way through to the KPIs.
Art Launches the Google Pixel 2
Over the past year, ICNCLST created three creative executions for the launch of the Google Pixel 2 phone. 13thwitness shot a spot featured in Google's launch event promoting the device's photographic and video capabilities. The video, shot by ICNCLST client director Zack McTee, used the Pixel 2 to capture and document 13thwitness's shooting stills with the phone.
This content, created with a meta-narrative layer, was shown during Google's keynote livestream at their Annual Innovation summit, was posted on 13thwitness's Instagram account (reaching over 700,000 people), and gained a spot on Google's Instagram account.
Baron Von Fancy's Custom Cases
The second project, done in partnership with New York artist Baron Von Fancy, created a series of slogans posted on the Pixel 2 website where consumers could choose one to make their own phone case. "It's taking what the Baron is known for – billboards and out-of-home creative – aligned with slogans that appear on the cases. Then, the phone and case were used in an ad for the launch of the Pixel 2 in The New York Times Magazine," said Gellatly.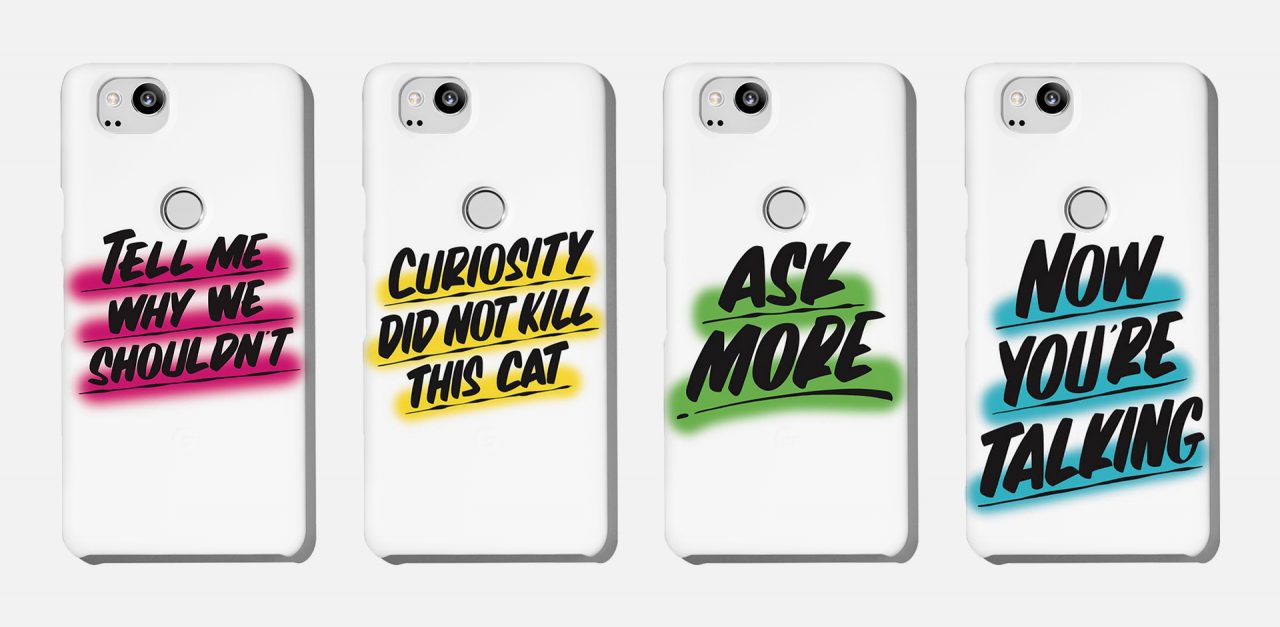 The Google campaign followed a traditional marketing communications plan. "Google wanted to work with Baron Von Fancy because, unlike other artists whose creative might be abstract, it's very one-to-one. There's a strong slogan. Someone who knows who he is gets it. Someone who doesn't may still like it because its appeal is universal," added Gellatly.
29Rooms: A Childhood Playground
The third project for the Pixel 2 Live Case Program employed painter Nina Chanel Abney, a successful contemporary artist who had never worked on a commercial project, to create a series of Pixel 2 cases, as well as an installation for Refinery29's 29Rooms (where Refinery29 and Google created a platform that inspired guests to ask questions challenging the status quo). This was the first time Nina had applied her work in a 3-dimensional format, celebrating nostalgia by returning people to a childhood playground. By applying her designs to this form, she brought her powerful compositions to life while honoring the theme of "ask more questions."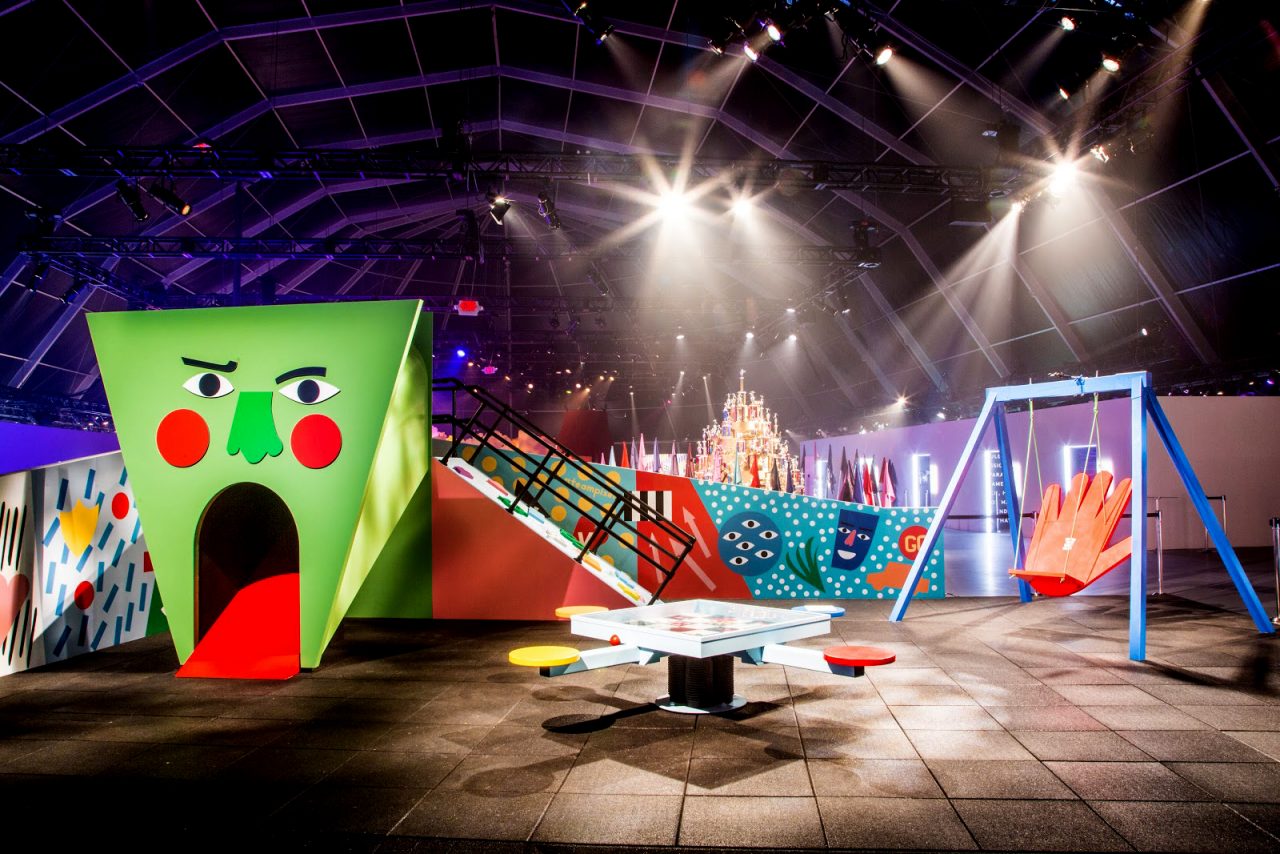 On Tour with Futura & The Weeknd
Last year, INCLST produced a touring merchandise program with Futura and Grammy winning musician, The Weeknd. Futura created source artwork for the collection. The INCLST team digitized, vectorized, and art directed the layout in collaboration with The Weekend team and delivered final production files to Bravado, Universal Music Group's merchandise partner.
"When you get down to why a brand would want to work with an artist it gives a focus that at the same time the artist can fit into," said Gellalty. "There are great examples of art and creativity aligning with a commercial partner, and there are some where it's just a flash in the pan, where brands hope to save a product line or just make some noise that, hopefully, a lot of people will hear about."
Art for Air Force 1's Anniversary
A recent execution at Nike's NYC Soho store featured two artists, Futura and Krink, who created designs for the 35th anniversary of its seminal basketball sneaker, the Air Force 1. In a maker studio, folks can use their art to personalize Air Force 1 designs. Then, over the weekend, Krink appeared as artist-in-residence to meet fans and help them customize their new sneaks.
"Art is a universal language wide open to interpretation where anyone can be a fan. Art is more inclusive than a trend or a cool moment. It may be easier to be a fan of an artist than of a brand, but the association carries over to the benefit of both."
"The traditional art world needs to be disrupted, to turn an eye to commercial work. Some people might equate it to selling out, but I think it's a matter of how you execute the work, not just plastering your creative on something," said Gellatly.
Brands need to offer unique experiences to consumers, well beyond purchasing a product. And because younger consumers (aka, Gen Y and Z) evangelize and share everything, those experiences must be visually appealing, worth photographing and sharing.
"Art is a universal language wide open to interpretation where anyone can be a fan. Art is more inclusive than a trend or a cool moment. It may be easier to be a fan of an artist than of a brand, but the association carries over to the benefit of both," said Gellatly.
Cover image: Aashish R Gautam