Young people are broke because they're lazy and indulgent. They don't value time or money, spending all day posting to Instagram and eating avocado toast. That's the conventional wisdom. And it couldn't be further from the truth.
Our own research has shown young people think about money all of the time — it's their #1 stressor — and they're actively working to manage it better. From doing their own research on financial planning (most starting at an average age of 13) to spearheading their own entrepreneurial ambitions to drive an income, Gen Zs are taking charge of their financial future. They were there for the financial crisis of 2008 and have heard the student-loan horror stories from their Millennial friends. This generation is well-aware of the pitfalls of poor money management and is willing to take advice on how to avoid the traps.
Given Gen Z's sheer size — by 2034 they'll be the largest U.S. generation ever — it's no wonder that banks and other financial brands are clamoring to cater to this new generation of consumers. As their aggregate borrowing levels increase in the 2030s, Gen Z may account for a third of all U.S. consumer debt by 2040.
So, Gen Z wants help navigating the fraught world of personal finance and hundreds of institutions are vying to be their guide. To break through and build the connection, here are five things financial services brands must do:
1. Speak to their unique needs
Gen Z is eager to get smart about money and there is so much opportunity for financial literacy that gets them. Brands must demonstrate a genuine understanding of the financial plight of Gen Z and speak to them where they are and in their language. We're not necessarily advocating for doling out financial advice on TikTok — although it's not as crazy as it sounds — but brands have to be open to new ways to speak to and reach these consumers.
BrandCamp's Financial Relatability Index, found personal loan and online savings service Marcus by Goldman Sachs, along with its user-friendly app Clarity Money, topped the list for Gen Z. The app positions itself as a champion for users, with user-friendly tools to budget and save, along with tailored resources and content for young people at all stages. Nothing is condescending or assumptive — the feeling of the brand is that they are genuinely working for me, the user (and the high savings rate doesn't hurt, either). It's also why we love the partnership between fin-tech startups Steady and Betterment to ensure gig workers are saving for retirement. As more and more young people embrace the gig economy, there is more opportunity to service their unique needs.
2. Build and nurture trust
The financial crisis and ongoing student loan debacle have left Gen Z feeling wary of debt and the intentions of financial institutions. But they aren't stuffing their money under the mattress. Over 70% of credit-eligible Gen Z consumers currently have a credit card and the vast majority of Gen Zers surveyed already have a checking account. These young people are participating in the financial services industry, but they demand transparency. That's why app-controlled, teen-focused bank Current is succeeding — there are no hidden fees, overdrafts or minimums, which is table stakes for building trust with this generation.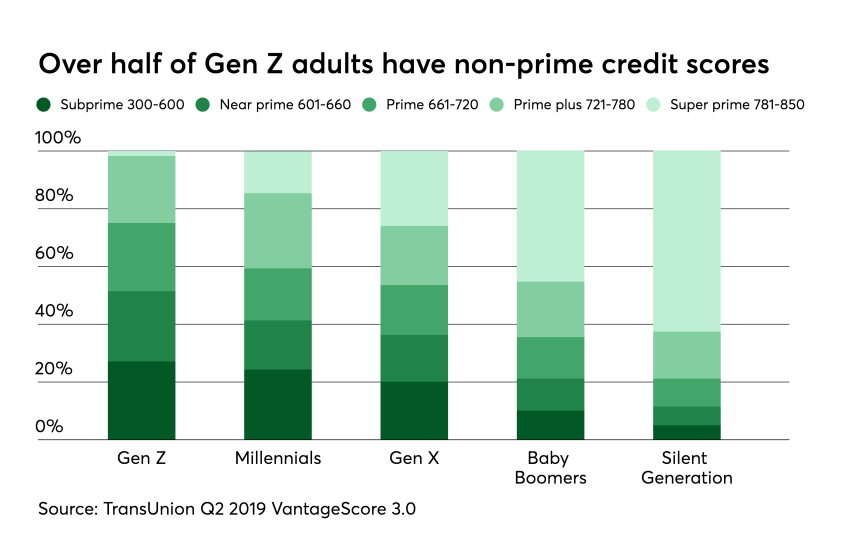 3. Think digital first, backed up by IRL support
Of course, this is a digital-first generation. Seamless, quality digital services and mobile banking are essential, but the reality is Gen Z actually visits a brick and mortar bank more than their grandparents. And 48% of Gen Z prefer to conduct their banking transactions face-to-face. Enter Capital One. Their Capital One Cafés offer free money-coaching and community-style events that are focused on building trust and loyalty, which is key to winning over younger consumers. "The cafés are a unique opportunity to present a physical manifestation of our brand and take this as an opportunity to connect with customers on their terms," says Capital One Market Lead, Mike Friedman.
4. Lead with values
Purpose matters more than ever for this generation — they're voting with their wallets and are acutely aware of the power of their purchases. The same goes for where they bank or where they invest. As more becomes known about how some of the biggest banks are funding practices like deforestation around the world, young consumers are going to respond.
Ensuring you are socially responsible is a must, as young people are raising the bar — authenticity and integrity top the list. Financial services like Aspiration, touting fossil-fuel-free investments, and Lemonade, with peer-to-peer insurance with "social good being kept in mind," are winning by putting mission above money.
5. Build community
Gen Z is always looking for a connection, not just a transaction. That connection can be between the brand and the consumer (as described in 1 and 2) or among the brand's consumers themselves. Venmo, for example, is as much a social platform as a financial one. The app not only provides fast and easy money transfers but allows users to see what their friends were up to last weekend or compete for the most clever way to describe paying back a friend for a burrito. That doesn't mean every bank or money transfer app needs to broadcast our every financial move, but it does mean that brands should look to how their product or service can move beyond the transaction itself and create a consumer community.
The financial services brands that will succeed with Gen Z must understand where these customers are coming from and how to best serve them. This is a smart, savvy, purpose-led generation that has raised the bar on which brands they choose to do business with. There remains a significant opportunity for financial brands to show up for Gen Z and keep them around by responding to their unique needs and desires. Otherwise, blink and this entrepreneurial set will create their own thing.
Image source: Anjo Clacino