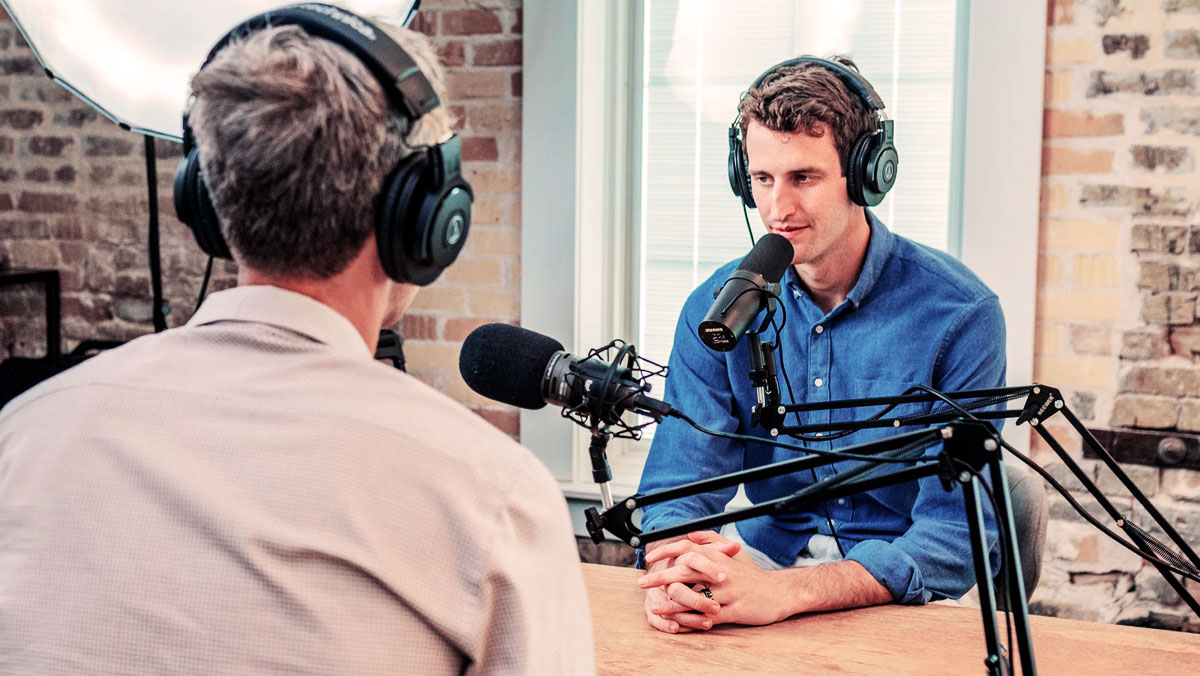 Is digital audio marketing a good fit for your brand? Absolutely.
Streaming music, online radio, podcast platforms, apps, and services are growing fast, with more than three-quarters of U.S. internet users listening. Digital audio lets marketers enter the listening experience, where competing content is scarce. Consider these scenarios:
It's a Tuesday morning and you're speed-walking along a packed city sidewalk on your way to the office. Your head is down, your AirPods are in, and you're catching up on NPR's This American Life podcast. You tune out all surrounding distractions.
It's a Saturday afternoon and you're finally getting around to cleaning. You put on comfy clothes, reluctantly get out the cleaning supplies and tell Alexa to play the Mood Booster Spotify playlist. You start to vacuum the floor, humming along.
In both situations, you aren't exposed to much, if any, content besides what's in your ears. You have a focused purpose and are using digital audio as your sole content companion. You're multitasking, but you aren't bombarded with simultaneous marketing messages.
When you advertise on digital audio channels, you reach people who are doing and thinking things that they don't do or think on more cluttered marketing channels. Your brand gets a pretty exclusive share of ear and attention, reaching places and people that screens can't.
Digital Audio Is Very Mobile
People are spending more and more time using mobile devices over any other kind of device. And audio fits easily into most on-the-go activities. Sixty-five percent of podcast listeners use mobile devices to listen to audio over desktops and smart speakers (although smart-speaker usage is rising), according to The Infinite Dial 2019 report.
Not surprisingly, audio makes up the largest portion of the daily time spent using mobile apps. The average U.S. adult spends three hours a day using mobile apps, 53 minutes of that is spent using audio apps.
The listenership of digital audio is surpassing traditional radio, adding to the rise of mobile audio. eMarketer's 2019 Digital Audio Advertising report shows that the time U.S. adults spend listening to digital audio will be greater than traditional radio for the first time in 2020 — a difference of 4.4 minutes. Digital audio now has greater value to consumers and therefore greater value to marketers.
Listening Leads to Buying
Digital audio listeners are particularly attentive and loyal — especially podcast listeners.
Audio lends itself to multitasking (driving, cleaning, commuting, exercising, etc.), but podcasts require a certain level of concentration. Invested listeners tune in to every episode, a loyalty that carries over to advertised products or services.
A Midroll Media survey found that 60 percent of surveyed podcast listeners say they bought something after hearing it advertised on a podcast. The survey also found that podcast ads get 4.4 times better brand recall than ads on other digital platforms.
Relevance Is Guaranteed
Digital audio marketing is highly measurable and targeted. In addition to using standard targeting criteria, like demographics, location, and device, marketers can be confident in the contextual relevance of their ads. You can guarantee that placing an ad on a brand-aligned audio channel will reach a qualified audience with relevant interests and needs.
The top five genres among weekly podcast listeners are comedy (36%), news (23%), society and culture (22%), sports (15%), and true crime (12%). And the top ten podcast publishers based on monthly unique audience (streams and downloads) are NPR, iHeartRadio, New York Times, Wonderly, PRX, Barstool Sports, ESPN, WNYC Studios, NBC News, and This American Life/Serial.
For music streaming services, the most popular platforms based on monthly active users are Spotify, Pandora Radio, iTunes, Apple Music, Soundcloud, iHeartRadio, Google Play Music, Shazam, Amazon Music, and Genius. On Spotify, the biggest streaming music channel, the most-streamed artists of 2019 were Post Malone, Billie Eilish, Ariana Grande, Ed Sheeran, and Bad Bunny.
Choose strategically based on genre, publishers, hosts, and artists. Just because a podcast or artist is the most popular doesn't mean it's a good brand fit. The more targeted and niche the audience, the more relevant your messaging will be.
Audio Ads Are Exclusive
As consumers increasingly adopt digital audio content, so are marketers — as they should! The Interactive Advertising Bureau (IAB) reports that total audio ad spending in the U.S. increased by 22.9 percent from 2017 to 2018, with mobile ad spending increasing twice as much as desktop.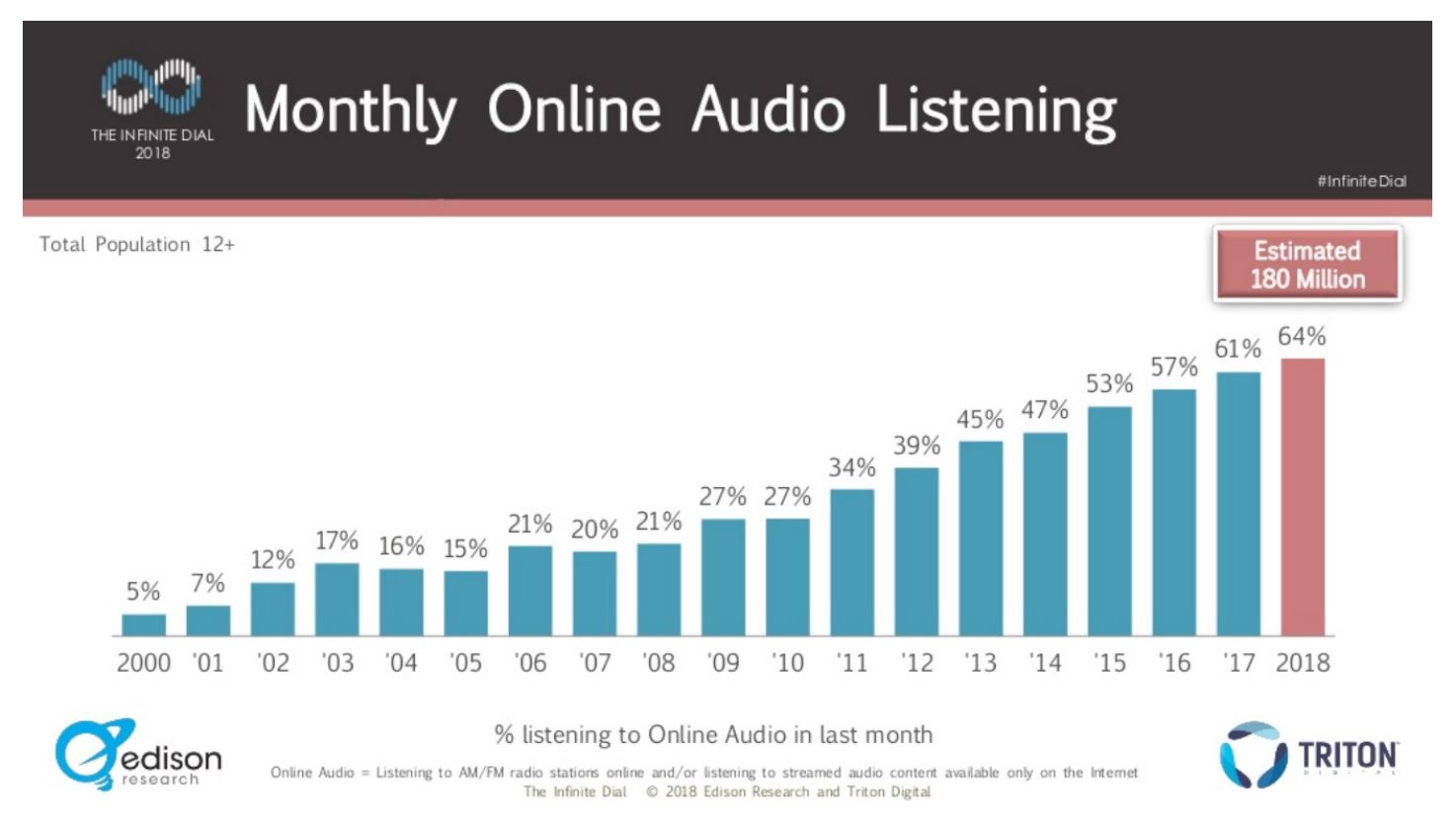 Digital audio presents paid, owned, and earned marketing opportunities for brands. But unlike most channels, ads are exclusive to the moment. You'll never hear two audio ads at the same time! But if you're scanning Facebook, you sure will. So you know you won't have to fight for listeners' ears. The most common ad formats, according to the IAB, are:
Recorded spots
These ads are pre-recorded to run across a variety of digital audio platforms or specific to one channel, show, or playlist, and can include a clickable visual for digital screens. Like traditional radio ad spots, these come in standard lengths such as 15, 30, or 60 seconds and can appear on music streams, podcasts, or online radio.
Native ads
Mostly used for podcasts, native audio ads are read by a podcast host to endorse a brand, product, or service. They can be a variety of lengths and are the least interruptive of podcast ad types, leveraging the personality of the host.
Branded channels or playlists
These appear on music streaming services, where channels and playlists can be branded for an advertiser through audio promotions and on-screen visuals.
Branded or sponsored podcasts
There are several ways to brand or sponsor a podcast. Advertisers can partner with podcast hosts to create a podcast series or partner with an existing podcast. This helps create positive brand perception through association with loyal and relevant audiences.
Consider your brand voice — literally and figuratively — alongside your marketing goals to choose the best format for your brand. What ad unit or host personality will communicate your message best? What do you want listeners to think, feel, or do? Analyze each channel's audience and content to ensure that you're reaching the right people in the right context.
So tune in to digital audio marketing. It's only getting louder.
Image source: Austin Distel