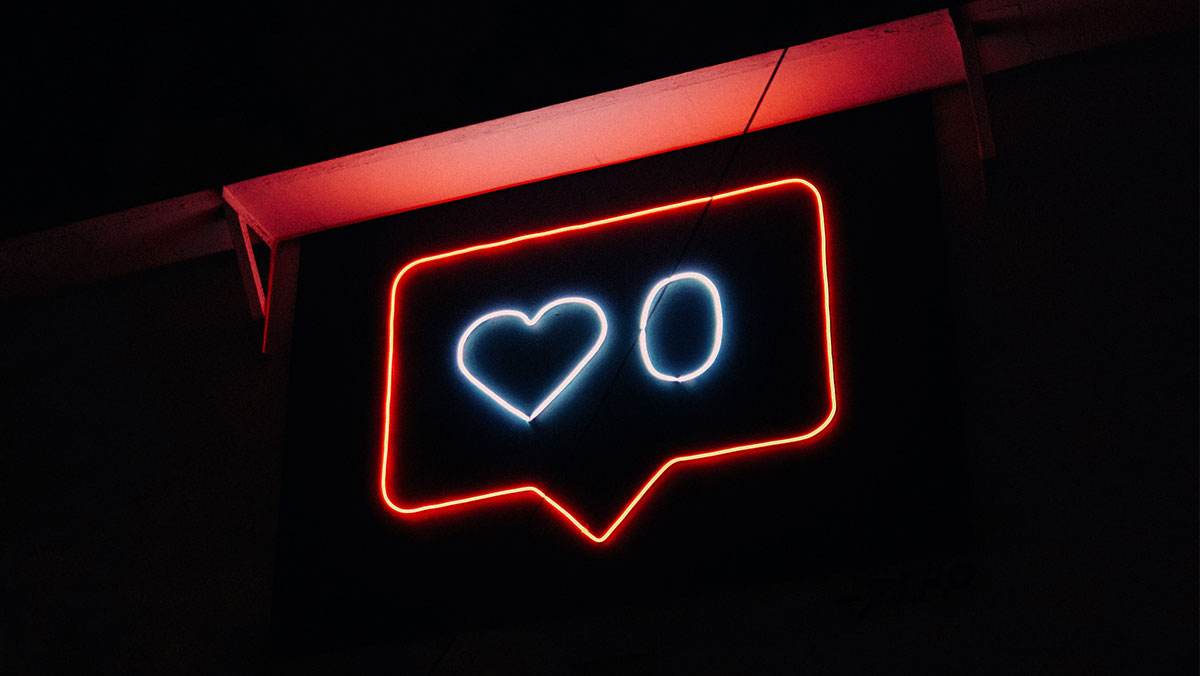 The digital world is changing in many ways, even in areas that we consider relatively new. Take direct-to-consumer (D2C) brands, for example. They have changed the way we buy and sell, with ​40% of internet users expecting D2C brands to account for 40% of their purchases within the next five years.
Much of the D2C brand growth that occurred in the past was a result of vast investments in performance marketing. However, these same brands are now realizing that continued growth is not viable by these means, thanks to oversaturated markets pushing up Customer Acquisition Costs (CAC). So, D2C brands are beginning to focus more on building widely known brands and increasing brand awareness among key audiences.
This is a good move for D2C brands. It is more important that they choose the right audiences to market to. However, identifying target audiences and creating campaigns geared towards them is not enough. Brands also need to track the impact these campaigns have on their target audience in terms of brand awareness. Why? Because results like post likes and profile followers can be deceiving.
This article will take a look at two important audiences for 2020 (Instagram users and environmentally-conscious consumers), dissecting discrepancies between "vanity" numbers and actual success, and showing the importance of sending the right message.
Frequent Instagram Users and Brand Awareness
Instagram is one of the key channels brands use to increase brand awareness. There are a number of reasons for this:
The use of influencer marketing to reach target audiences;
The ability to use beautiful images that center around the brand story;
The ability to easily engage with the community;
It's an easy way to keep an eye on the competition.
One way brands determine whether brand awareness amongst Instagram users is solid is by looking at follower numbers. Makes sense, right? The more followers the brand has the more people would indicate awareness of the brand when prompted. Well, not necessarily.
A recent report on brand awareness among D2C brands looked at the brand awareness levels of Instagram users who care about brands. A close look at the data showed that larger followings on the social media platform were not in correlation with brand awareness levels.
Take a look at D2C homeware brands, for example. Parachute Home prevails as the brand with the highest awareness for frequent Instagram users, in comparison to the general population. The company also has a rather successful Instagram following, with 300k followers. However, if you only look at brand awareness amongst frequent Instagram users, and not the general audience, Casper is the top D2C brand (excluding IKEA, which is shown in the chart solely for comparison between D2C and more traditional brands). But since Casper has just 161k followers in comparison to Parachute Home's 300k, shouldn't they have performed worse than Parachute Home?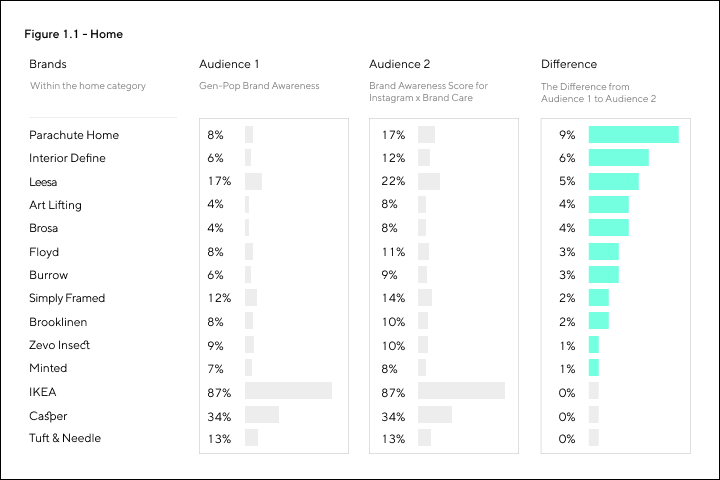 Not necessarily. Having more followers does not equal higher brand awareness. If those followers don't interact with the content you are posting, Instagram won't push it higher in their feeds. Now, it is obvious that Parachute Home is using Instagram to its advantage. After all, the brand's awareness level is much higher here than it is for the general population. But it is likely that they are not using Instagram to its full potential, even though they could overtake bigger brands, like Casper. If they want to improve brand awareness for this key audience, it is recommended that Parachute Home does the following:
Don't measure success on the number of followers their account has. This is solely a "vanity" metric;
Create more of the type of content their audience wants to see and engage with. If Instagram determines your content is relevant for your followers, they will place it higher in their feed and it will become part of the 30% of content Instagram users actually see;
Encourage followers to like their posts. Commitment is the highest form of engagement on Instagram, and ties into the previous point;
Use Instagram Stories! Video is key to 2020 marketing.
Working in these areas can help brands like Parachute Home. However, results such as how many likes or comments a post gets should not be the main success indicators of a brand's social media marketing efforts. What matters is if marketing campaigns have had an impact on the brand's target audience in the long run.
Look at it this way, 62% of people say they have become more interested in a brand or product after seeing it in Stories. They might interact with your content at the moment but how do you know that the impact of that moment was lasting? Will they actually remember your brand after consuming 100 more stories that same day? Therefore, Parachute Home and others should track brand awareness for target audiences, like this Instagram one, to truly determine if their marketing is making an impact.
The Environmentally-Conscious Consumer and Brand Awareness
According to an article published at the end of 2018 by Forbes​:
87% of consumers will have a more positive image of a company that supports social or environmental issues;
88% will be more loyal to a company that supports social or environmental issues;
87% would buy a product with a social and environmental benefit if given the opportunity;
92% will be more likely to trust a company that supports social or environmental issues.
This is a big audience in which brands can grow, but that is not news to anybody at this point. Brands have already been trying to connect with this demographic for years. The problem is that not all attempts have been successful.
One of the main reasons is that consumers feel that they can't trust 'green marketing' from brands. They are skeptical that the brand is jumping on the trend-wagon just for profit. Companies tell the public what they want to hear but that's not the whole truth. H&M is an example of a mainstream brand that hasn't really been able to resonate with the environmentally-conscious audience. While the clothing brand does have a sustainable range, it remains a massive part of the fast-fashion problem and its sustainable marketing campaigns can be overlooked.
D2C brands who want to make an impact in this audience need to track brand awareness to determine that their campaigns are indeed sending the right message. Freshly is a D2C food-delivery brand whose ​boxes are all recyclable​. The recycled denim insulation used for the packaging is 85% biodegradable, the gel ice packs are non-toxic, and their plastic bags are recyclable. However, their brand awareness among the environmentally-conscious audience is incredibly low.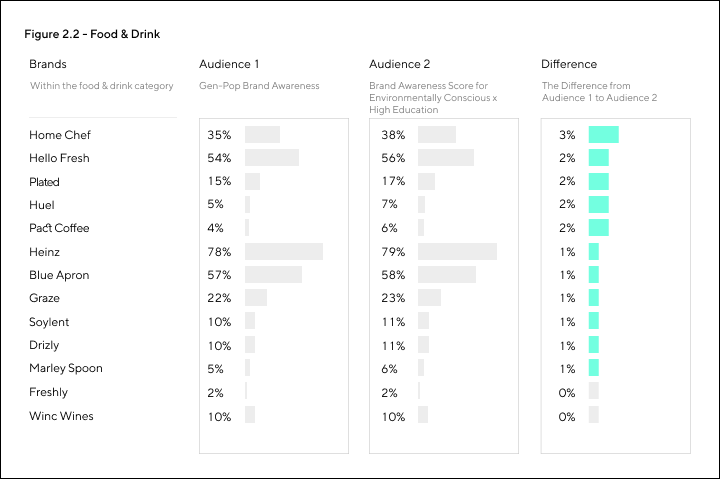 If you do a quick Google search of "Freshly + eco-friendly," no results immediately appear showcasing the sustainability of the brand. However, search the same for HelloFresh, and you can see lots of content on the brand's eco-friendly side. It must be having an impact, considering the brand awareness of HelloFresh stands at 56% for this audience.
HelloFresh is sending the right message by being transparent in how their business operates (take a look at this sustainability report from 2018 to see for yourself). They are fighting back against an audience who doesn't feel that meal delivery kits are environmentally conscious. Freshly and other brands that haven't scored well with this audience shouldn't be deterred. It is a growing space and there is plenty of market share for them to take, once they send the right message and track how it resonates with the environmentally-conscious audience.
As D2C companies continue to use brand-building as a lever for long-term growth, brand awareness is more important than ever. These brands just need to remember one thing: Tracking brand awareness is important if they want to make an impact on today's key audiences. Sending out meaningless Instagram campaigns and half-heated environment-related content just won't cut it. If their message doesn't leave a positive impact on the audience, sustainable growth just won't happen.
Cover image source: Prateek Katyal