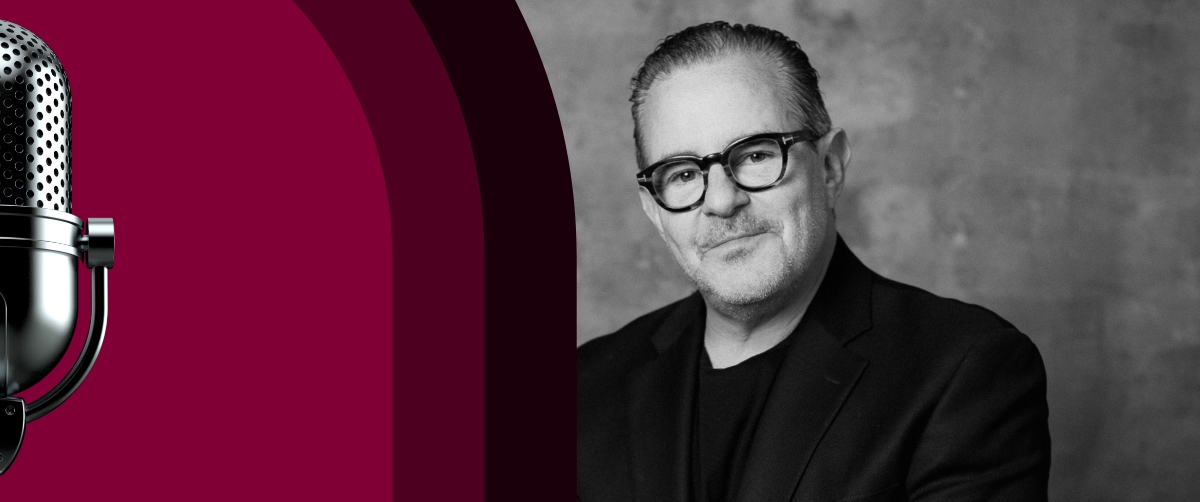 Guest: Luis Miguel Messianu, McDonald's Global CCO @ DDB
Branding over Wine is hosted by Martin Schiere, an A-grade marketer himself and a regular Brandingmag contributor. Martin is a seasoned, hands-on manager and commercial leader with over 15 years of experience in accelerating or restoring growth to organizations. He combines cutting-edge strategies and marketing insights with practical implementation. His expertise definitely makes this podcast stand out.
"Technology is the great equalizer, but Poetry (the intangible benefits of creativity) is what really makes a difference."
McDonald's Global CCO @ DDB, Luis Miguel Messianu, named Legend Honoree by ADCOLOR and part of CMC's Advertising Hall of Fame, is the one who oversees the creative output of the McDonald's brand across all of its 46 markets. And, as part of his role, he's now building a unique internal infrastructure for sharing creative ideas globally throughout the DDB network.
In our conversation with Luis, he tells us about:
What it means to manage creativity on a global scale and how to make it more efficient;

Increasing the potential of local ideas – "franchising creativity" as he likes to call it – and the importance of sharing, learning, and scaling;

McDonald's internal "candy store" – a platform full of pre-prepared, never-implemented ideas (and materials) for creatives worldwide to consider bringing to life in other, more suitable markets;

Avoiding the "not invented here" syndrome;

Ronald McDonald using the metaverse for good.
"At the end of the day, it's the human factor – it's the poetry and the emotional connection – that works harder on behalf of the brand, and provides a benefit for the audience."
Tune in to this Brandingmag podcast to increase your brand's value and help prove that branding's rightful place is at the core of every business. If you're looking to boost growth and community – locally, internationally, or across cultures – this one's for you.
Follow Branding over Wine on your favorite platforms:
Spotify | Apple Podcasts | Google Podcasts 
More about our guest
Luis Miguel Messianu's professional trajectory has been defined by a conscious effort to help pioneer the melding of marketing niches into a nuanced and evolving market. His award-winning work for multinationals such as McDonald's, State Farm Insurance, Clorox, MolsonCoors, Sprint, Pepsi, among others, is a testament to that effort. 
Luis Miguel is an innovator, a mentor, and an example followed by many distinguished professionals in the multicultural marketing community. His efforts were acknowledged on numerous occasions: in 2015, Luis Miguel was named Legend Honoree by ADCOLOR in celebration of his achievements in diversity through his career, and in 2019 he was inducted into CMC's Advertising Hall of Fame, one of the highest recognitions in the multicultural industry.
Always passionate about mentoring and educating a new generation of Multicultural advertising professionals, he's been a member of the Miami Ad School Board and faculty since the school's inception and a professor at the School of Communications at the University of Miami. 
He recently completed with honors his Executive MBA at the Berlin School of Creative Leadership and, as of April 2022, he was named DDB's Global Chief Creative Officer for the McDonald's account. That means he oversees the creative output of the McDonald's brand across 46 markets, where the DDB network is responsible for the account, splitting his time between his role as Founder and Chairman of alma (his award-winning agency that partnered with DDB in 2001) and the new global position within DDB for McDonald's.
About our host
Martin Schiere is a seasoned marketing leader and brand builder, specialized in managing multicultural teams and growing brands across markets. For over 15 years, his roles have been supporting and inspiring marketing companies such as Heineken, Unilever, and Aviko, along with various startups, to build and strengthen international brands.
He's fascinated by what makes people tick, how values and lifestyle influence behavior – and this definitely shows in every conversation he has with our podcast guests.