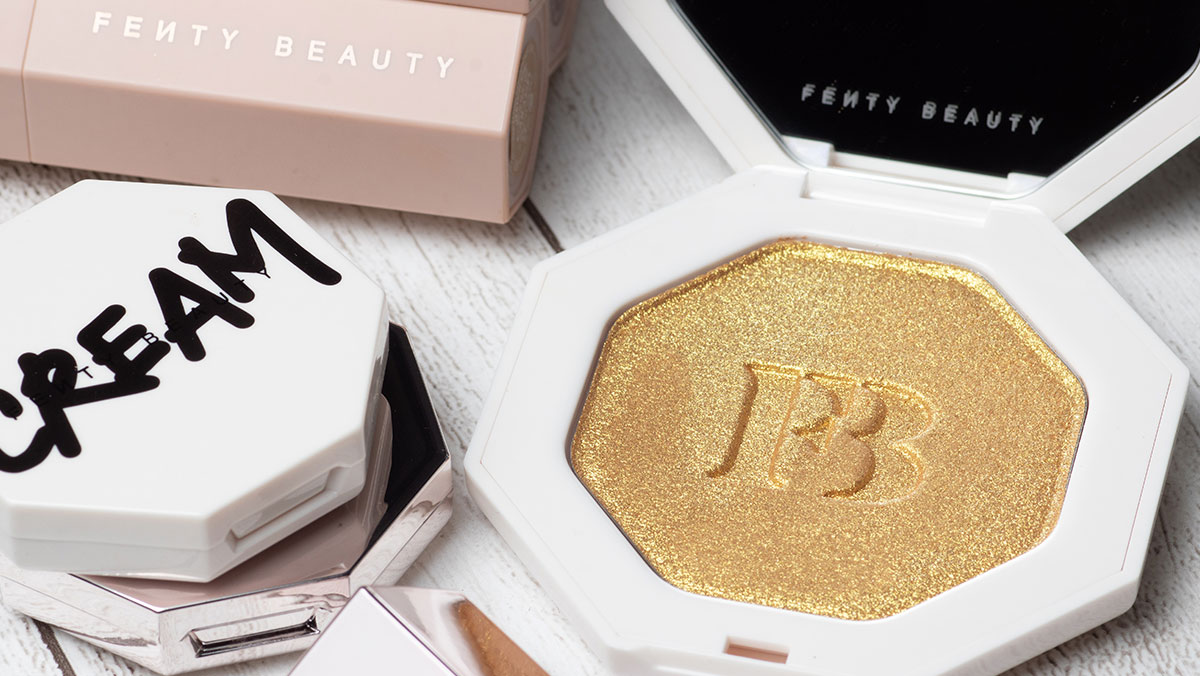 The global beauty industry is no stranger to disruption. In recent years, the C19 pandemic shook beauty brands that were heavily reliant on in-store sales. But despite shutdowns and supply chain disruption, the industry continues to grow projecting the global cosmetics market size to reach US$ 480.4 billion by 2030 with a company annual growth rate (CAGR) of 5.1%. Yet industry giants like L'Oréal Group and Estée Lauder, who both reported double-digit growth in 2021, aren't the only ones benefiting from consumers' obsession with skincare routines and TikTok makeup tutorials.
Celebrity-owned cosmetics brands are popping up everywhere we look – particularly on social media. Megastars including Kim Kardashian and Hailey Bieber recently launched direct-to-consumer skincare lines, while male celebs like Harry Styles and Pharrell Williams are tapping into the men's and unisex beauty markets with their own brands.
Ipsos tracked online conversations about 53 brands in the US, UK, and France to find out how consumers really feel about celebrity makeup, skincare, and hair care brands. Here's a look at what they found:
1. Social media users are feeling more fatigued than influenced
The total volume of online conversations about celebrity cosmetics brands has increased by 22% on social media platforms, blogs, and forums over the last 12 months (Fig. 1 and Fig. 2).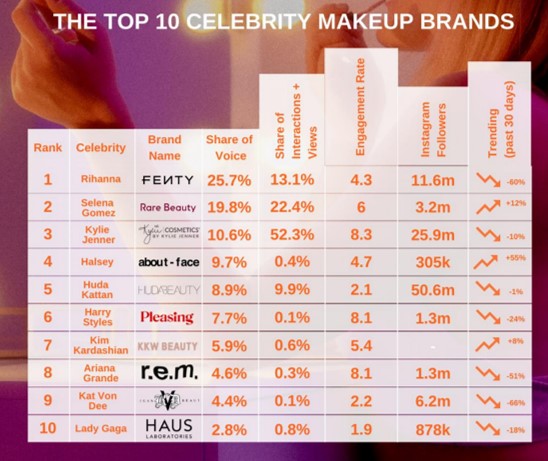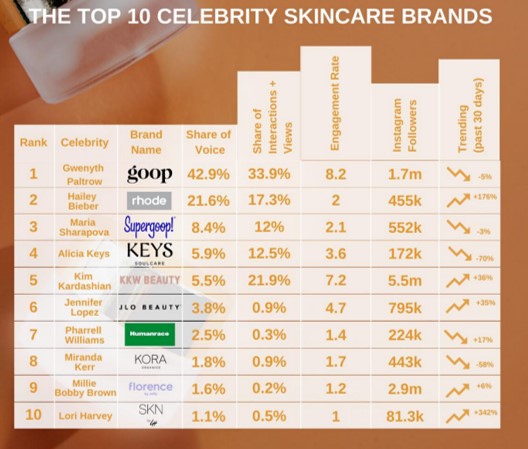 Source: Synthesio, 06/28/2021 – 06/28/2022, public mentions in the US, UK, and France related to celebrity cosmetics brands.
Among the top 10 most-discussed celebrity makeup brands, KVD Beauty and Huda Beauty have the highest percentage of positive sentiment (66.5% and 54.2% respectively). In skincare, it's Keys Soulcare (64%) and Kora Organics (57.7%).
But not everyone is excited about new skincare and makeup options; negative sentiment has risen significantly as celebrities – and their brands – receive criticism online. Many users feel skeptical that celebs actually use the products they push and say the market is oversaturated. One commenter said, "Dear celebrities, please – and I mean this with the greatest respect – please stop forcing new skincare lines onto us. We don't need it, we don't want it. We know you're not even using it. Please, just stop."
Celebrities – and their brands – are receiving criticism on social media as many doubt whether celebs actually use the products they're pushing, and feel like the market is oversaturated.
To further understand the organic conversations happening online, Synthesio Topic Modeling scanned and categorized 600k mentions related to celebrity cosmetics conversations. The bottom-up approach uses machine learning to generate clusters of conversational themes; the largest cluster, making up 15.1% of the study, was "too many celebrity skincare lines." Digging into the individual posts within the cluster reveals that consumers are frustrated by the sheer number of celebrity beauty brands and, in some cases, shocked by price points.
2. Sustainability is top of mind (and a top concern)
Mentions of sustainability have risen in celebrity-cosmetics-related conversations by 26% in the past 12 months. Many consumers have taken to social media to share how they are swapping out products for clean, sustainable alternatives – and brands are sharing more content with hashtags like #sustainablebeauty, #cleanbeauty, and #greenbeauty. Yet sustainability is also a top driver of negative sentiment online.
The top themes in sustainability-related conversations are wasteful packaging, plastics and landfills, and celebrity greed. Some social media users doubt the legitimacy of celebs' sustainability claims, and many are worried about the environmental consequences of having so many cosmetics brands. One Twitter user said, "Seeing a lot of celebrities pivot to selling 'sustainable products' that have wildly unchecked claims and zero supply chain transparency. I think it deserves way more scrutiny than it's getting (including from me)."
3. Trend spotlight: Men's beauty
Ipsos recently published research showing that younger men are more open than ever to wearing cosmetics, and even comfortable with publicizing their skincare routines. On social media, the conversation around men's beauty and skincare is growing: online interactions on Instagram, Twitter, and YouTube surpassed 10 million over the past 12 months. On TikTok, the hashtag #mensmakeup has reached 125.7 million views. Now, many celebrities are getting into the men's beauty game. Last year, baseball player Alex Rodriguez set off a flurry of social media activity when he partnered with Hims to release The Blur Stick, a concealer for men. Plus, celebrity-owned cosmetics brands including Pleasing by Harry Styles and Humanrace by Pharrell Williams have sparked conversations about why men can, and should, embrace cosmetics.
As the cosmetics industry continues to evolve and face disruption from upstart brands, beauty tech innovation, and evolving behaviors, it's more important than ever for brands to tune into consumer conversations. For celebrity brands and industry incumbents alike, monitoring consumer preferences and feedback is crucial to winning customers. To keep up, brands should use social intelligence to:
Track existing competitors (and identify new ones): by tapping into what consumers are saying, you can understand who your competitors are and, more importantly, how consumers perceive them in near-real time;

Identify and monitor emerging trends on social media: YouTube tutorials, viral TikTok trends, and beauty hacks from top influencers all inspire consumers to try (or toss) products and brands and reveal what's "hot" at the moment – and uncovering unmet needs and innovation opportunities.
Cover image source: Victor Candiani