Slick Coca-Cola Journey Starts Out More As Flattering Corporate Mirror than Content Marketing Breakthrough
Like many fans of content marketing, I was intrigued by the well-promoted transformation of Coke's new corporate website into what was promised as "a credible source" of information, more consumer magazine than corporate mouthpiece. Would Coca-Cola Journey blaze a new trail in corporate storytelling? Would it truly walk a mile in consumers' shoes? Would it take the road less traveled to reach… well, let me leave the inevitably lame journey-related wordplay right there and say simply "Not yet."
One look at the homepage from Day One (November 12) tells the real story: this is all about Coca-Cola. The site is well written and well designed, in a conservative way, but also well within the bounds of sure-to-please-the-CEO corporate public relations – so much so that one lead story is entitled "Leadership:  Muhtar Kent Lists His 5 Keys to Innovation."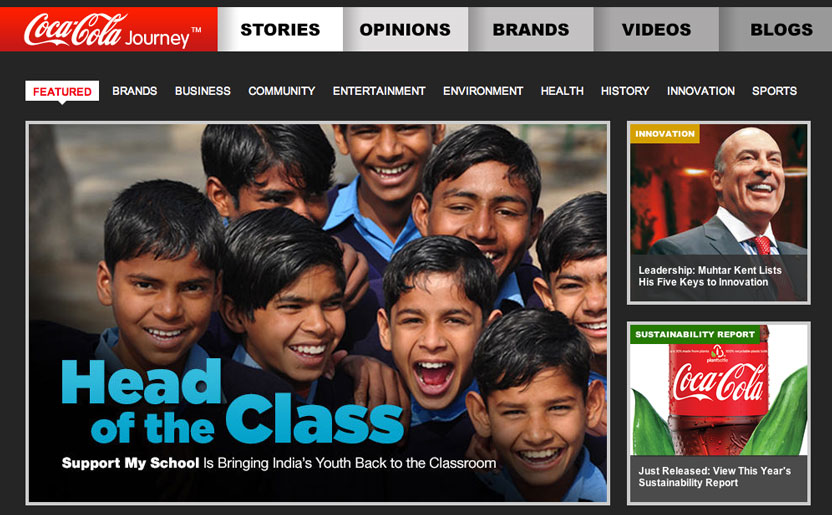 While common wisdom has it that content marketing needs a champion at the top, it will be interesting to see if Kent (no relation to this article's author) is a blessing or curse to his content creators.  Will he prove to be a boardroom mold-breaker who acts as supportive journalistic patron or a C-Suite shadow darkening the door of any writers who truly dare to be objectively consumer-centric?
Must Brand Journalism Always Be More Brand than Journalism?
When asked, for instance, if the new corporate magazine would entertain controversial viewpoints counter to those of Coca-Cola – such as an editorial from Mayor Michael Bloomberg of New York, who has famously banned large-size sodas in the name of fighting obesity – Ashley Brown, director for digital communications and social media at the Coca-Cola Company in Atlanta, was quoted by The New York Times as saying, "We have a belief here that not shying away from tough decisions is a good thing and gives us credibility."
That credibility is strained, however, by articles such as "NYC Soda Ban: Who Is Affected and How They Are Preparing for It," which offers a factual, but entirely unbalanced, view of what is a fairly hot topic (and also a fairly humorless one – personally, I would have included Jon Stewart's give-me-a-break riffing on the subject).
The Breakthrough Content Marketing Opportunity:  Storytelling that's the Real Thing
The Coca-Cola Company has a terrific opportunity in Journey to lead corporate marketing in an entirely fresh direction – if it has the nerve to look away from the mirror and reflect what is really of interest to, and in the best interests of, consumers.