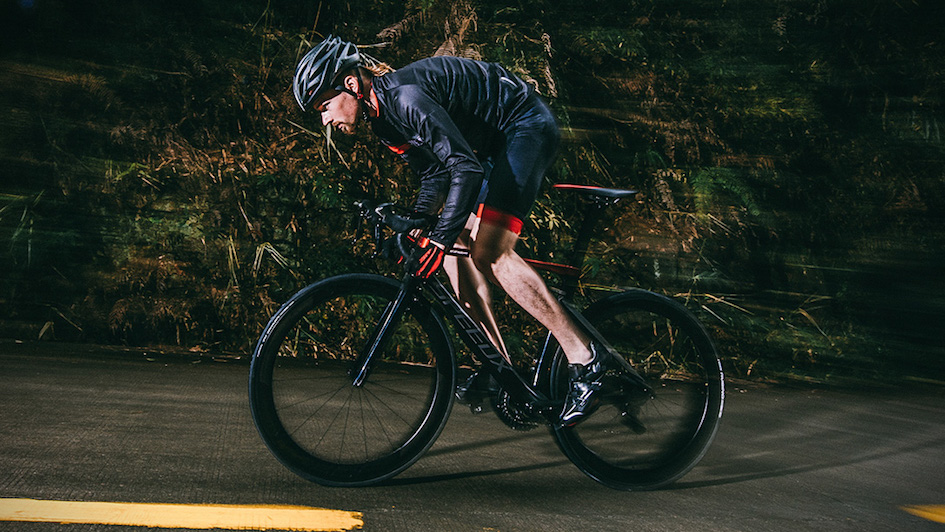 Founded in 2015 and already on track for an IPO later this year, the Chinese performance bike brand SpeedX can't compete with the cycling nostalgia amassed by its long-established international competitors. SpeedX doesn't have a glorious history to show for nor do they sponsor (or even plan on sponsoring) any athletes or races. In fact, SpeedX Head of Marketing Raggy Lau points out "this is where SpeedX differs from other brands." What may sound like weak brand positioning actually makes a lot of sense for them — diehard cyclists consider brand folklore a crucial element of the cycling culture, but it can be intimidating to cycling novices. Capturing this new generation of digitally-native road warriors is central to the company's brand strategy and SpeedX is not only betting on this approach in international markets, but particularly in its home market, China.
In China, apps and technology are often used as icebreakers to encourage consumers to try out new products. In 2015, for instance, L'Oreal launched an app called Makeup Genius to warm women up to the idea of trying new makeup styles. The app became a massive success in China, where close to five million users downloaded it.
SpeedX has a similar strategy to win the China race. In 2015, the brand launched an app that provides cyclists with detailed stats and analyses of their performance. The SpeedX app now has half-a-million users in China and is one of the country's leading performance cycling apps. Building on the huge success of the app, SpeedX launched SpeedForce, "The World's Smartest Cycling Computer" in early 2016. Almost $500,000 USD were raised via crowdfunding platform Indiegogo to bankroll the product, as well as to build awareness for the brand in international markets.
SEE ALSO: Mastering New Customer Acquisition is Key to Success in China
Currently ongoing efforts to raise capital for the development of the first SpeedX bikes are even more successful. For instance, the brand has so far raised $1.6 million USD on Kickstarter for its new road racing bike Leopard, and $1.8 million USD on Chinese e-commerce platform JD.com.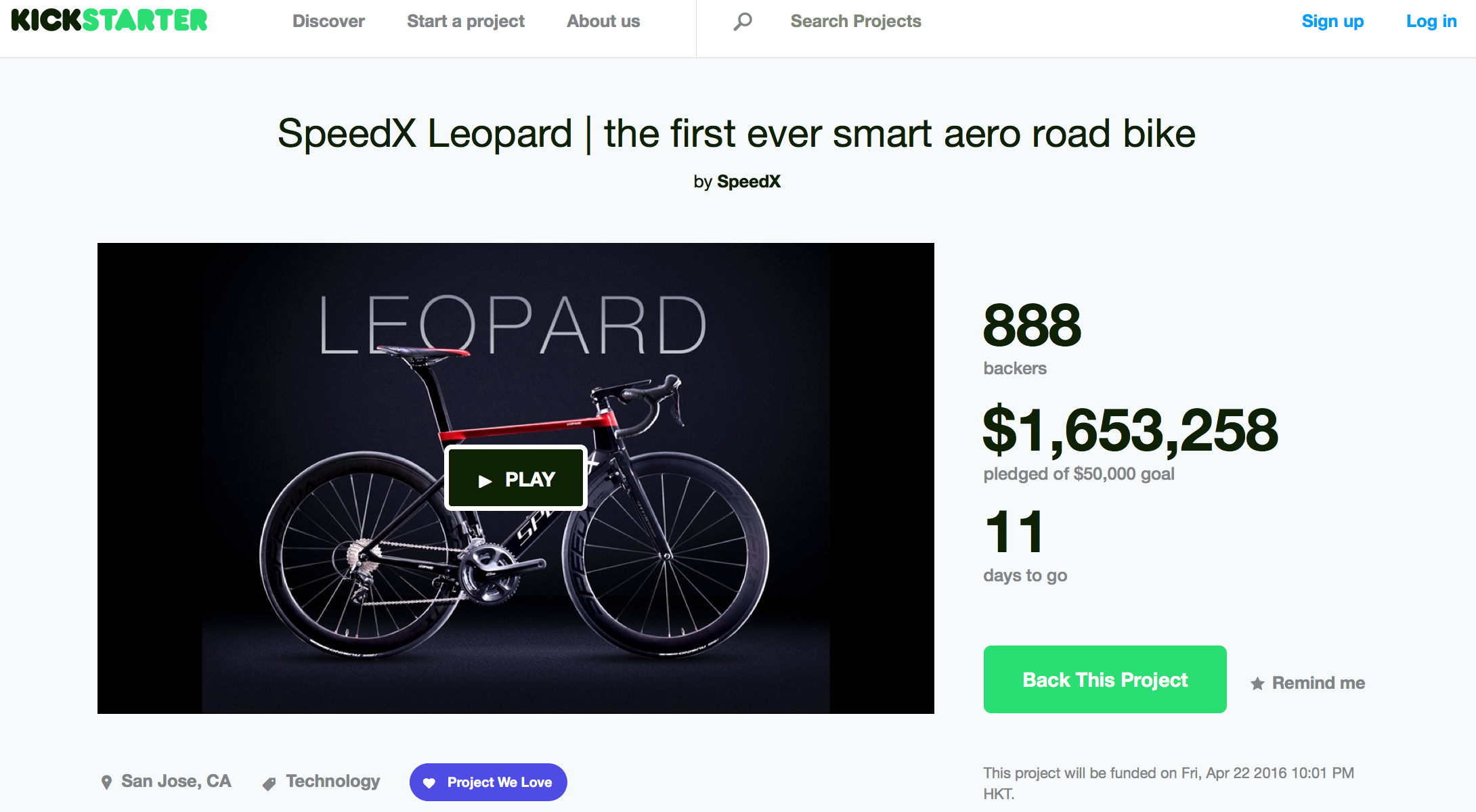 The Frame of Success: A Light, Fast Moving Business Model  
Riding the wave of technology-driven disruption and savvy fundraising are not the only elements in SpeedX's strategy. Its successful formula is made up of two other key ingredients: China's typical low cost products and the long term vision to build a brand-centric ecosystem that fosters customer loyalty.
The Leopard, a lightweight carbon-fibre racing machine equipped with a Shimano drivetrain and TRP full internal brakes gets delivered to customers globally for only $1,399 USD – a price that beats the established competition by almost 50%.
But SpeedX's strategy is not only about low priced products. Whereas in the past Chinese companies employed low-cost strategies to beat competitors on price aiming to operate a tight-margin business for good, things are now changing. Many Chinese companies, most notably smartphone brand Xiaomi, have spearheaded a new school of thinking by using an ultra-low priced product to literally breach into existing markets, to accumulate a sizable market share, and to benefit from the media buzz and awareness generated in the process. The ultra-low priced product(s), however, only serve as a trailblazer for what comes next: products with margins, adored and purchased by loyal fans. And, as Lau explains, this is also SpeedX's ultimate goal.
RELATED: China and Global Innovation: Considerations from the Automotive Industry
Shifting into Higher Gear: The Three Pillars of SpeedX's Social Media Strategy
The key to breaking through the sonic barrier of awareness in China is social media. As Raggy Lau explains, SpeedX focuses on digital and social advertising to grow in overseas markets, but according to Lau, in China that's not a feasible option as "effective digital advertising doesn't exist." He continues to say, "On Baidu the ad experience is poor and click fraud is a significant problem." Lau's opinion is supported by many digital marketers with China experience. In addition, consumer research conducted in early 2016 suggests that Chinese consumers are more likely to learn about new products via social channels as compared to advertising
However, as Lau points out, getting the right content mix is absolutely critical: whereas international audiences value in-depth articles that, in almost forensic fashion, dissect the pros and cons of specific bicycle parts or components, Chinese audiences prefer a much more direct and product-oriented content. On the basis of these insights, SpeedX creates three types of posts to grow its follower base: user-generated content, product hype, and humor spoofing the competition.
Gaining Momentum: How User-Generated Content Grew Weibo Following Tenfold
SpeedX employed user-generated content that helped grow their Weibo following tenfold in just a few weeks. Within its app, SpeedX added a feature that allows cyclists to upload photos and add a SpeedX branded layer on top of the photo.
This added layer contains information such as the poster's name, as well as which SpeedX bike they yearn for. By sharing the edited photo on the Chinese social media platform, Weibo fans automatically entered a lucky draw giving them the chance to win a SpeedX bicycle. The idea proved highly effective and the SpeedX Weibo follower base quickly grew from 10,000 to more than 100,000 fans.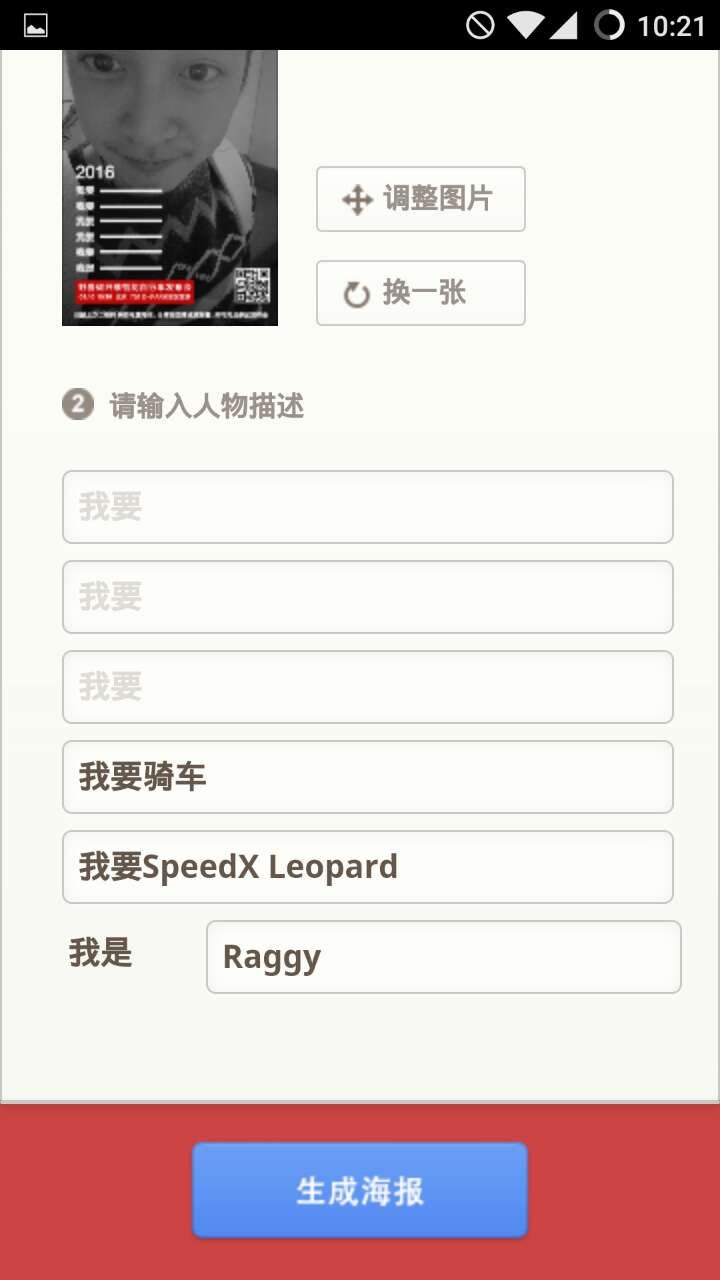 Accelerating Growth: 'Product Hyping' Posts That Spark Engagement
Product 'hyping' is another highly successful category that SpeedX uses to create buzz around their products. Prior to the launch of their first bikes, SpeedX shared photos that hinted at what SpeedXs next product might be, without fully revealing it. Posts like this sparked more than 30,000 shares and more importantly over 7,000 comments with eager fans applauding the brand and speculating product specs. Also, the chance to win a bike was again a powerful incentive.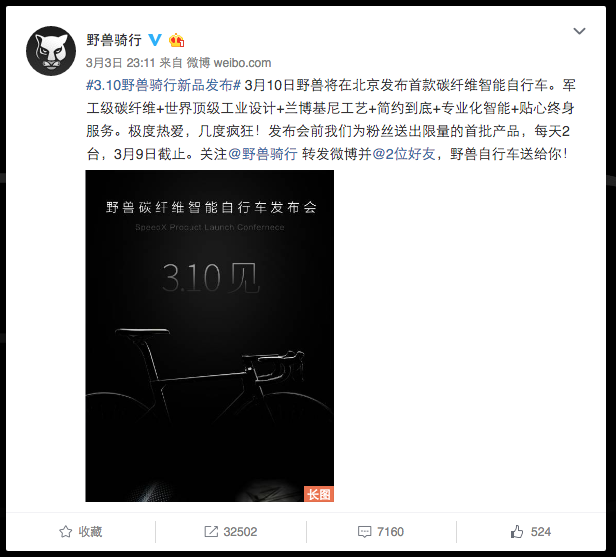 Attacking The Pack: Funny Posts That Leave Competition in The Dust
Another effective category are humorous posts. Being a good sportsman, SpeedX doesn't miss out on opportunities to spoof competitors. By swapping a few Chinese characters, SpeedX jokingly asked the well-known Chinese video streaming brand Letv (they also sell a 'smart bike'): "A TV brand selling a 'super' smart bike? Are you f***ing kidding us?" (loosely translated, see image below for the original copy in Chinese). The audience reception was, once again, very positive.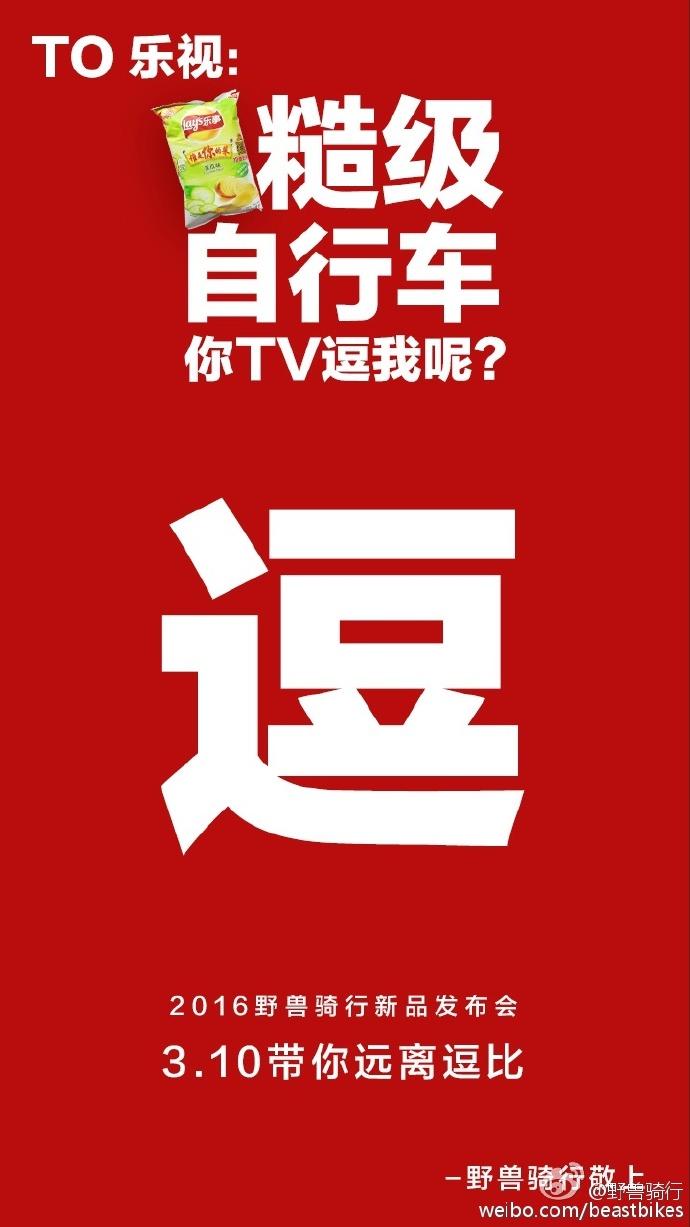 Riding Crosswinds: A Global Brand Strategy
Despite all the impressive achievements, Lau admits there are a few bumps on the road. One thing he mentions is the stigma of "Made in China." In the cycling industry, some consumers are concerned with the quality of bicycles made in China – whether or not those concerns are justified is a different question. SpeedX has fired off a scattershot of measures to dispel these concerns, such as hiring well-known design firm frog to create the bike frame design, inviting well-established industry publications to review the SpeedX Leopard road racing bike, and currently planning a media tour to give more leading industry influencers and journalists the opportunity to try their bikes firsthand. A further, highly rigorous step is total value-chain control: SpeedX owns a factory in Shenzhen and is proud to offer its customers lifetime warranty – something most established performance cycling brands shy away from. Also, Lau points out that the frame of the Leopard is manufactured in Taiwan, which is considered the world's most advanced bicycle manufacturing location.
SEE ALSO: The 3 P's Brands Must Embrace: People, Purpose, Participation
All the above measures are sound, but the most important aspect to building trust with global consumers is transparent communication. Lau emphasises that being a marketing driven organisation is central to SpeedX's success. Understanding customer requests, and feeding feedback and inputs into the SpeedX engineering team helps the brand steam ahead – breaking away from the pack and planning to overtake the giants of the bicycle industry.
Images: SpeedX