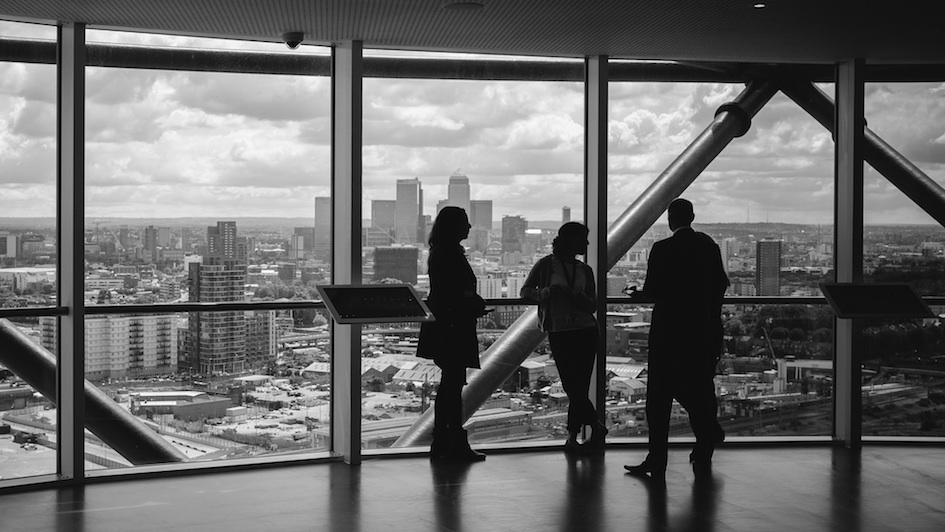 No longer is it a matter of if brand governance is going to be adopted, but it's when. The current thought leadership on brand governance says there are increasingly more channels, touchpoints, and influencers. Employees have more opportunities to affect the brand than ever before, and they're not always asking permission.
This year we attended the BRITE Conference in New York, hosted by the Columbia Business School's Center on Global Brand Leadership. BRITE is all about technology, brands, and innovation. Surprisingly, brand governance was a hot topic among presenters and attendees. Interestingly, most people we spoke to agreed with the concept of brand governance, but some felt it wasn't applicable to their brand because of culture, compliance, or both. In response, we're providing a practical guide to brand governance that can be used as a starting point for any organization.
If brand governance is a matter of when, the how is getting in the way. Brand governance is not one size fits all; it's a continuum. Success means finding the right model for your industry and your organization. In conversation with leaders in financial services, healthcare, and hospitality industries, we discussed the different ways they found success.
Foster a strong sense of company culture
For Suzanne Copeland, CMO of Sterling National Bank, brand starts with the employees. It's critical to have a strong combination of brand and company culture. "Build your brand internally so people are proud and willing to put it forth the way you've designed it," said Copeland. "If I haven't bought into the brand and what it stands for, then I'm not compliant and it all falls apart."
A solid foundation, tools, and processes elevate and reinforce that feeling of brand pride. The key at Sterling is a flexible framework. "In a commercial bank, what seems to work is providing configurable tools, because the salesforce is very entrepreneurial and self-directed. Teams specialize in niche areas so if they don't have the capability to make materials very relevant to their target, they're not going to use those brand materials."
That's likely a familiar story for anyone in financial services. It's a great use case of why a bank would need a defined approach to brand governance, but even a great brand and culture can't do all the heavy lifting. "You can't just let nature take its course." The support of tools and processes provide the necessary guidance to help employees create materials they're proud of, but are also on-brand. "If you're talking about employees, the trick is to create the tools and give people some room to maneuver, but within some confines."
To marketers, the value and advantages of brand governance are obvious, but for employees it still requires a behavioral shift. It's important to consider adoption. At Sterling, successful adoption was rooted in various training activities and resulted in increased efficiencies. "If your experience helps you get to a place better, faster and easier, then you want to come back."
Actively listen to your employees
Recently Monigle hosted a webinar on what makes a winning brand center in healthcare, discussing the approach to brand governance from a healthcare perspective. Healthcare marketing is unique because of patient confidentiality, legal and ethical restrictions on messaging, and other external forces that can seem limiting.
"Starting small and actively listening to employees can be the difference between whether they adopt or go rogue."
At VCU Health, those differences in health care marketing are an opportunity to be even more creative, and to provide value through small gestures. "We have somewhat of an unwritten rule within the division," said Cynthia Schmidt, chief of marketing at VCU Health. "Rather than say no we always go back with a solution. We say thank you for your great idea, here's how it works within the context within the new brand guidelines. And oh, by the way, we have this great online tool to help you… I would say a good 90 percent of the folks are very thankful."
Questions, requests, and feedback from other departments led to a realization that the previous guidelines were insufficient. They transformed these insights into an opportunity to create more structure and provide more examples. Starting small and actively listening to employees can be the difference between whether they adopt or go rogue. Hospitals often have a multitude of sub-entities and it's not uncommon for doctors to have their own ideas for a logo treatment, for example. "I remember sitting down with one of the doctors and going through [logo treatments] and they understood it. 'Here's where your name will live, here's what your business card will look like.'"
VCU has made great strides in the last six months in moving towards becoming a brand concierge; a resource that provides employees and partners with the necessary tools to get their job done. They've seen success in the cycle of focusing on insights from employee feedback and then making improvements to the current brand guidelines. It seems simple but it's one of the best ways to encourage employee adoption in a complex and regulated industry.
Focus on values and work from the inside out
As a commercial property and casualty insurance company, Tokio Marine is also operating in a heavily regulated, compliance-driven industry. Because of the inherent stringency, it can be easy to default to an enforcer style of brand governance. Steven Jalkut, head of marketing, shared that it's important to consider the economics of trust as it relates to embracing brand governance. "If you don't have a tremendous amount of trust in an organization, you have to put a lot of rigidity in place, and that may not work in the end," said Jalkut.
Tokio Marine relies on independent brokers to deliver the brand and represent the company. There's a natural emphasis on the individual and how they're bringing their own personal brand into the mix. Many employees have been with Tokio Marine for 10-plus years, and are proud of the company and the careers they've built. "Nobody here would ever dream of doing anything that would harm the brand's reputation."
Managing the dynamic between the individual's brand and that of Tokio Marine's can be challenging, however. Employees may not know how to adopt new media communication practices, or how to represent the brand correctly on LinkedIn. Employees want to be brand ambassadors, and want to be able to use the brand correctly, but to be successful they need access to the right tools and to understand the process. This is all the more critical because of the nature of Tokio Marine's business. "Often, you're connecting with a customer when they're having a tough moment and you're reinforcing your brand at all of those touch points."
When thinking about the people, processes, and tools of brand governance, Jalkut said the key is to focus on values and work from the inside out. When Tokio Marine rebranded, the company knew it had a strong foundation. Instead of changing the culture, leaders opted to reconnect with company values. This worked so well that the process is revisited annually to keep things fresh and stay in alignment. "What we're trying to move forward with is a flexible approach to exercising business judgement."
Find the right balance between flexibility and consistency
At the 55 Park Hyatt and Andaz properties, the majority of decision-making is centralized within each hotel, and the corporate office is the support center. "The brand lives at the hotel," said Philippe Roux-Dessarps, VP of global brands. In order to be a successful business, governance has to be at the core of Hyatt's culture. Employees are often promoted from the hotel property up the ranks to the corporate office. Most General Managers have been with the company for 15 years, and as a result feel heavily invested. "Every General Manager feels they are owners of the brand."
Harnessing the strong sense of brand and culture, Hyatt took a focused approach to introduce more brand consistency, which included best-practice sharing across hotels. Hotel managers access creative materials that explain their brand guidelines but also provide inspiration and ideas that are flexible enough to adapt to the local culture. "Every hotel has a strong identity, and it's important to preserve the freedom within a framework."
Hyatt's approach also includes significant training programs that last two to three days and take place worldwide for all General Managers, Directors of Sales and Marketing. Trainings address the challenge of maintaining a global brand while considering the unique attributes of each market.
Mindful that people are the core of its business, Hyatt provides brand information through a mix of online tools and in-person conversations. Roux-Dessarps brings his team together once a year for open conversations, his preferred method for sharing best practices. Acknowledging the benefits of a crowdsourced online best-practice showcase, he said that to be successful you need to provide a reason or meaningful personal incentive for people to take the time to continuously share content.
Otherwise the information becomes stale, and no one wants to engage in a tool with old content. When implementing a new process of any kind, it's important to tie it back to the employee benefit and create a meaningful way for employees to engage with the brand.  
How to build brand governance
Let's address how to get to a brand governance model, so we can start to answer when. First, understand what elements of your brand still need to be enforced and what regulations are required by your industry. Those are the necessities. Explore how processes around the necessities can be implemented more efficiently: Is content available to the right groups? Is the decision-making and escalation process clear? Start by talking with stakeholders and team leaders to understand what's working and what's broken. Facilitating collaboration across groups is the beginning of a successful brand governance plan.
"The beginning of change starts with the employees and the tools you give them."
Next, look at everything else outside of the necessities. What could have more flexibility or room for interpretation and still be considered on brand? Make those materials available to employees. Teach them how to use the brand correctly. Create guidelines that explain usage and best practices with illustrated examples of dos and don'ts. Create logo lockups and icons for different use cases uncovered by your employee interviews. Establish a training program with regular sessions. Include a help desk on your brand center with the ability to submit a question. Long term, use insights from the help-desk reporting and usage analytics to inform updates, create new content, and streamline processes.
Going one step further, look at what can turn into templates. A poster, business card, banner ad, or brochure can be configured to become online editable templates. All the necessities such as logo or headline can be locked, while perhaps the body copy and CTA is editable. Dynamic collateral promotes quicker, more cost-effective creation of on brand materials. It's okay if the piece still has to route through an approver, but now the team is empowered to go out and create on the brand's behalf. All brand materials are within the agreed upon level of risk for your organization and comply with any external regulations. The result will be more content, time savings, and engagement. The beginning of change starts with the employees and the tools you give them.
If governance is putting bumpers along the lanes of a bowling alley so your team will always bowl a strike, some organizations will have wider lanes than others. There's less flexibility in how the brand can be interpreted with a narrower lane, but a narrow lane is better than a closed lane. Think about your tools and processes and how they could be working harder. Engage your employees to get buy-in. Optimize for your industry. Everyone needs to start somewhere. Now, it's just a question of when.
Image: Charles Forerunner