The postmodern consumer's search for authenticity has become a challenge that companies of various industries are facing in order to confer legitimacy, reliability, and superiority to their brands and offers. The rediscovery of history and tradition; the fascination and value attributed to ancient crafts; the human and natural components in products and production processes; and the link with the territory of belonging and its specificity – all of these are the distinctive features of today's search for authenticity by a consumer who escapes the usual expressions of traditional marketing, being ever-more sensitive to product attributes and benefits reflective of the aforementioned values.
Brand Authenticity in the Luxury Industry: The Challenges and Potential
Recent market evolution, together with economic/socio-cultural changes and consumer behavior, is rapidly redesigning the paradigms of luxury (including customer values and needs), thereby requiring companies to redefine their competitive and branding strategies. The ideas of showing off and exuberant luxury are being replaced more and more often by a substantial value linked to the excellence, traditional expertise, and inner qualities of those products able to give authentic pleasure.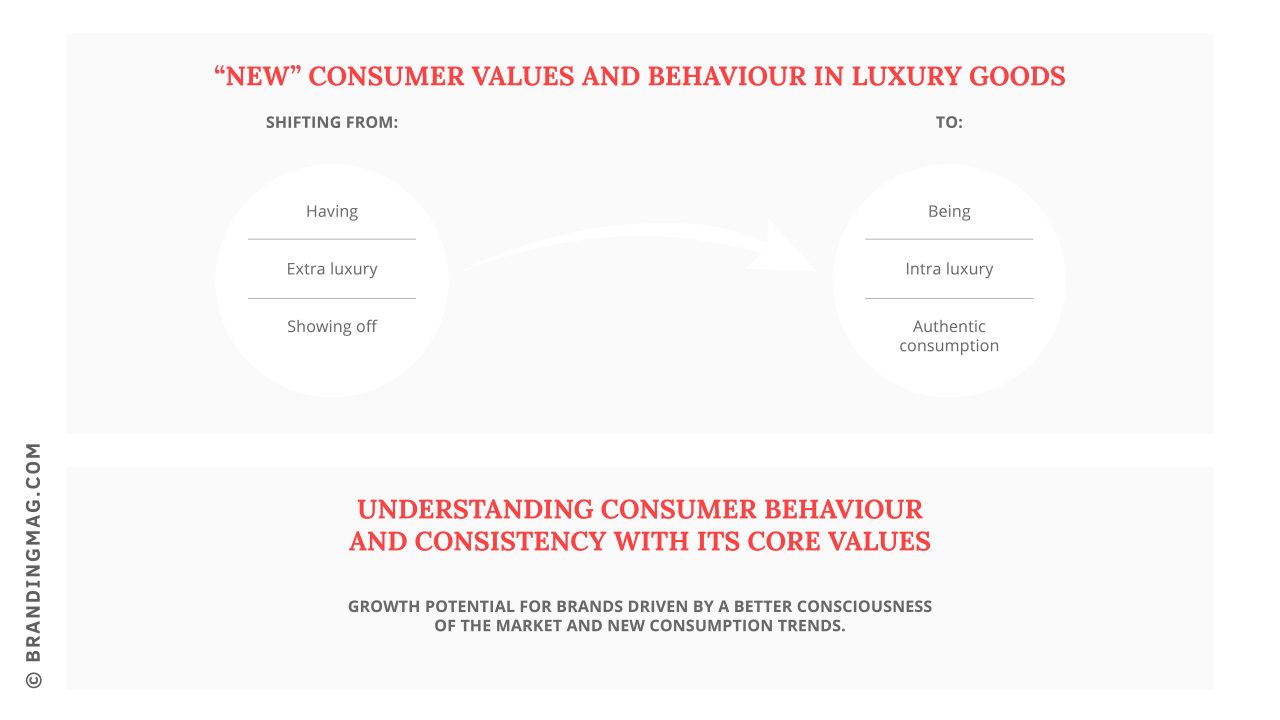 In this context, authenticity can become a source of competitive advantage, a significant and positive "point of difference" in terms of value generated for the brand (brand value) and for the market (market value) across industries in which the intangible component linked to the offer significantly affects the consumer's purchase decision. The craftsmanship, the superior quality, the link with a specific territory (genius loci) and a glorious past made of history, tradition, and savoir-faire (brand heritage) are key success factors for brands in emerging markets as much as they are for those in mature environments already inhabited by an attentive, selective, and more aware consumer.
Observing the luxury companies that have resisted the collapse of sales during 2009 ("annus horribilis"), we can identify the best market performances in brands that refocused on their heritage, roots, and traditional know-how, thereby recovering past sources of brand value. Furthermore, the luxury customer increasingly prefers the qualitative and substantial contents in terms of excellence and craftsmanship in manufacturing, making the product a real luxury first for himself.
Companies are expected to accurately work on two main objectives:  The first is showing and telling the brand heritage to new customers in emerging markets hungry for the «culture» of Western luxury brands. The second, on the other hand, comes during periods of economic and socio-cultural uncertainty (such as our current one) when companies have to reassure their customers in mature markets by guaranteeing that superior tradition, distinct expertise, and heritage are still alive and included in the brand promise.
Brand Authenticity: A Strategic Value Driver for Competitive Advantage
As a "new" customer value, authenticity can play a relevant role in differentiating a brand's proposition from that of its main competitors through distinguishable and desirable associations that, within the customer mindset, are linked to the brand. Building and reinforcing the branded cognitive structures in customers' minds means defining and strongly communicating elements of parity (points of parity) and differentiation (points of difference) in order to legitimize the presence of the brand in a specific market or negate the competitive advantage of others. Either path affirms the superiority and uniqueness of the brand by influencing consumer choice.
As a point of difference, authenticity can promote a competitive advantage. The brand's origins, historical and cultural heritage, and craft tradition represent fundamental and intangible assets for reinforcing customer relationships and sustaining one's economic performance in a strongly competitive market. International competition, in fact, rewards companies that (when facing difficulties) are able to adapt quickly to new consumer behavior trends by strengthening brand value through the recovery of the past as a guide and support for their future.
All in all, authenticity becomes a strategic driver for the increase and consolidation of brand value through new meanings in customer perceptions or the strengthening of existing associations related to intrinsic elements of the brand. As a strategic pillar, a brand's authenticity can act as an effective point of difference for – and determine the success of – companies that hold historical and exemplary repositories of intangible and distinct value.
Cover image: Jennifer Latuperisa-Andresen