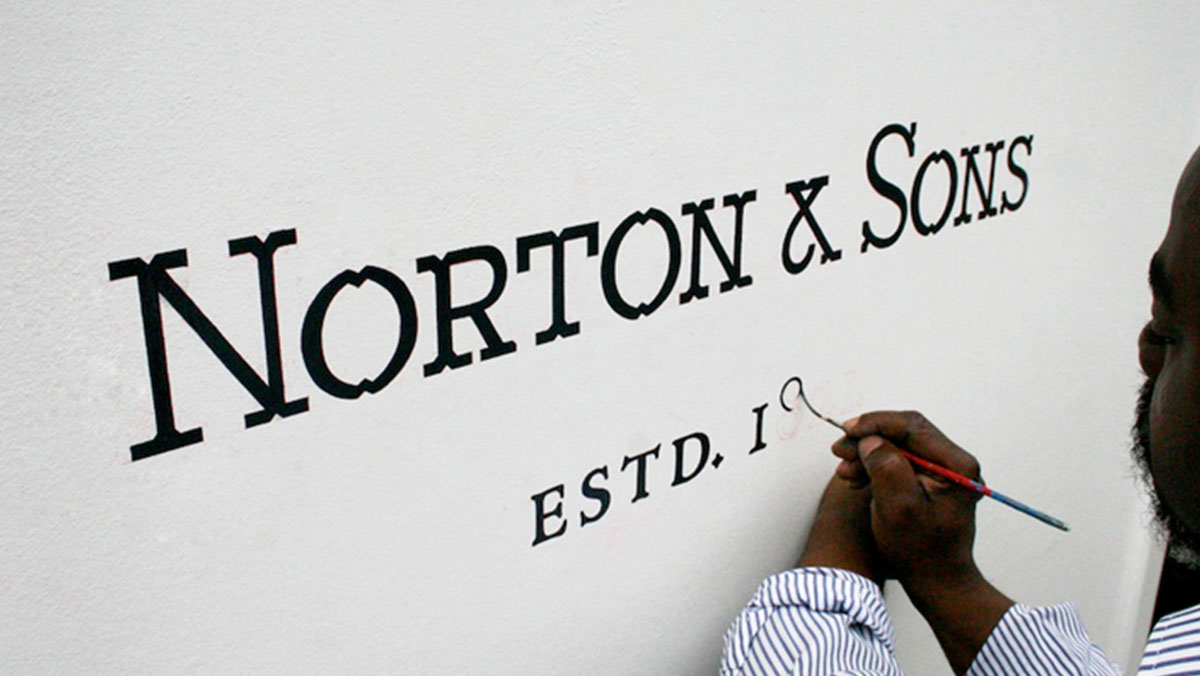 No less than five of the world's best-known fashion houses have replaced their world-famous logotype with something more generic. In recent years, we've seen Balenciaga, Burberry, Berlutti, Yves Saint Laurent, and Balmain all adopt sans serif in their logos, sometimes dividing opinion amongst devotees.
Uniform Grotesk logotypes — often capitalized, in single colors and centered — offer clarity and legibility, particularly as the world continues to spend more time online. Yet brands can drift into a generic, watered-down 1960s aesthetic that some may argue makes them less diverse and stimulating, and more homogenous. Of course, it's imperative that a leading fashion house adapts its branding design to suit the needs of the current market, but can this be achieved whilst building on unique characteristics and history?
A lurch to current trends runs the risk of destroying value by removing some of the connections between brands, their creative founders, and their particular design philosophies. In the more extreme examples, where companies have gone for a 'me-too' approach, it is almost as if they are letting a competitor design their brand for them.
Here, we take a look at what might be causing this change and why brands opt for generic branding. This is a debate more about brands than graphics and it matters because heritage fashion houses don't necessarily need to follow the latest trends in graphic design to be successful in the digital age. So why are they doing it?
Fashion Victims
Many fashion brands are eponymous and they still reflect the style, taste, and character of the founding designer. More than any other business, their logo is quite literally woven into their products, whether the label is discreetly stitched into a garment or emblazoned on the front of a shirt or a bag.
Ironically, Chanel's wordmark — which has remained the same for decades — once stood out amongst luxury brands, even if it now looks like many contemporary brands. While Chanel clearly wanted to set herself apart back then, brands today seem to be moving towards 'me-too' instead.
One driver for this could be the change of hands at the top; creative directors for fashion houses may rightly feel they need to mark the start of their stewardship by metaphorically switching the name above the door and creating a new identity altogether. But certain attributes like the character, symbolism, and heritage have been essential in differentiating the houses in the first place, enabling them to build brand equity and attract customers, fans, and investors. The question now is whether they will regret their decision in the future, as strong and highly-differentiated disrupters move into the market.
Some of these newer disruptors are growing social-only, word of mouth, online labels or 'burner brands'. Formed fast using easy-to-access design and manufacturing, they create a tightly targeted brand with hyper-relevant stock, which is distributed using drop shipping. There are question marks about the environmental impact such supply-chain tactics can have, yet the products prove popular to the consumers they target. While they appeal to a different set of customers than the heritage brands we're discussing, the introduction of these labels, which tend to use simple graphic design, impact the wider sector.
Do Logos Matter Anymore?
Another reason for this shift towards generic graphics could be down to the belief that logos carry less weight than they once did. In their place, interactive stores, video content, messages, user-interfaces (UI), and apps are now seen by many as the most important ways to build connections with people.
The 'moment of truth' for fashion brands has historically been about products, shows, and stores. Today, technology also affects the way we find and experience brands. This makes the landscape vastly different from when many heritage brands were launched.
The brand mark is a valuable symbol that connects people to the company it represents, but it now does this across a mix of expanding touchpoints. This omnichannel branding flows from digital interaction to physical experience and back again — it drives strategic and design decisions about the label, instore sounds, smells, targeted advertising, immersive events, and partnerships alongside a myriad of other channels and touchpoints.
So, being screen-ready is vital. But that doesn't mean every brand needs to show up like a tech startup. Brands run the real risk of deleting what makes them special. Not only this, they're converging in a way that makes it difficult to communicate unique identities. Ambitious branding design would optimize the symbolic meaning of the individual brand — understanding what makes it unique and authentic — and make it perform brilliantly both in the digital and physical world. This can be done with craft and sensitivity. It should also have a strategic imperative to ensure the brand is found, builds equity, and evolves at the speed of the internet.
Just as the route to brand discovery has changed over the years, the buyers of these brands have also evolved and it's important to consider this too. Attitudes around luxury have changed; More customers are finding pleasure and value in discrete luxury that is created with sophisticated design, rather than shouty displays of wealth. An appreciation of quality and beauty remains universal, and this craft can be expressed through the branding as well as the products.
It is clear that these challenges are not confined to the world of fashion but affect every brand. Those working in branding and design know there has been a slow creep in this aesthetic direction over the past decade. Most people experience this type of branding regularly since so many of the leading tech businesses we all rely on use similar design.
The huge success of these tech brands, as demonstrated by their market caps and brand rankings, has created a blueprint for other companies to follow. In fact, the marketing tactics used by these companies are now widely emulated in sectors such as FMCG, auto, and finance as well as the fashion world. It was not so long ago that the opposite was the norm.
As well as creating the Netflix and HP brands, we have worked with three fashion brands that can trace their heritage back more than 100 years, resisting the urge to 'sans serif' them. Whilst the focus is always to innovate brands for the future, we strike a balance between reverence of the old and recreating them to thrive in our tech-driven world.
This was precisely the same approach we took when delivering a project for the 920-year-old Grossmünster in the center of Zurich, Switzerland. It is a place with a unique culture and history. Our approach was to reflect this while also enabling the brand to function perfectly in the digital world, without losing any connection with its physical touchpoints and customer base.
All longstanding brands undergo major changes that require new strategies such as re-positioning, new offerings or adapting to new market forces. Many find they need to increase productivity and rebuild their processes to allow them to succeed in a digital context — sometimes referred to as digital transformation or business redesign. This isn't really about sans vs serif. It isn't really about digital vs physical either. As with all questions of brand, the approach should be holistic. In the case of heritage brands, there is real value to be found in simultaneously respecting the past and launching into the future. When considering a heritage fashion rebranding project, the most important thing is to be clear on your objective first. Sophisticated creative partners can help you bring every ounce of heritage and equity with you on your journey over the next 100 years. Don't settle for trends, create what other brands follow.