Aba Kwawu is the founder and president of TAA PR, a results-oriented public relations, marketing, and special events agency dedicated to the fashion, design, entertainment, hospitality, and luxury lifestyle sectors. Kwawu earned her bachelor's degree from the University of Pittsburgh and subsequently began a career in genetic studies. After deciding to pivot to a career in fashion, Kwawu earned her master's degree from the University of the Arts London College of Fashion. In 2002, she founded her agency while serving as a faculty member of Howard University, where she taught undergraduate courses in fashion merchandising and marketing. Today, TAA PR continues to advise and serve brands seeking expertise in media relations, event production, experiential marketing, and social media.
Read her interview below.
Brandingmag: A recent Forbes article, "PR Is Priceless During A Pandemic", outlines how to leverage PR resources in ways you may not have considered prior to COVID-19. Do you agree? Why is PR something every company can leverage? What are your top 3 tips for brands seeking to leverage PR post-pandemic?
Aba Kwawu: I agree with the points laid out in that article. TAA PR has never been a traditional PR agency. We have always leveraged "a mixed bag of tricks" to create success from our clients over the past 18 years. With each season, we evolve our skillset, tactics, and reach to connect with consumers in the most meaningful ways.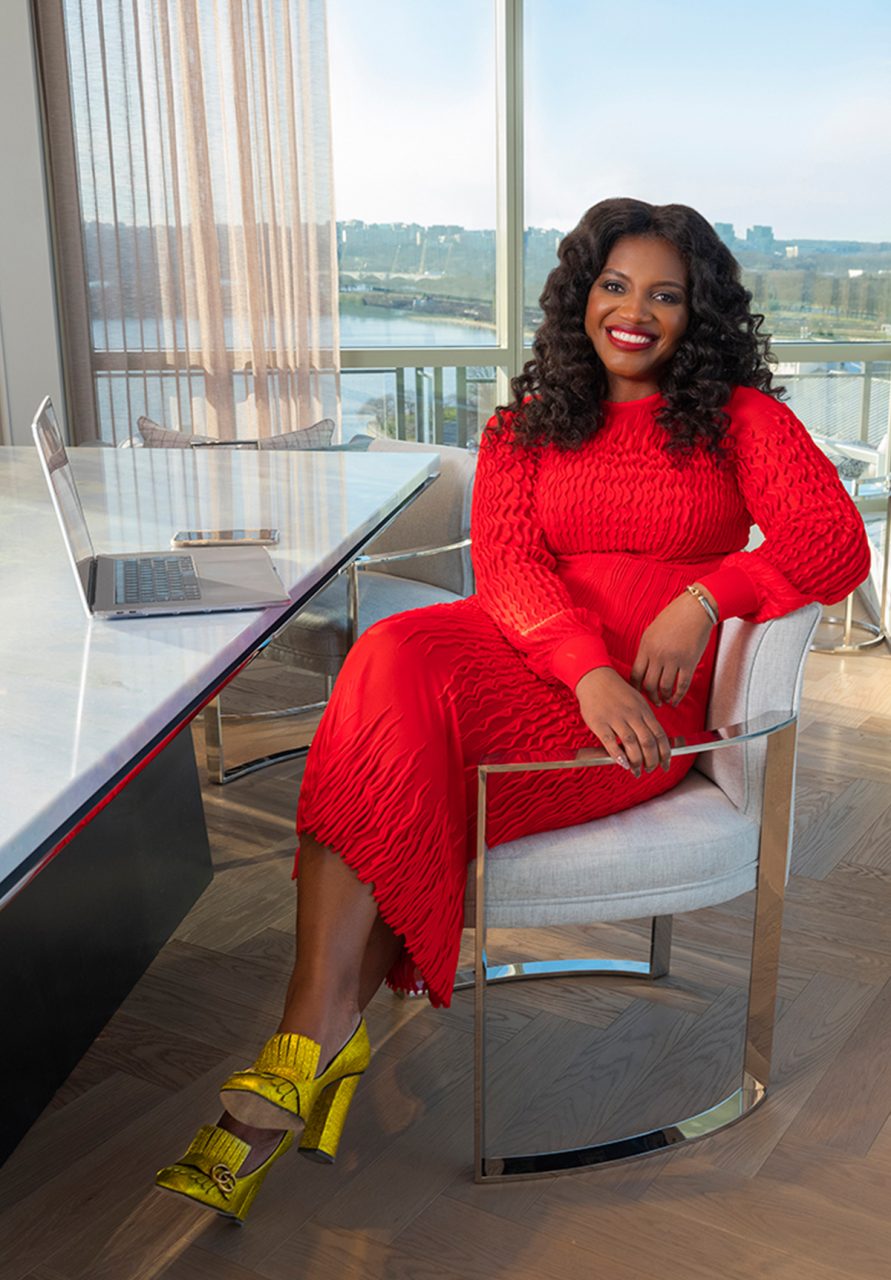 Every brand can leverage PR – it is just a matter of 'how'. Thoughtful, heartfelt communications are essential for any brand at this moment in time. A nimble PR team that understands the heart of the brand, the community, as well as the rapid news cycles will be able to keep the messaging fresh and connect with desired audiences, even in times of crisis.
During these unprecedented times, we have essentially been indoors for three months. While anxieties rage and uncertainty still prevails, we have a captive audience like we've never had before. Looking for the silver linings presents new opportunities to engage meaningfully with members of the media as well as with consumers. Before COVID-19, we were busy creating exciting and immersive experiences, product launches, fashion collaborations, high-profile media tastings, FAM trips, and more. Now, that we are at home, we keep the momentum going with our audiences and bring the escape and interaction digitally into their homes until we are able to play in the physical space again.
Top 3 tips:
Be real and transparent, while remaining sensitive to the conditions we now live in. Many consumers are anxious and unsure of what the future holds, many have lost loved ones or have experienced financial difficulties due to lost jobs, yet yearn for an escape. Leverage the heart of your brand and add something to the conversation, not clutter. It doesn't have to be all about doom and gloom but provide an escape where possible, teaches something, and brings a little light and joy. Who doesn't need a good laugh?
Help! When this pandemic first hit, all I could think of was how can we help, what can we do? This is a reaction that is not rooted in publicity or in our bottom line even, it is of a genuine concern for the community. From there, the best ideas are formed and a greater impact is made. We all love a great story about our favorite brands actually helping people at this time. From those who serve the first responders to the companies that have turned their facilities into community kitchens or into manufacturing plants for hand sanitizers and masks. Conscious-minded consumers who put social responsibility and accountability first will support and spend their dollars with brands that roll up their sleeves in times of crisis to help however they can.
The recovery from the pandemic will be slow. Brands should be thoughtful about how consumers feel about the new world and meet them where they are. PR may be used at this moment to creatively convey safety, reassure people that it's indeed safe to use your product, patronize your restaurant or bar, or travel responsibly.
I've seen a quote floating about that says, "what got us here, will not get us there." Lean on the PR professionals who typically have a finger on the pulse of the culture to help navigate this 'new normal' as it changes every day. By that, I mean things have changed and continue to evolve each day, and the tactics that may have moved the needle before the pandemic may be less effective going forward. Focus on the consumer, their changing attitudes towards celebrities, influencers, and certain media platforms, and develop fresh ways to cut through the clutter.
Bm: You are hosting a special, live interactive evening with fashion icon, André Leon Talley on his memoir, The Chiffon Trenches. Exciting! What is your approach to helping brands and people tell their stories? Why does tone matter? What are your golden rules for PR?
AK: Before COVID-19, we hosted several book events for Pulitzer Prize-winning Fashion Critic Robin Givhan, for Jim Moore, Creative Director of GQ Magazine, and many others. Hosting a live, digitally interactive book event with the legendary André Leon Talley to celebrate and discuss his New York Times bestselling memoir, The Chiffon Trenches was truly special. André has been the talk of all the media, not only for his journey to the top of the fashion world but also for revealing the underbelly of a gilded industry. We sought to make the event more engaging by starting with a virtual cocktail moment and encouraging the 500 guests to enter the chat early with their favorite drinks, while we played a Spotify playlist from the king of quarantine, DJ D-Nice. André appeared for a spirited 2-hours and 22-minute conversation ensued with special surprise appearances by some of the names that appear in the book, including, long-time Vogue Fashion Director, Tonne Goodman, her sister Wendy Goodman, Style Editor for New York Magazine, Bethann Hardison, one of the first high-profile black fashion models, and the one and only Naomi Campell. The comments section and social media interaction were the most fun and we really were able to escape for a few hours.
Don't just throw everything at the wall and see what sticks. That's a recipe for disaster.
Brand storytelling is the best way to connect and tone is key. Our clients have peeled back the curtains and started sharing unvarnished stories of their lives, each day, in a sincere tone. From Chef Wolfgang Puck cooking at home with his kids, to The Best Bartender in the world, Mr. Lyan sharing stories of being shut in and making drinks from whatever he had on hand at home. There is an instant connection with real people that happens through storytelling that will endear consumers for the long haul. But I also say that it can be dangerous and revealing. Cancel/Call-out culture is real and brands need to lean on savvy PR professionals to help distill their messaging or apply a filter to avoid some of the pitfalls of communicating at a time when people have ample time on their hands and are more apt to react viscerally on social media when a brand misses the mark. Brands may save themselves some pain, by integrating PR into various aspects of their business and listening to the voices of a diverse communications team when developing content and brand messaging.
My golden rules for PR:
Don't just throw everything at the wall and see what sticks. That's a recipe for disaster. Let the PR professionals think strategically, connect with the journalists they have relationships with and who care about the story. There is a method to our madness and having a trusting relationship with a PR firm or individual practitioner that is a true partner, yields the best results.
Take time to build relationships with members of the media so that pitching is not cold and the mutual sharing of ideas leads to more in-depth and interesting stories.
Be honest in your messaging and transparent with the media.
Bm: The NPD Group estimates that about 320,000 restaurants in the U.S. are allowed to offer some level of on-premise dining. TAA PR has some very-high-profile restaurant clients, namely Punjab Grill, Ocean Prime, and CUT by Wolfgang Puck. From a PR & branding perspective, what are your top tips to help restaurants pivot? What factors are most important as they consider their messaging?
AK: I've cooked more meals in the last three months than I think I have in my entire life. It's been great, but I can't wait to enjoy our favorite restaurants again. Safety is the biggest issue and being able to put guests at ease will be key in our communications. If we can convey all the extra measures that have been put in place to protect the staff and diners, I believe that slowly, we will see a return to restaurant dining.
People have reconnected and have become comfortable with being at home or with very intimate groups of family and friends. This isn't likely to change quickly, so restaurants that can provide meal kits and accessible, at-home culinary experiences will do well and continue to engage their customers and meet them where they are.
Also, the "special" factor is really important now. The market is saturated and the restaurants that have a unique point of view and amazing food will survive. Now, more than ever, we must amplify the unique qualities of our hospitality clients.
Bm: You have had enormous success leveraging micro-influencers with 5,000 followers or fewer. You stated that is because they are laser-focused on a certain subject matter. How would you define a micro-influencer? Do you see a shift toward micro-influencer vs. celebrities? Why is there power in being laser-focused around a given message?
AK: The pandemic has really rendered some influencers ineffective. The restrictions have shown us who really moves the needle and who is just fluff and pretty photos. As consumers rail against celebrity culture at the moment, it is time for the real voices to shine through. The micro-influencers who focus on specific subject matters, who have genuine connections with their followers are the ones who have proven to be the most reliable at this moment. Working with a mix of high-level influencers with thousands of followers and a dedicated strategy of micro-influencers allows us to take the challenge of brand-building PR and what I like to call "buts in seats" or revenue-generating PR.
Bm: Trademark question: What's next, as it relates to PR & branding? Mission-related/activism-focused branding and communications are where we are now.
AK: Two years ago, when we worked on the launch of the first "Activist Hotel", it seemed radical. Now, we have arrived in an era where brands that don't have a mission of social responsibility will lose traction to those who have a strong point of view. PR professionals will now have to be well-versed in what the causes are and find ways to align with their brand's ethos in authentic ways that can be verified, as the media and consumers will hold our feet to the fire.