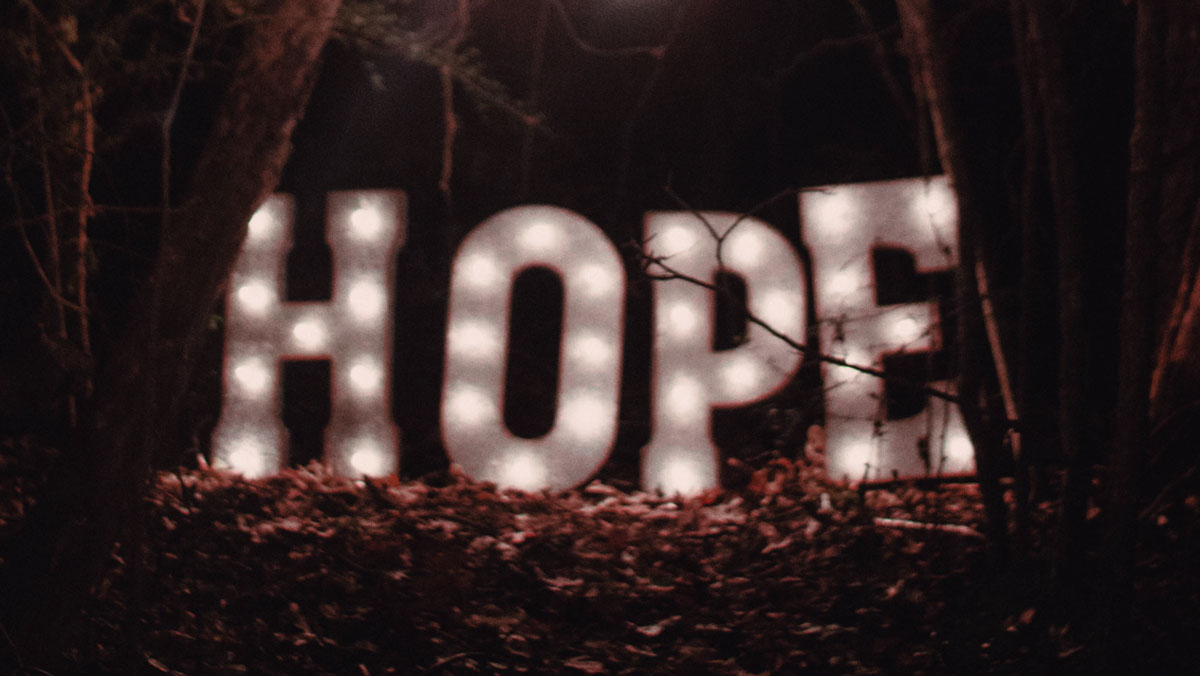 In a time of crisis, it's natural for humans to trigger their survival instinct and become self-serving. Also, people tend to be at their most vulnerable state, lowering their guard and yearning for authentic engagements that can fill the emotional void. This is the window of opportunity for brands that want to win the heart of consumers and stay relevant during and post-pandemic.
In an era where faces are masked, shopping carts are empty, pews and pulpits are abandoned, and hearts are cloaked in fear of uncertainty, how can brands position strategically to win hearts and stay relevant?
The Strategy of Hope
One of the buzz-phrases used in the world of business is: 'Hope is NOT a strategy'. It's possible you have heard a consultant or a business leader throw this as a punch line to support a line of thought as regards to an action plan. The line is so popular and, FYI, it became a title for a business bestseller by Rick Page. However, in the light of recent events and the advent of the new-normal, HOPE is a strategy brands have to embrace in order to survive the crisis and remain relevant.
The strategy of HOPE is not complicated but not too simple. Because it requires a lot of selflessness, openness, and empathy and, if we are to be honest, few brands tick these boxes. The pandemic has been a reminder of how important seemingly unimportant brand elements like brand purpose and values are. The crisis exposed how unaligned several brands are with their purpose and how fragmented their values, hence the confusion and entropy brands are grappling with.
The last time the management of some companies articulated their brand purpose might have been when a consultant facilitated a run-through of the company's brand guide. Prior to the pandemic, purpose has been thrown out the window and businesses have been jumping from one revenue target to another, trying hard to deliver value for their shareholders and investors. While chasing revenue is not totally a bad idea, it has become a case of putting the cart before the horse. The pandemic is imposing a paradigm shift in consumer preferences that made it necessary for brands to embark on a journey of re-discovery.
Larry Fink, Chairman and CEO of BlackRock, shared his thoughts on this shift:
"The public expectations of your company have never been greater… Every company must not only deliver financial performance, but also show how it makes a positive contribution to society. Without a sense of purpose, no company, either public or private, can achieve its full potential."
Brands must step up to show leadership, kindness, and offer hope despite the prevailing circumstances. Brands who are open to honest conversations about the pain points of their consumers will win.
The strategy of hope is a 4-point action plan coined from the first letters of the word H.O.P.E. What does each mean?
H stands for Help
As stated earlier, it's a normal trend for humans to trigger their survival instinct and become self-serving during a crisis. However, this will be a wrong move for brands because they must look beyond themselves and offer help as much as their capacity can allow. The pandemic has disrupted people's lifestyle, means of livelihood, mental and emotional stability, relationships, etc. Brands that offer help in any of these areas will secure emotional attachment with consumers quicker than any PR campaign would have done.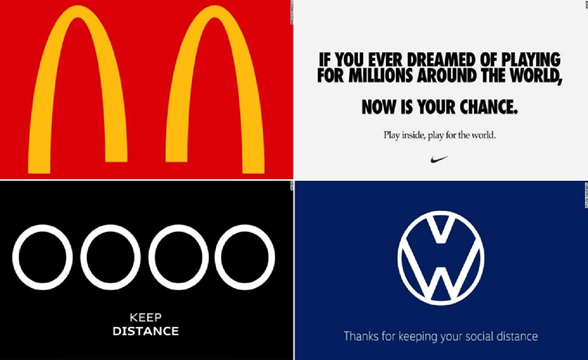 In the wake of the pandemic, some brands got it wrong by engaging in PR stunts to drive home the all-important message of social distancing. For example, McDonald's Brazil did an installation of the famous Golden Arches, albeit separated. Other brands, like Volkswagen, Nike, Audi, and Coca-Cola followed suit in a bid to emphasize the social distancing message. However, because people genuinely need help and not PR stunts, most of these social distancing campaigns didn't resonate with the target audience. McDonald's Brazil's separated golden arches were met with serious backlash on Twitter – a user said: "The source of my anger is that this is a disingenuous scam ad to win awards. Which would normally only annoy me but it enrages me when the topic is a global pandemic."
Obviously, when people are drowning, what they need is a life raft and not a yacht. Sadly, most brands have been offering yachts all the while.
However, some brands are doing it right, offering genuine help to consumers during the bleakest period of their lives. Below are examples of brands offering significant help and gaining massive brand equity as a result.
Linkedin and Microsoft collaborated to create top-notch, certification-based training for in-demand skills like project management, graphic design, and customer service, for people who have lost their job as a result of the pandemic. This will help job seekers to re-skill and up-skill so they can attract better job opportunities.
Zappos's way of offering help during the pandemic is to create a help hotline called Customer Service for Anything. Zappos is just a call away for anything you may need help with and it doesn't have to be making a purchase. Anything like Netflix recommendations, Nearest Isolation center, or even someone to talk to. Dr. Putrino, a hospital team member at Mount Sinai Health System, tried his luck with Customer Service for Anything by requesting for urgent help with about 1,000 pulse oximeters. Zappos customer service got to work and was able to use their network to deliver 300 pulse oximeters to the hospital. Even though it wasn't up to the required amount, Mount Sinai hospital was able to provide monitoring to 300 patients with suspected Covid-19 symptoms.
Some brands are making donations to support pandemic relief initiatives, like Google's $100m donation, HP's $8m donation to support schools, and Humana's $50m relief donation.
The internet is replete with many brands rendering help in different capacities to aid humanity get through this bleak period. These examples can serve as ideas that more brands can take a cue from.
O is for Openness
When a snail senses danger, it recoils into its shell. The same thing with millipedes – they curl into a ball when disturbed. Covid-19 has made snails and millipedes out of frightened and perturbed brands. This is not an attempt to talk down on the difficulty brands are facing at this time. However, openness is a must. This is not the time for brands to retreat indoors and fold their arms waiting for the tides of the pandemic to pass. It's important for brands to show, demonstrate leadership, courage, and offer encouragement to stakeholders and customers. This act will make an indelible impression in the heart of the brand's stakeholders.
The doors of companies and organizations might have been shut as a result of the pandemic but brands must remain open in terms of culture and conversations.
P is for Plan and Pivot
Aside from the health implications of the pandemic, another negative impact is the declining economy. According to a World Bank Report, "the COVID-19 recession has seen the fastest, steepest downgrades in consensus growth projections among all global recessions since 1990."
Over 100,000 small businesses have shut down while another 7.5 million are at risk. According to a Business Insider article, Macy's is closing 125 of its stores and slashing 2,000 corporate jobs off its payroll. In economic terms, these are desperate times for brands to operate in, although one which doesn't call for desperate measures but a carefully planned strategy to pivot.
Pivot has become one of the buzzwords in the wake of the pandemic because businesses that still want to remain in markets are tailoring their survival strategies around pivoting. Pivot means a mild or dramatic change in strategy or business model in order to help a business recover from a difficult economic period, stiff competition, or other factors that make its business model unsustainable. An effective pivot strategy entails an internal assessment of the company's capacity, available market opportunities that can be explored, and resources needed to execute the pivot strategy. This is exactly how Unilever pivoted to meet the global demands for hand sanitizers in the wake of the pandemic.
Unilever began their pivot journey by identifying a supply gap in the hand sanitizer market. Hand hygiene has become critical to fighting the virus, hence the need for hand sanitizers, especially in countries with massive population like China and the United States. Once the opportunity was identified, teams were assembled from all SBUs to create the pivot plan. A bigger chunk of their manufacturing capacity was channeled to the production of hand sanitizers. With proper planning, effective collaboration with third-party partners, and strategic execution, Unilever scaled their production capacity of hand sanitizers from 700,000 units to 100m units per month. Also, they scaled from 2 factories to 61 in just four months.
Other examples include Ford and GE collaboration to produce ventilators and Adidas' first-mover pivot to produce facemasks.
E is for Execute
This is the last element of the HOPE strategy.
Execution is a critical element of a brand's pivot strategy. Bill Gates said: "Vision without execution is daydreaming." It's one thing to know the right thing to be done (pivot), it's a different ball game to do it right and efficiently. An efficient execution means aligning the objectives to be achieved with the teams and resources available so that the important objectives are prioritized. This avoids wastage and ensures goals and objectives are achieved seamlessly.
Below are five steps that can boost efficiency when executing a pivot strategy.
Outside-in thinking: Design products, services, and processes from the consumer's perspective.
Design and clearly articulate your goals: Start with the end goal and work backward the processes you need to deliver on the end goals.
Understand your resource constraints and set priorities on objectives.
Build systems and processes using modular thinking: This ensures quicker and more effective product launches and reduced error margins.
Engagement leadership and inter-personal skills: A leadership that consistently engages and interacts with team members is important. This ensures all cross-functional dependencies are well aligned to deliver successful outcomes.
Cover image source: Ron Smith