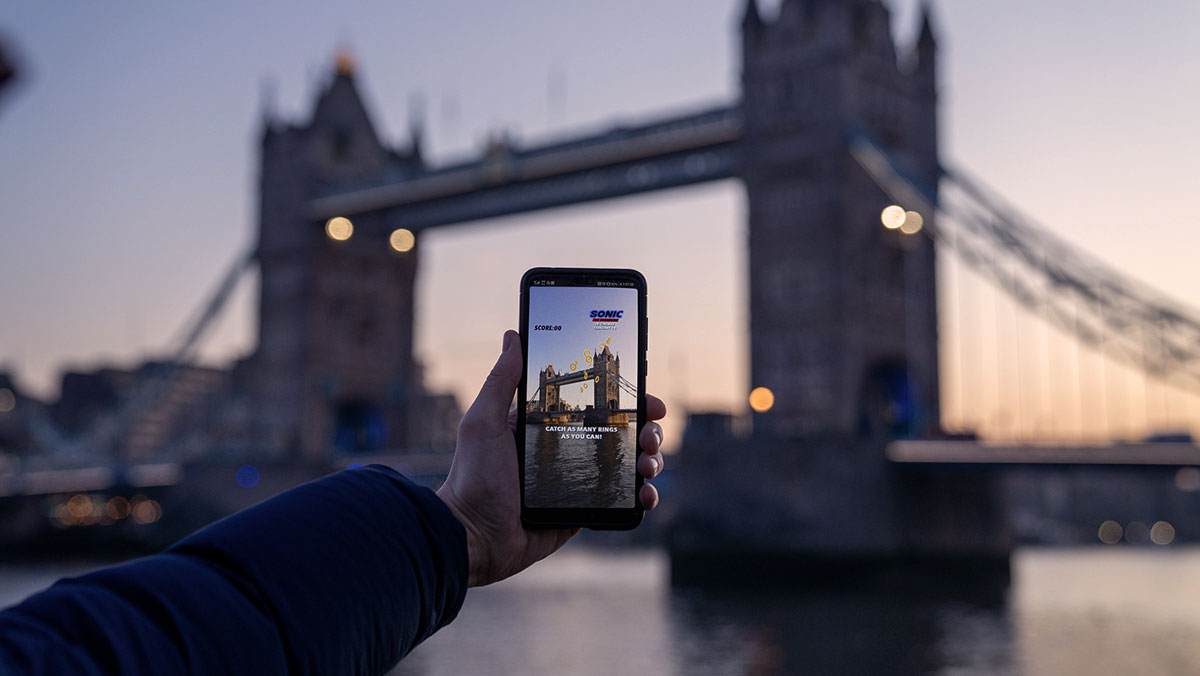 In this digital-first world, brand communication is more complex than ever before. There is increasing competition for attention on a growing number of digital platforms, and evidence that traditional brand loyalty is in decline. In this new era, brands are looking to new forms of communication to cut through the noise and create positive memory encoding. In other words, an emotional connection. 
Because augmented reality (AR) is highly immersive, it represents the next big opportunity for brands to connect on a deeper level. A recent research study Snap commissioned from Alter Agents has shown that AR offers highly engaging experiences across the full spectrum of different platforms and media types. 
This will have profound implications for the role of branding over the course of the next decade. Particularly given the growing number of people spending their lives immersed in augmented reality.
What is immersion?
Immersion is a neurological state based on one's relative level of attention and emotional connection. When people are highly immersed, they are paying attention, emotionally engaged, and actively committing information to memory. In other words, they are 'in the zone,' or in a 'flow state'. This means an experience is resonating with them on a fundamental level. In fact, to the point, it can predict future behavior. These fully emotionally committed states are the times when a brand is most likely to be able to create a positive and recalled experience.
The science of immersion
There is significant scientific research underlying the power of immersion and its ability to impact peoples' future behavior. A study by the New York Academy of Sciences in 2009, conducted by Jorge Barraza and Paul Zak, revealed that a state of immersion based on an emotionally charged video created a release of oxytocin that directly impacted the subjects' feelings of empathy. 
Meanwhile, a separate study conducted in 2015 published in Biological Psychology also looked at emotionally charged narratives produced by charitable organizations. It showed that a physiological resonance and being immersed in an environment can accurately predict when someone might make a donation as opposed to someone sitting idly by.
How can immersion be measured?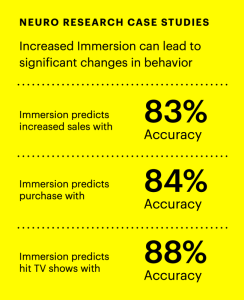 While studies on physiological responses have been largely confined to universities and laboratories, the introduction of wearable technology has opened physiological data up for wider market research. Our smartwatches effectively monitor our health data telling us how many calories we are burning or when we are too stressed. 
They can also reveal when we are fully immersed (i.e., our response to stimuli). This was the basis for the international study of consumers we commissioned from Alter Agents. It revealed the small changes in the pattern of a respondent's heart that we know causes a change in a neurological state.
Measuring immersion
Participants in the study took part in virtual, individual research sessions during which they were asked to use specific media platforms and watch online videos in a randomized order. Their level of immersion was calculated by measuring variability in their heart rate using a smartwatch.
Immersion's neuroscience platform was the technology behind the methodology and provided the ability to map the distinct patterns in heart rate revealing when a participant is engaged in an immersive state. That's translated into the Immersion Index, which rates a person's level of immersion on a scale from 0 to 100. This has some significant implications for brands.
1. Immersive experiences offer significant value
Immersion correlates with people having an increased emotional response and being more likely to take action. The boost in chemical reaction in the brain, including oxytocin, leads to the creation of emotional states such as empathetic feeling. Our study showed particularly high levels of immersion when engaged with an AR experience. The results of the study back up the view that AR captures attention and is also an emotionally engaging experience.
2. Augmented reality is highly immersive
Our study evaluated how attention and emotional engagement with brands using augmented reality might differ from more traditional media platforms like TV and YouTube. On average, AR experiences maintain high attention throughout while traditional experiences peak and valley over time. Every second with AR is that much more impactful and delivers positive memory encoding.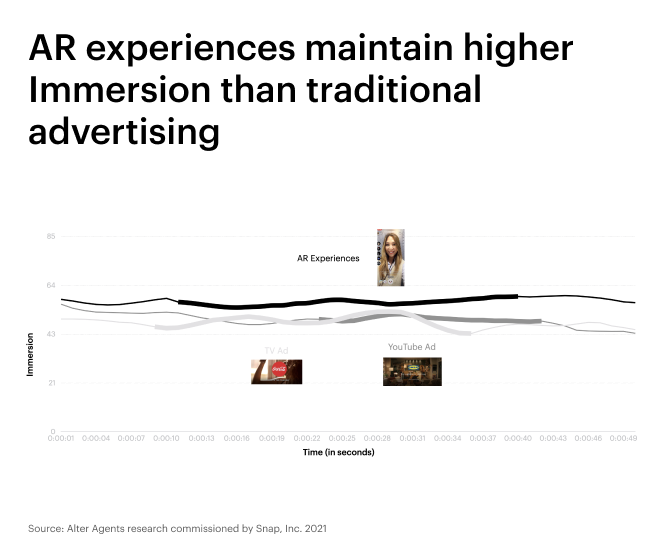 The study also revealed that AR works across platforms. Where AR is used, respondents' average scores on the Immersion Index were higher than industry benchmarks for the Entertainment category. This includes 350 experiences across television, film, music, gaming, and sports. AR experiences scored 56 on the index versus an average of 45 in entertainment industry benchmarks.
3. Brands need to understand AR is today's, not tomorrow's medium
It is time for brand leaders to take the time to embrace and immerse themselves in AR. Particularly for those looking to connect with Gen Z. According to a research study carried out by Crowd DNA, nearly 60% of Gen Z say AR experiences feel more personal. Therefore, AR allows brands to connect with their customers on a closer level than ever before.
Brands should think really clearly about the brand campaigns and how AR can fit within their strategies. With the knowledge immersed experiences can create positive memory encoding – how can it fit within your overall channels of communication to help you achieve your goals? What type of branded AR is the right fit for your target audience and most likely to address their underlying needs states, and drive sharing and word of mouth?
4. Your imagination is your only limit to realizing the power of AR
Fashion brands use AR to empower their customers to virtually 'try on' items in real-time and enable the experience to be easily shared with friends and family generating unparalleled brand engagement. Film studios use AR to drive engaging experiences whether it's making a movie poster come to life or bringing animated characters into the world around us. Meanwhile, retail brands are using AR to create engagement and brand awareness with 'always on' moments, as well as driving innovative approaches during crowded calendar moments, like Christmas, Ramadan, and Easter. These can be experiences triggered by QR codes providing extra virtual layers to real-life experiences in stores.
Time for brands to immerse themselves in AR
In summary, an immersed state has been proven to create a physiological response that creates an empathetic feeling and can predict future behavior. In a world of diminished attention, this is an ideal state of being for brands to create positive memory encoding.
Smartwatch technology has given us the ability to assess the level of immersion – the basis of the study we commissioned. The study revealed that AR creates far higher immersion than other platforms. Brands now need to immerse themselves in this technology in order to stay relevant, particularly in communicating with Gen Z.