The use of music to deliver emotional impact in storytelling is well established. Indeed, through the emotional power of music, Hollywood and other media industries have long known how to tell stories and deliver scenes that become supercharged with emotion with the addition of the right music.
Music achieves this because sound operates directly on the subconscious, and therefore it is the most effective way to modulate emotions. Our response to sound is involuntary and it is supremely effective at manipulating us emotionally without our conscious consent. Music influences our mood and it can guide narrative and elicit certain sentiments when it mirrors and enhances the emotional impact of the scene. 
It follows that music has the same ability to subconsciously influence our emotions in advertising. Yet its role in that industry has typically been less well understood – or indeed, exploited.
But for brands, there is a double challenge – not just in finding music that appropriately resonates with a commercial but also in ensuring that it is 'on brand'. Consistency is fundamental to brand building. 
Examples from the world of cinema
John Powell, the composer of the hugely successful Bourne film series, has spoken about how Moby's "haunting, even lonely, inevitably Bourne" Extreme Ways is "part of the character now". The series' theme song is intrinsically linked to how the story unfolds and is key to character development. 
Viewers are instantly transported to the emotions experienced by Jason Bourne and the ups and downs throughout his journey.  In this way, Powell argues that movie composers are subconsciously "guiding your emotions, pacing your reactions, churning up your attention, and easing you out the door during the credits". 
The Bond franchise has been doing this for six decades by choosing a different Bond song for every film that immediately transports fans back to the film. And, like Bourne, Monty Norman's James Bond theme tune is now one of the most recognized pieces of music in the history of cinema. When you hear it, you know exactly who you will see on screen.
Producers of the Bond franchise are perhaps the best at the strategic use of sound in movies. They have an iconic sonic brand and frequently sonically 'watermark' key elements of this through the diverse soundtracks throughout the movies.  
They understand that, while the music must always reinforce the storytelling and emotions of every scene, it must also be on brand.  This has in no small way helped to build and sustain the most successful movie franchise of all time. 
In marketing, music selection is often well aligned with the story being told but hasn't always been consistent with brand personality – as experienced subconsciously.  
The common perception was that testing the subconscious impact of music was too complex or price prohibitive for brands and agencies – until now. 
Be consistent with core brand personality
Until recently, advertisers have been unable to test the subconscious impact of music, meaning brands have missed opportunities to ensure that the music they choose works both for the campaign and for the brand. But when done well, music plays a huge role both in the way brands tell stories and how they communicate their brand personality.
It is possible for brands to project their core personality while also moving people emotionally. The right music can add significant emotional depth and help drive sales. However, in order for advertisers to unlock the true power of music, they need to pick music that is also consistent with their core brand personality. In this way, they can both sell more stuff while simultaneously building brand equity.
Testing the subconscious power of music is now possible
Until now, brands haven't really understood how music subconsciously influences and alters consumers' perception of brands. Marketers have shied away from understanding the subconscious power of music because it was not feasible or was too expensive and complex to do so.
Testing the subconscious power of music hasn't been easy, and many brands relied on testing the explicit influence of music in their campaigns. However, because music works primarily on the subconscious – and the subconscious response is often far removed from the conscious response – they have been guided by the wrong metric.
SoundOut, with the help of the Music, Mind, and Brain faculty at Goldsmiths, University of London, and a $500k grant from the UK government, has finally solved that conundrum in a 12-month project by measuring and benchmarking consumers' subconscious response to music. 
In the project, consumers were asked to rate video scenes, each paired with over 250 different pieces of background music. 
As the consumers were focusing on the videos and not the music itself, through advanced analysis, by removing the consistent emotional impact of the video, it was possible to measure and benchmark the subconscious impact of the music, making it possible to test the implicit impact affordably and quickly. 
Thanks to this framework and research, marketers can now get the right insights quickly and cost-effectively. More importantly, this research will enable brands and agencies to harness the emotional impact of music to strengthen brand associations.
What we have learned about the subconscious power of music
We now know that the right music has the ability to materially increase overall advertising effectiveness, particularly at a subconscious level, to influence those triggers that cause consumers to purchase products. The right music can help with this, while also reinforcing brand archetypes and nurturing strong brand relationships with consumers.
The right music can increase the emotional response to a video by up to 16.4%, depending on the emotional attribute being evaluated. Music is particularly powerful in changing the emotional response for some emotional attributes such as Peaceful, Intense, and Defiant – but less so for others – Technical, Spontaneous, and Simple. 
Diving a little deeper into the research, when we test the same audio against multiple visual scenes we can calculate the percentage of variance explained by both the audio and aggregated videos for each semantic attribute. By using this approach, the variance explained by audio is between 20.8-62.7%, depending on the attribute.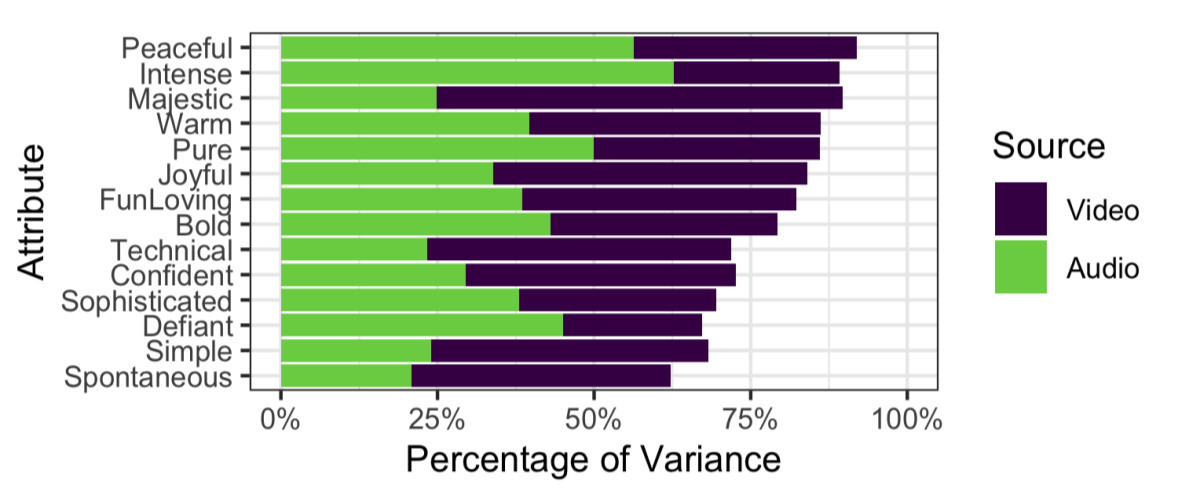 Understanding this impact is important when selecting appropriate music choices for music in branding and advertising. 
Benchmarking
In order to create a basis for benchmarking new audio for use in advertising, we aggregated the attribute ratings for each audio asset by predicting from the corresponding mixed effects model. 
As the diagram below shows, the ability of audio to move emotional perception with music differs according to the attribute. This graph provides an effective way of assessing how effective music can be in influencing the perception for any given attribute. As shown, some attributes (e.g., Intense) show much more variance than others (e.g., Simple), indicating they are easier to manipulate with audio.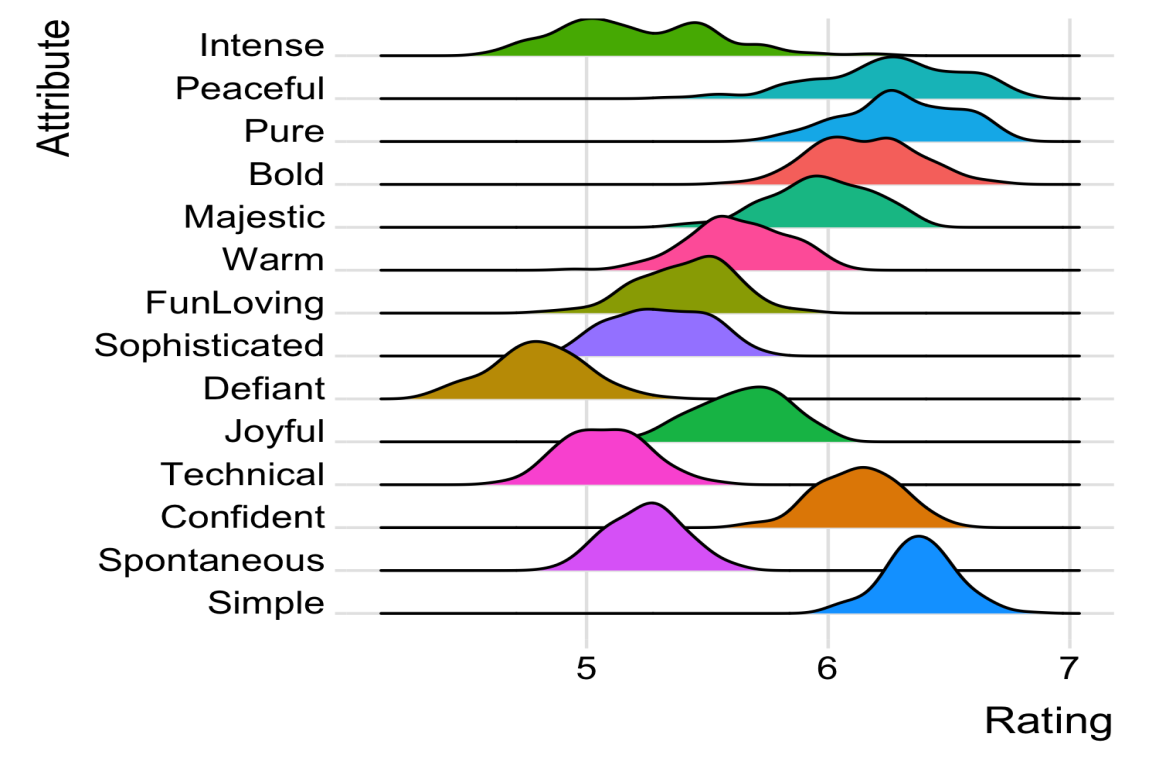 New opportunities in testing
What this research means is that brands are now able to apply an objective framework for when and how they use music at both a conscious and subconscious level for both advertising and branding. The aim of music in marketing has always been to affect the perception of visual content and brands in a positive way, and now companies have the concrete tools and data to be able to do this. 
Brands are now able to pre-test alternative music options and quantify effectiveness against over 200 emotional/brand attributes. This effectively means that brands can now test and choose the right music for their brand personality which will elicit an emotional response for their key attributes. 
These insights mean that brands will be able to benefit from fully-benchmarked, subconscious tests for music, with very strong reliability and validity, to ensure that commercial music choices are both on-brand and reinforce the key attributes that a brand wishes to communicate. This will also help increase campaign performance and overall advertising effectiveness. 
The future of music branding
By solving the testing conundrum, the subconscious power of music has been unleashed for marketers and ushered them into a new era of music marketing. In this new world, music will not only convey a brand's personality but also have a measurable positive impact on sales and brand loyalty. 
By testing the subconscious impact of music on your brand, you will be able to choose the right music that aligns with the brand personality and the message you wish to communicate. 
Music has transformed the way we relate to Jason Bourne and James Bond – and now it could do the same for your brand and your advertising campaigns.
Cover image source: Andy Makely