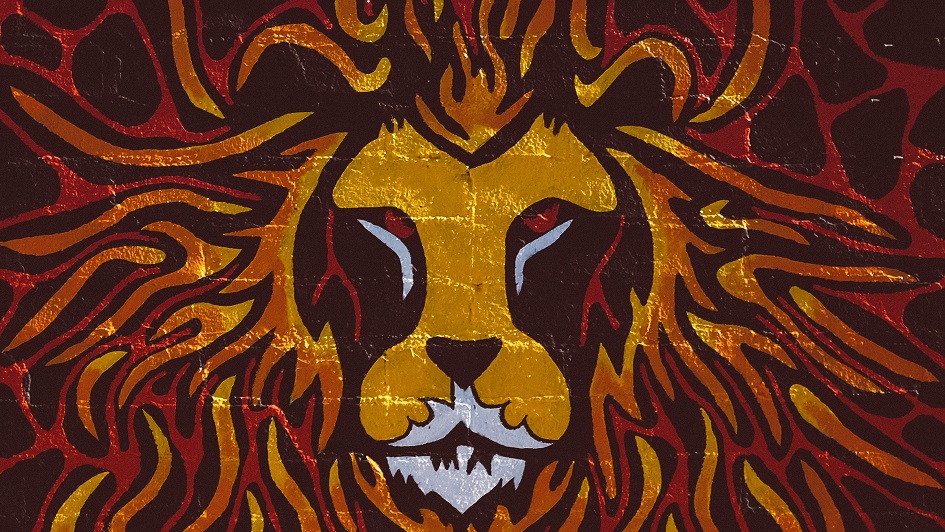 "I won't give you a normal speech. I'm gonna put myself out there. What I want to do today is not talk about my vision, or trends, or what I believe, but actually really tell you about some of the stories, and moments, and experiences in my 30 years – because it's been 30 years, which is unbelievable – that I think helped shape, and define, and validate who I am.
They're not all impressive stories, they're not all big stories, but they are true to me. They led me to here, and they didn't always go right."
– David Droga's opening speech at Cannes Lions 2018
---
Many of us talk about experience and experiences, about telling stories and making a difference, yet we let our world (our industry) revolve around leads, sales, and awards. We have forgotten our purpose and lost our sense of humour, making more work that sells and less work that inspires and affects change. But when the speech of a legend like David is filled with modesty and truthfulness, and it's not about the trends, or his work, or his awards, but rather about the little things, the moments and stories (good and bad) that shaped him, we can really tell that the creative industry has come a long way.
Cannes Lions 2018 has revealed that we, the creatives, have reached a critical turning point. The industry has an identity crisis, and it's unclear if the work is supposed to sell and win awards or entertain and make a difference. For many years, creativity has been a business, strictly exploited for money, with disregard for the fact that creativity is actually a tool for change. But now, the main themes in this year's discussions at Cannes, in the showcased work, and in the industry as a whole, are more selfless. People are talking about purpose, about experiences, about people. We see humour being brought back from the endless void in which it has been forgotten. We see artificial intelligence (AI) being viewed as a tool – and harnessed as such – and not being feared like a destroyer of worlds (and jobs). The creative industry has always been about people, about creating for them, entertaining them, caring for them. It was always about making unforgettable experiences, changing mindsets, and inspiring – and now we see all of these being brought back to the center of business worldwide.
A lot of the awarded work was non-commercial. A whole theater from the Palais was dedicated to showcasing social and environmental work, and it was all outstanding. "Great ads for good causes." For me, this is proof that purpose is not only a buzzword in the marketing department, but it is actually a driver in the everyday work of brands and creatives. Almost all of the discussions that were supposed to be about purpose-driven marketing quickly became discussions about brand purpose. The whole industry is more humane, no longer talking only trends and ways of selling to our customers; instead, we're talking about how can the world benefit from our work, and I salute that.
There was a lot of buzz around experience, and one of the most exciting and insightful talks on the matter came from Tim Kobe (founder & CEO of Eight, Inc.) and Nancy Kramer (Chief Evangelist at IBM iX). Tim runs one of the few companies dedicated to "designing meaningful human experiences" and has been doing this for almost 30 years. He told us that ROE (Return on Experience) is quantifiable, but not always in money, at least not directly.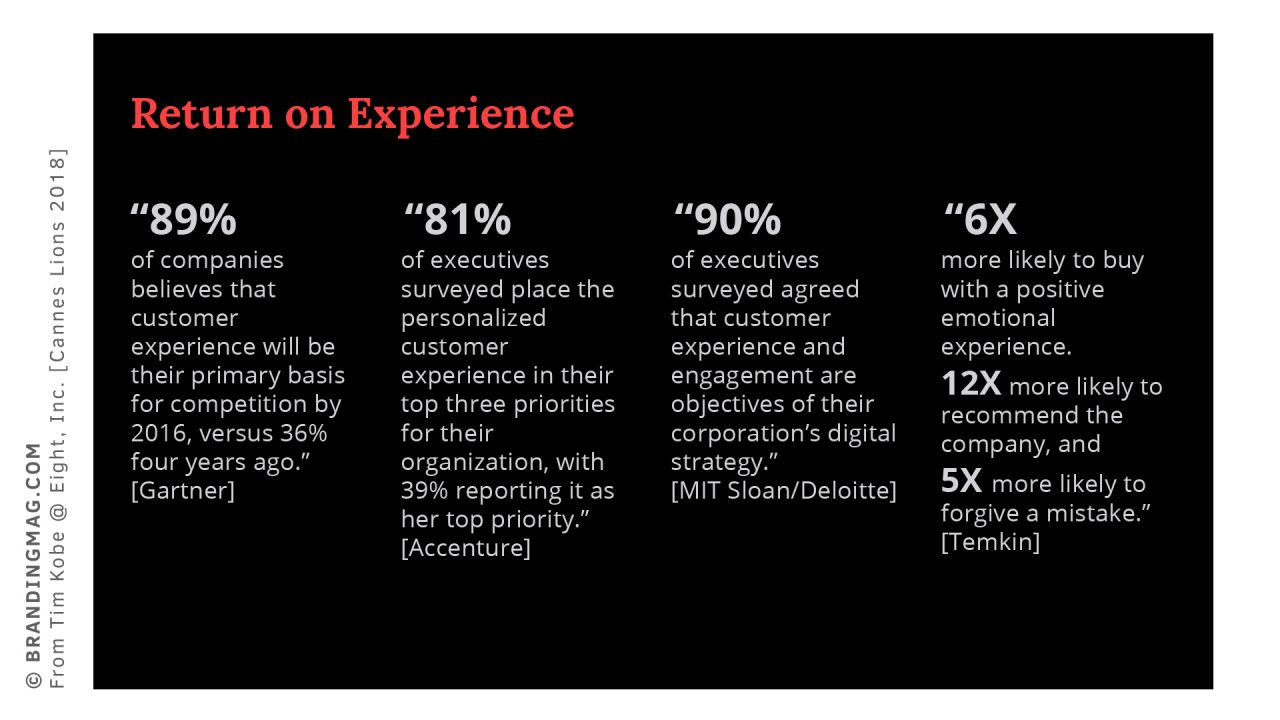 One of the greatest examples of ROE is Tim's work for Nissan, with the Nissan Crossing Experience Center:
Hosting 3,000 visitors/month, Nissan's experience center required a makeover in order to prepare for a 25% increase in visitors. Tim and Eight, Inc. were brought on board and the center experienced an 8,333% increase in visitors in the first 4 months, reaching an average of 250,000 visitors/month. Money was invested, of course, and we don't have numbers reflecting the initiative's impact on Nissan's sales, but an 8,000% increase in visitors, for an experience center, is more than self-explanatory. Tim has never forgotten that experience is about "what it does for people," about uncommon insights and irrational loyalty. And his clients may not have always agreed with him, but customers disagreed with his clients, also.

Experience has evolved and companies like IBM iX are really striving to create meaningful and helpful experiences through the use of technology. While others are using AI to make chatbots that we did not ask for, others are using it to give us the help that we may not have asked for, but desperately need. A platform that is always updated with the newest financial regulations, making it much easier for you to manage your taxes; or a health app aimed at those who suffer from diabetes that really helps you stay in control of your disease. These are only a few examples of purpose-driven work, experiences that really make a difference. Whereas in the past, everything was fixed, programmed, and informational, the future is now contextual, self-taught, emotional, and proactive.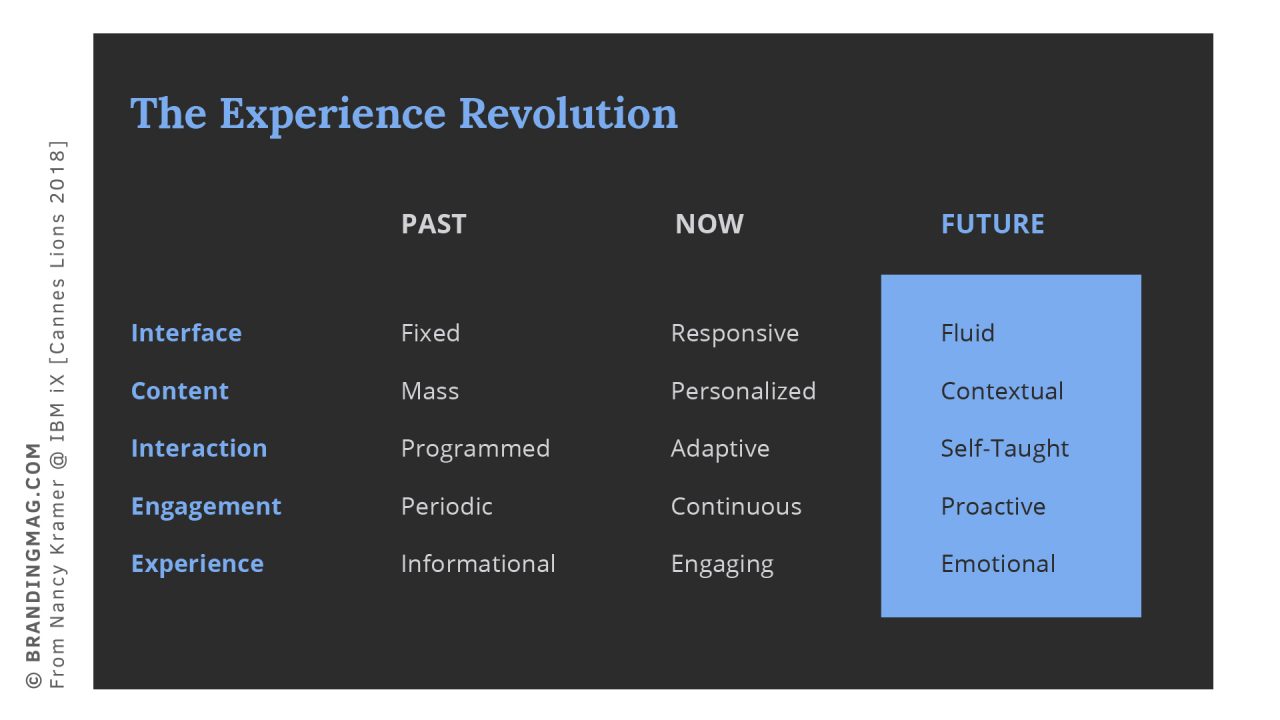 But for humans, social is second only to emotional. As individuals, we long for a better life and better experiences, but we also need to be happy, and laugh. Humour has been, for decades, the center point of marketing. Whoever was funnier won. Fifteen years ago, ads like Budweiser's "Turtles" were straight-out funny (regardless of being banned) and we all loved them, even if we did not love beer. Super Bowl ads were witty, funny, and smart because people were there to have fun, watch the game, have a beer, and laugh. To be noticed, you had to be genuinely more interesting than the Super Bowl itself and make a positive impact on the audience. But now, during the cheerful and happy moments of this sports event, someone decides to show up with this: Nationwide's "Boy."
We have to thank Sonal Dabral, Group CCO at Ogilvy, for opening our eyes and also putting this, otherwise clever, commercial into context. The ad itself is good, well written, and well produced, but the emotion that it triggers is not something that people long for, and certainly not an emotion "suitable" for a Super Bowl atmosphere. People have their share of bad emotions every day and don't necessarily need another reason for them. If we're going to invade their precious time with our ads, we might as well make them feel good.
Humour is one of the core elements of humans. Laughing produces endorphins, which makes one feel better and be more open, more indulgent. Laughing is one of the binders of emotional connections and emotional connection is what we need in advertising, branding, and the creative world. Humour is key and according to Sonal, "There is no subject dark, or sombre enough that can't be tackled with smart, well thought humour."
Even though it was the first scaled down version of the festival in 65 editions, Cannes Lions 2018 was more condensed, more accessible, and more appropriate for this industry. I like to think that this was not a place for spreading trends, but a place for sharing realisations. The creative industry has woken up and is demanding its rightful place in the world, in the boardroom, and in people's hearts. We're on the right track; we just have to remember why we started and what the purpose of everything we're doing is.
As a closing thought, I'd like to quote David Droga again: "Good intentions, talent, and ethics. They will prowl through anything."
Cover image: NeONBRAND