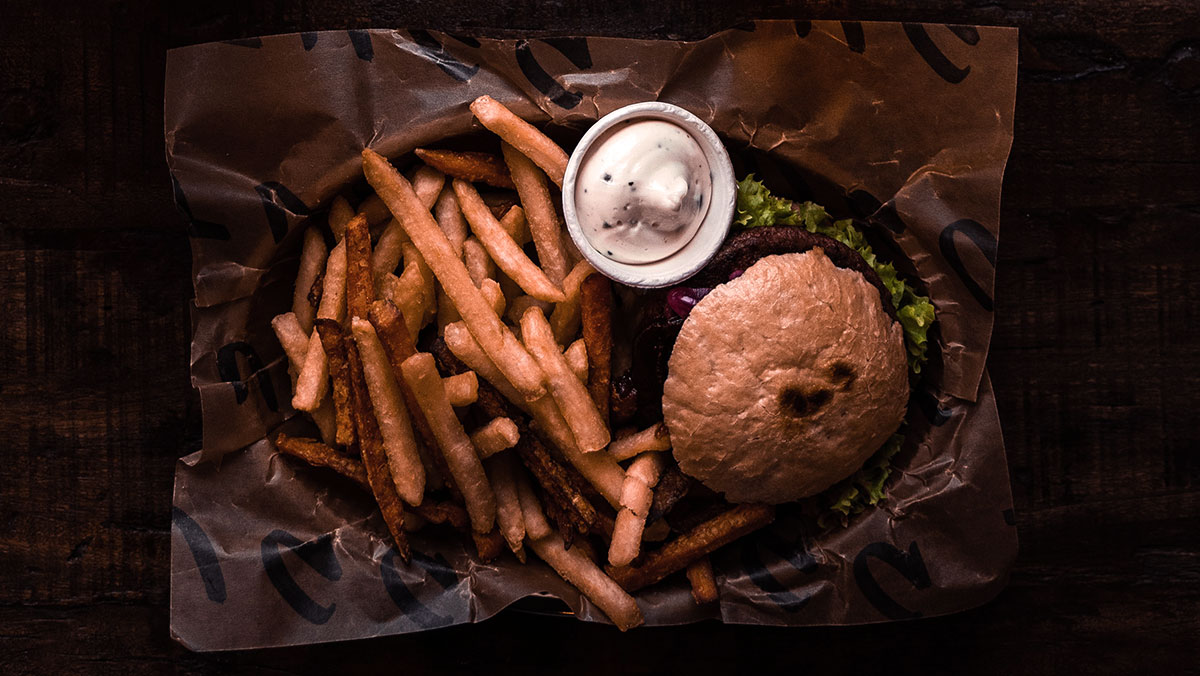 Before I jump to connect the dots here, I would begin with a little story. Perhaps, that's how this thought started brewing in my head.
On Friday evenings, I love to visit this cafe located in one of the posh areas of the city. I go there often, sometimes to catch up with friends, sometimes to read a book in peace with my favorite pesto sandwich. I order this sandwich often. It is served with some fries and homemade mustard sauce by the side. It just feels nice to get them with the sandwich. Subconsciously, it just makes me feel good to have something 'more' than what I ordered and feels like a nice gesture from the cafe's side. It's always good.
One evening, I paid my usual visit to the cafe and ordered my sandwich. Surprisingly, this time the sandwich came without the fries and mustard sauce. Hmmm… I thought to myself, "now that's a first!" I did not ask for them; just had my sandwich, finished the chapter of my book, and wrapped up. On my drive back home, I was thinking, "why were the fries missing?" Is it a mark of cost-cutting or has the cafe suddenly just become careless? And if it is just a casual human mistake, it is surely not the best thing for the brand.
My experience ended there. But this really got me thinking about the larger picture. Leaders spend endless time, money, and effort to build brands that they want the world to notice. But all this high energy of the boardroom could really get distilled if the brand fails at the execution level. Of course, we will have our systems in place, the staff is trained, the rules are set, but this does not take away the fact that the real touchpoint between your brand and your consumer will be a human or a human developing the required technology. If he is not fully aware of your brand, about its purpose and the big goals, a lag might happen and smaller instances, like the 'fries casually missing', might leave a bad taste for your consumers and you will never know about it.
Now imagine the flip side of this. If every individual in an organization, right from the front-end worker to the entire C-Suite were to work with absolutely aligned values, stand for a single purpose, and the highest of the standards, and settle for nothing less than just the best for their brand, how powerful will the energy of an organization be! To achieve this, every member of the organization needs to be fully aware that its soul is the brand and the environment in which he/she will fully embrace it is the presence of a healthy culture.
To put it simply, this is how I will look at all these aspects from an employee's point of view.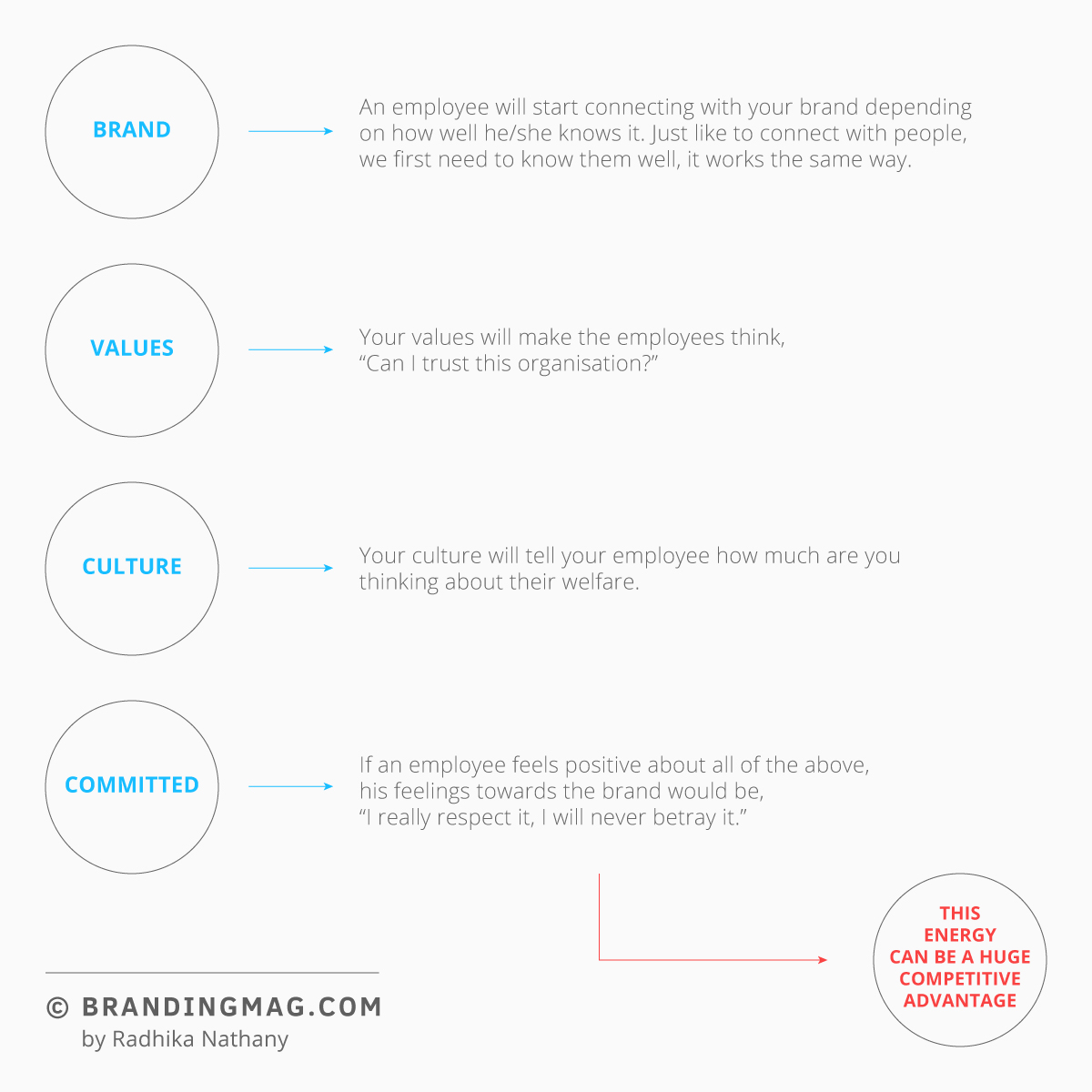 If you view this entire landscape from your employee's perspective, it's almost natural that a new employee will first just try to get accustomed to the company. He will just get used to the mannerisms, the way of functioning, the language, attitude, personality, and vibe that he feels. For a company, this is nothing but it's brand.
Then, the employee will gradually understand what the company stands for? If he is not consciously educated about this, he will develop his own perception and by getting a sense of the values, he will develop a feeling of either regard or disrespect.
Furthermore, just how we find a comfort level in the presence of an individual, once we know them better, the employee will start either feeling confident with the company or might not gel in too much. He will know if he is valued, if he can voice out his opinions, and how much are his efforts appreciated. This means that he will start developing a strong sense of belonging or dislike towards the company's culture.
Now, if the bond between your employee and your company becomes really strong, then even if this employee is in the last level of hierarchy in your organization, he will really develop regard for the company. He will almost care for it like a friend or family and give in his best. He would fight for the welfare of the company, feel motivated, and always want to give his best. He will be driven by a strong purpose and will see happiness in the growth and achievement of the company.
Thinking about all these aspects from a simple human perspective can make you even more conscious, as a leader, to ensure that every measure is taken to make your company 'a best friend' to your employee. They need to know it really well. What's the purpose, why are they doing what they do, what was the start, etc. Constant communication with a little human touch from the leaders to all employees could go a long way in maintaining this transparency and strengthening the bond continuously.
This really requires your brand to not just stay in the boardroom but every employee in the organization needs to have a feeling that it owns a part of it. They need to feel connected to it. They need to be made a part of its wins and losses and given equal respect and regard.
With this transparency and a relation of trust, your employees can become the spokesperson for your brand. They will become a strength by delivering their best performance and becoming advocates for your brand. It will enhance efficiency and retention and talent attraction will become easier.
Needless to say that, with this right sync of values, brand, and culture, the power will be all yours and competitive advantage is an obvious benefit. Or let's say that a highly motivated employee, that completely understands the purpose of your brand, trusts you, and feels respected and heard, would never let 'the fries go missing'.
Cover image source: Alexander Dinamarca