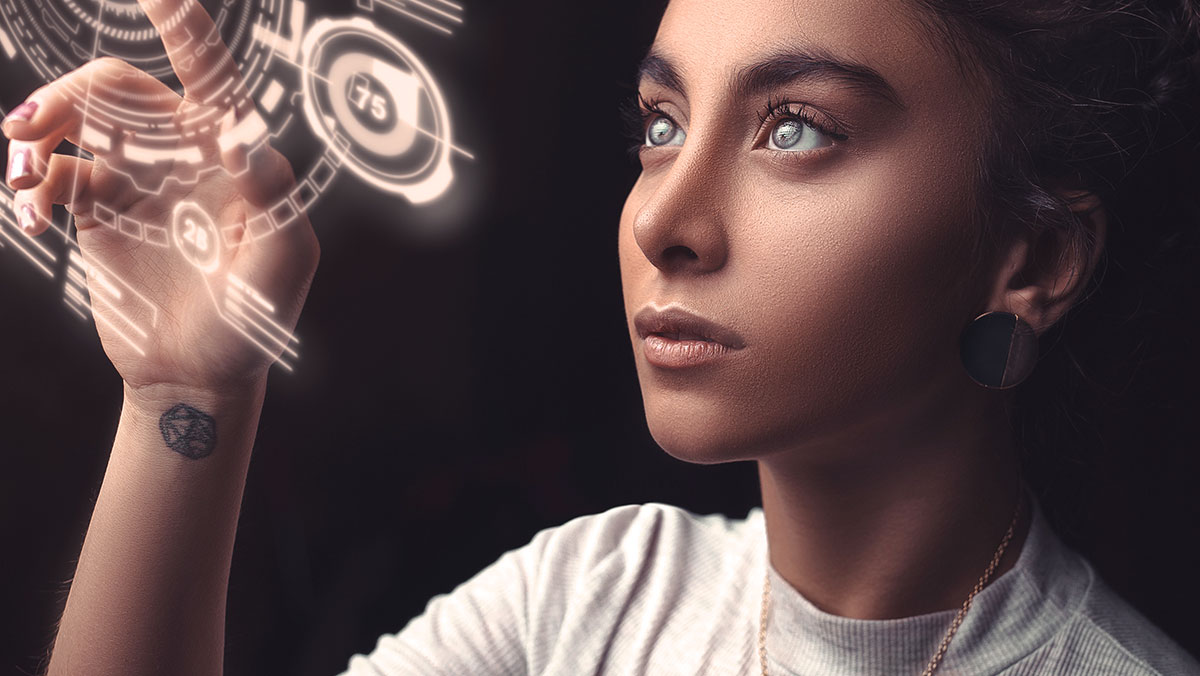 Prior to the Covid-19 pandemic, an independent study estimated that Gen Z's direct and indirect spending power reached up to $143 billion. This generation is now at a level making brands and retailers alike stand up and take note. It is also a generation motivated by different factors, unforgiving of poor service, and experience hungry. Brands need to evolve to remain relevant for this new powerful audience of consumers, yet crucially not alienate existing audiences. So how could you go about surfing the fine line? 
1. Gen Z are the most information-hungry consumers
Recent research conducted on 2000 consumers, looked at what influences types of shoppers in making a 'considered purchase'. These are transactions that are made with significant financial or emotional thought. It exposed the fact that brands across some of the top retail categories are potentially missing out on close to £15bn in in-store revenue in the past year, due to poor in-person advice.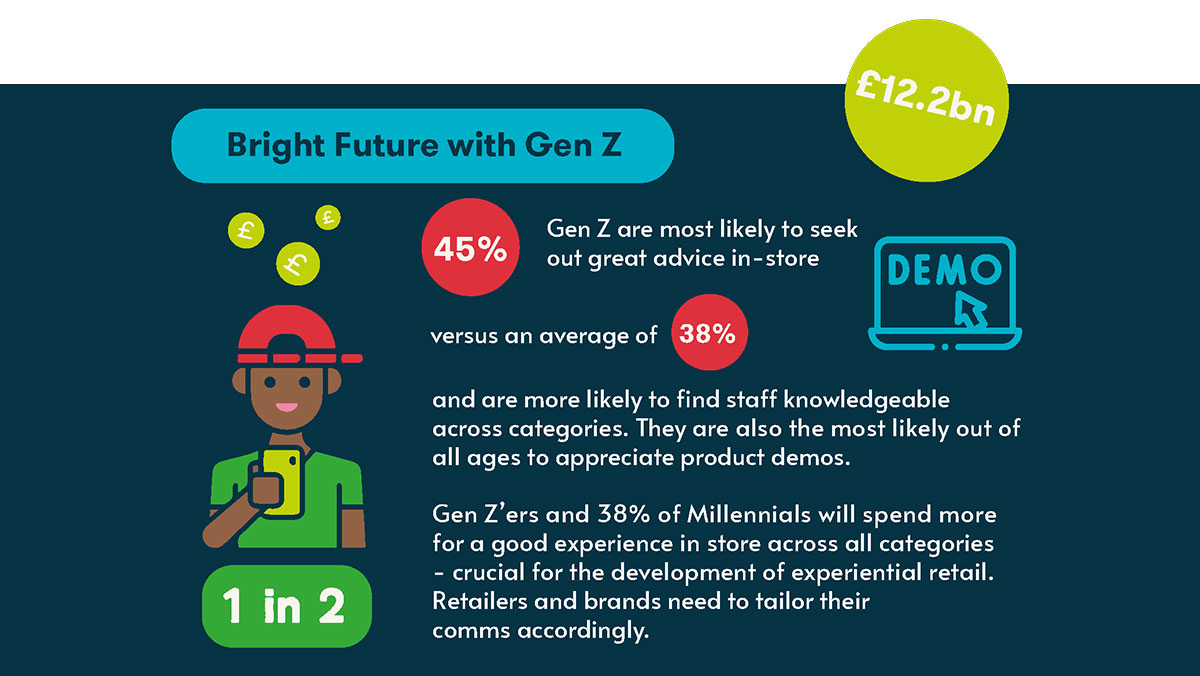 Encouragingly for the future of physical retail, the research revealed Gen Z are most likely to seek out great advice in store (45%) versus an average of 38% and are more likely to find staff knowledgeable across categories. They are also the most likely out of all ages to appreciate product demos (39%) against a 29% average across all ages. In fact, 1 in 2 Gen Z'ers (52%) and 38% of Millennials will spend more for a good experience in-store across all categories – crucial for the development of experiential retail. So it's clear that retailers and brands need to be innovating sufficiently to appeal and to tap into this growing market and appeal to the core differentiators of Gen Z.
They expect accurate information and immediacy and it's this audience that is creating the benchmark which all brands and retailers need to meet to engage a digital-savvy audience. The 'try hard' element isn't cool either, as this is easily spotted, so keep it breezy, intuitive, and functional with Gen Z.
2. Profit over provenance will switch younger generations off your brand
The fact that this generation is more values-driven is critical to real engagement. Making it clear why your product is worth that much, who made it, and how it was made, and under what conditions are critical consideration factors. Bear in mind the generation of Greta Thunberg will do their research, be vocal and active if you get it wrong. According to research from IPSOS, 40% of Gen Z said they will actually boycott brands, compared with 16% of Millennials. 
The world has changed and 'profit over provenance' is a surefire way to switch younger generations off of your brand. A brand's politics are also an important influencer of your brand appeal with this generation. The recent creation of Facebook's parent company, Meta, was clearly driven more by finances than branding, only to protect its share price. This was on the back of poor publicity hitting its cornerstone brand, further turning off younger generations. Research from Statista from 2020 revealed the waning interest in Facebook among Gen Z. It came behind Instagram, Whatsapp, Messenger, and Snapchat when asked which platform could you least do without. After all, while Gen Zers may have a Facebook profile, they don't think that Facebook speaks to them or their followers.
3. Heritage won't be enough – price and functionality will
This generation in question are considered consumers and aren't easily fooled. Gen Z have a shrewd approach to not only their own finances but also evaluating the true value of what they are buying. This critical consideration of a brand's values means that brands must work harder if they are to succeed.
Just like those bygone brands that died with their aging fan base, the appeal of your brand can not be purely based on your heritage. This means nothing to certain age groups, especially in the CE category where digital natives are unlikely to have nostalgic sentiments to old tech. That TV brand they remember their grandparents having isn't going to appeal. They may think it's an outdated brand and, moreover, it's highly likely they don't even watch linear TV. Any premium messaging you apply may not appeal either as the functionality is more important than the sleekness of look. Indeed, our recent research showed that a good price promotion was the most important consideration for Generation Z in the considered purchase space. 
Gen Z want brands to give them what they want at a price they can afford and that has been made responsibly. Brands need to work hard to communicate and demonstrate this so that it resonates with the psyche of a younger generation.
4. A synchronized experience is key
As the research has conclusively shown, 85% of shoppers are now doing online research before making a considered purchase in-store. In fact, 84% of Gen Z shoppers said a well synchronized online and offline experience would make them more likely to make a considered purchase, increasing the need for a brand to lay out the customer journey clearly to appeal to these shoppers. Think customer-, not platform-first, and ensure there is a seamless journey from discovery, research to purchase. How consistent is the brand experience and how can you better enhance the experience and make the sale? The digital native traits of this generation mean that you just can't cut it with old websites and apps.
The approach should be that every person who visits your website and then walks through the door of a shop is given a joined-up experience and is viewed as a potential customer and influencer. Someone who will talk about you positively through their experience and tell others in person, online, or on social media and is not viewed as just another body to 'deal' with.
Belying the stereotypes, it is clear the generation who most welcome expert brand advice is Gen  Z. Indeed, as our research indicates the right advice can lead to younger customers willingly spending more. However, if you favor profit over provenance they will be turned off, and be more than willing to boycott your brand. Heritage is also less of a factor for this generation and loyalty will need to be delivered through the value and functionality you can offer, not some mythical appeal. A joined-up and seamless experience online and offline is also now an absolute must for brands and retailers to survive in a changing market. It's now about making the investment to do so and implement a new experience-centric playbook. This is the way to appeal to Gen Z and indeed all generations. After all, these younger pioneers are creating the benchmark which all brands and retailers need to meet to engage a modern digital-savvy audience.
Cover image source: Ali Pazani